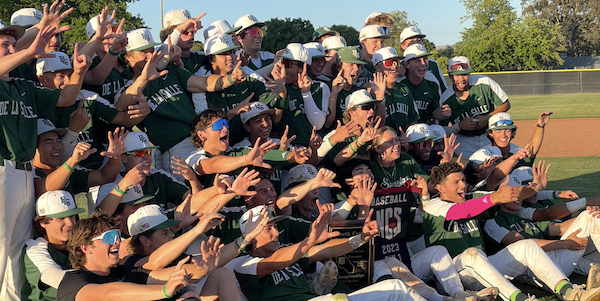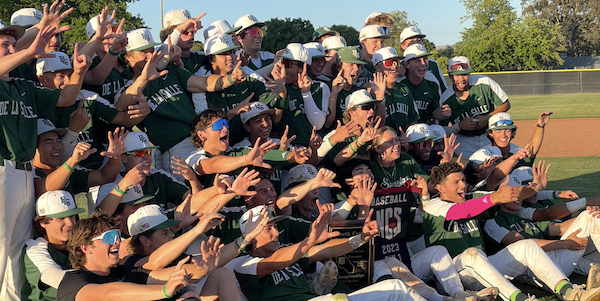 Standout Pitching By RJ Meyn, Clean Defense And 12 Hits Added Up To De La Salle Baseball Bagging Sixth Straight North Coast Section Banner...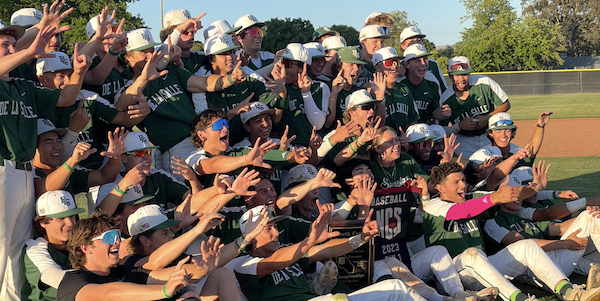 Standout Pitching By RJ Meyn, Clean Defense And 12 Hits Added Up To De La Salle Baseball Bagging Sixth Straight North Coast Section Banner •
De La Salle baseball pitcher RJ Meyn got to see success from a variety of angles during Friday's North Coast Section Div. I championship at Diablo Valley College.
From the top of the mound, where he spun seven innings and allowed just three runs, to the bottom of the dogpile at midfield following his team's 7-3 win over Clayton Valley-Concord.
Meyn took in a third view not long after the dogpile: From the top of a teammate's shoulders as the program celebrated its sixth consecutive Division I crown.
"He just did his thing. He's done that every single time he's gone on the bump (this season)," De La Salle catcher Connor Harrison said. "The whole team is just so confident in him when he steps on the mound. We know that we're going to get his full effort and his 'A' Game. He brought that 'A' game today, and the bats came along."
Meyn retired the top of the first in order on just 11 pitches and the De La Salle offense went to work.
The Spartans (24-5) batted around in the bottom of the first, plating four runs on three hits. That included back-to-back doubles by third baseman Hank Tripaldi and center fielder Alec Blair.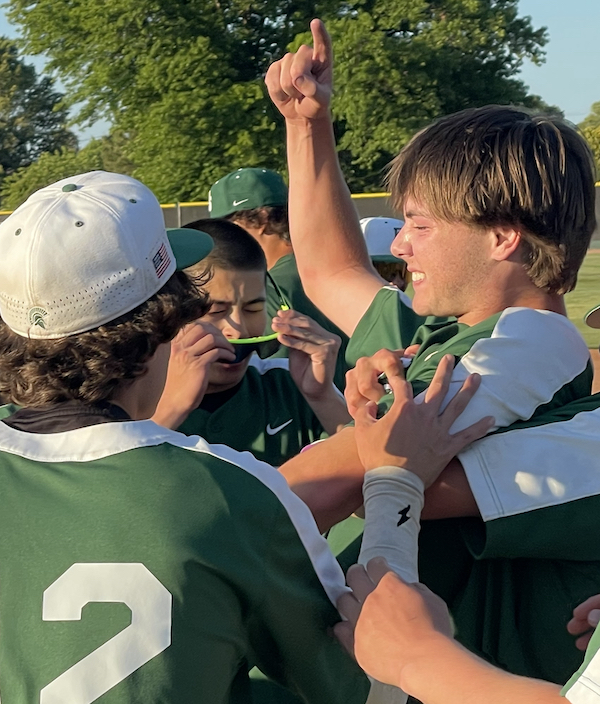 "That was huge," Meyn said. "It lit a green light in my head that said, 'You can go just right after these guys.' They can hit the ball. Just let the defense work. The defense was phenomenal today. (Harrison) behind the plate was just stealing a bunch of strikes as well."
Clayton Valley (22-6) was able to answer with two runs in the top of the second behind RBI singles from Jerry Coakley and Hank Phifer. But the lead was right back to four runs in the next half inning as De La Salle pushed things to 6-2 as left fielder Kai Smith picked up his 37th hit of the season with an RBI single. He'd later add hit No. 38 in the fifth inning.
Re-staked to a four-run lead, Meyn really settled in. The side-arming lefty allowed just two baserunners over the next four innings.
"He's been solid all year. He's our no. 1," De La Salle coach David Jeans said. "He's got three pitches he can throw for a strike. We say he has the 'It' factor; he likes to be out on the mound."
_______________________________
CONNECT WITH US:
Follow SportStars on Twitter & Instagram | Like us on Facebook | Subscribe!
_______________________________
Leading 7-2, Meyn retired the first two batters of the top of the 7th before surrendering his one and only walk of the game to Ugly Eagles nine-hitter Josiah Morris. Myles Walton and Ryder Helfrick each followed with singles to make it 7-3. 
"I still trusted everything," Meyn said. "I knew I needed to execute just a few more pitches and that dogpile would happen."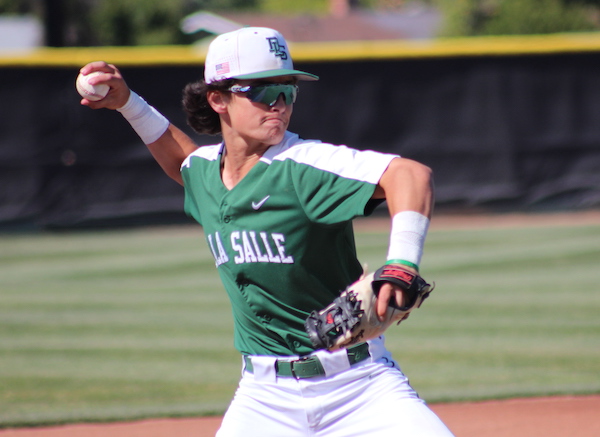 Despite falling behind three balls and no strikes to Nico Olson, he got the Clayton Valley shortstop to line out to right field and send an entire roster of hat-tossing Spartans toward the middle of the diamond. 
It was fitting that senior right fielder Tanner Griffith caught the final out. The Saint Mary's-signee made multiple highlight reel catches in the game, including one in foul territory that required him to cover 50 yards or more.
Blair, who had his own hit-stealing catch in the right-center field gap, is no longer surprised by anything Griffith does to his left.
"Not really," the sophomore siad. "I was making fun of him on one of them because he slid, and I didn't think he had to slide, I was like 'c'mon now.' He's played great."
Jeans praised his team's efforts in all phases on Friday.
"They've had to grow a lot this year, and I'm super proud of them," the coach said. "They're getting there. … They've had the talent. We've told them they've had the talent the whole time. It's a little different than last year. They're really good baseball players. They just have to figure out that other stuff that goes along with it, and they did that today."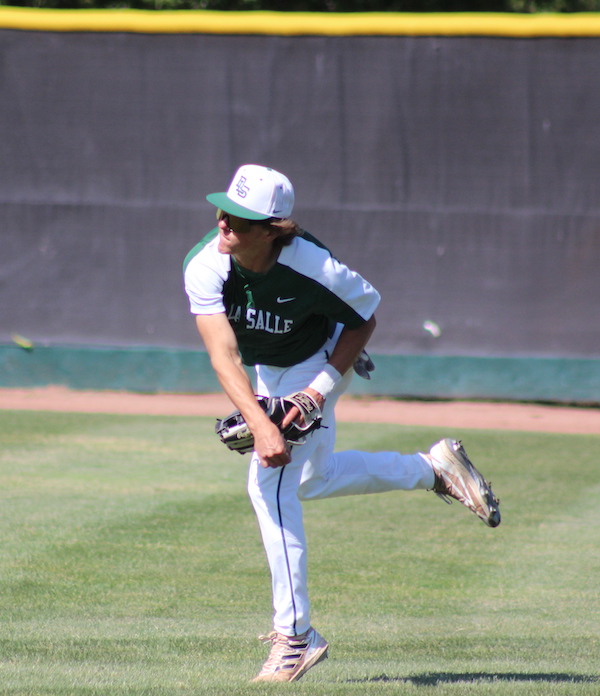 Despite the tough result, Ugly Eagles coach Casey Coakley was encouraged by his teams efforts as well. 
"We competed hard," he said. "I was really proud of the effort we put in on the mound and in at-bats throughout the game. A hit here or there, and you know a crooked number goes up. You hit a line drive at someone, you get an out — that's the game. That's the way it is, and (De La Salle) played a really good game today."
Both the Spartans and Clayton Valley will await the CIF Regional Championship pairings announced late Saturday or early Sunday. The Spartans will likely draw a Top 3 seed in Division I where they'll be attempting to repeat as champions.
"That's definitely on the bucket list," Griffith said with a grin