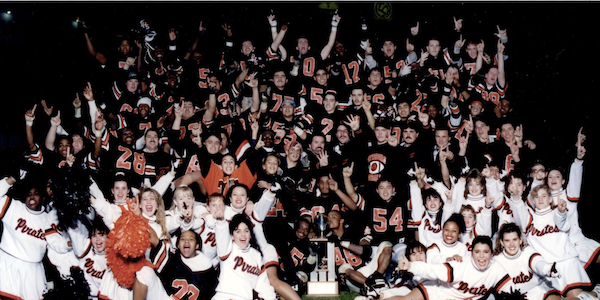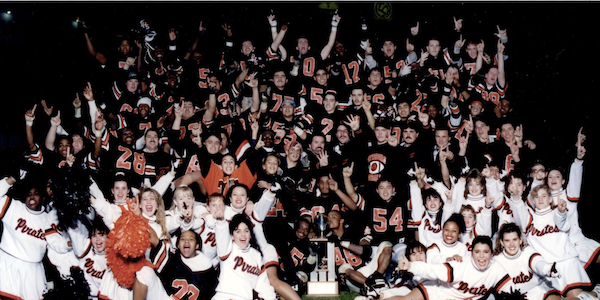 With The '91 Pittsburg Football Team Going Into The Pittsburg FB Hall Of Fame This Weekend, We Dug Up Our 2011 Feature On That...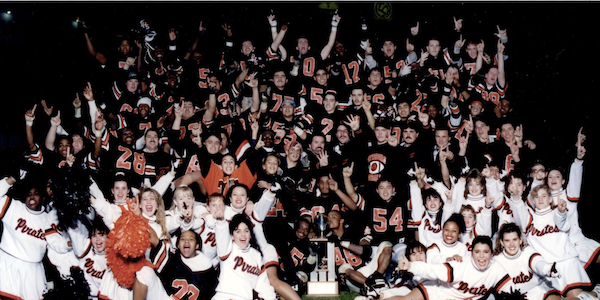 With The '91 Pittsburg Football Team Going Into The Pittsburg FB Hall Of Fame This Weekend, We Dug Up Our 2011 Feature On That Famous Win •
EDITOR'S NOTE: This Article First Appeared In SportStars #37 On Dec. 8, 2011, Marking The 20th Anniversary Of Pittsburg's 1991 Win Over De La Salle — Still The Last North Coast Section Win Over The Concord School. De La Salle's Winning Streak Vs. NorCal/Bay Area Teams Was Snapped By St. Francis-Mountain View On Sept. 10, 2021 (Nearly 10 More Years After This Story First Ran!!). The NCS unbeaten streak is now at 265 games.
The most unforgettable moment of Chris Shipe's memorable Pittsburg High football career was taking a knee.
This was no obligatory, run-of-the-mill, end to a football game mind you.
This was on the floor of an NFL stadium — the Oakland Coliseum — on a damp and muddy field at the end of long and strategic and bitterly fought game.
"Frankly, I was trying to settle our guys down," Shipe said. "They were all celebrating early. I didn't want anything stupid to happen."
Shipe, a long and lean and talented Pittsburgh High quarterback, took the snap, took the knee and the history of prep football in the Bay Area would never be the same.
On the 50th anniversary of Pearl Harbor — Dec. 7, 1991 — Pittsburg ended the 34-game win streak of De La Salle-Concord with a 35-27 North Coast Section championship-game victory.
_______________________________
CONNECT WITH US:
Follow SportStars on Twitter & Instagram | Like us on Facebook | Subscribe!
_______________________________
Remarkably, 20 years later, De La Salle not only hasn't lost another NCS playoff game since, but it hasn't lost to a Northern California opponent period — a span of 222 games with 220 victories and two ties.
The Spartans go for their 20th straight NCS title Dec. 10 back at the Oakland Coliseum, this time against San Ramon Valley-Danville.
Former De La Salle players and current coaches say that the loss ignited a firestorm within the program, leading directly to the start of a national record 151-game win streak and at least six mythical national championships.
"It all started there," said Patrick Walsh, De La Salle's star junior tailback on that 1991 team and current head coach at Serra-San Mateo. "That was the most pain I ever felt in my life after a game and none of us wanted to feel it again. Pittsburg pushed us to the brink."
That wasn't the Pirates' intent. It was simply to bring back another NCS title to Pittsburg following titles in 1980 and 1985.
And the fact it was in an NFL stadium against the despised private-school Spartans, who were just beginning to gain national attention, was icing on the cake.
Very sweet icing.
"I remember the final seconds winding down and seeing the utter joy of my teammates, my friends, my coaches," said Shipe, now the head football coach at Los Medanos College in Pittsburg. "It's a vision I'll never forget."
It's the same sight then Pittsburg coach Herc Pardi shares and has carried with him throughout a successful football and baseball coaching career. He coaches both now at Clayton Valley-Concord.
"It was more of a feeling really," he said. "The feeling of an entire community coming together and seeing it through. I can still see the faces of my family, the team's family, the long-time Pittsburg fanatics.
"Quite frankly, it was one of the greatest sports moments in a city rich in sports tradition."
NO DE LA SALLE MYSTIQUE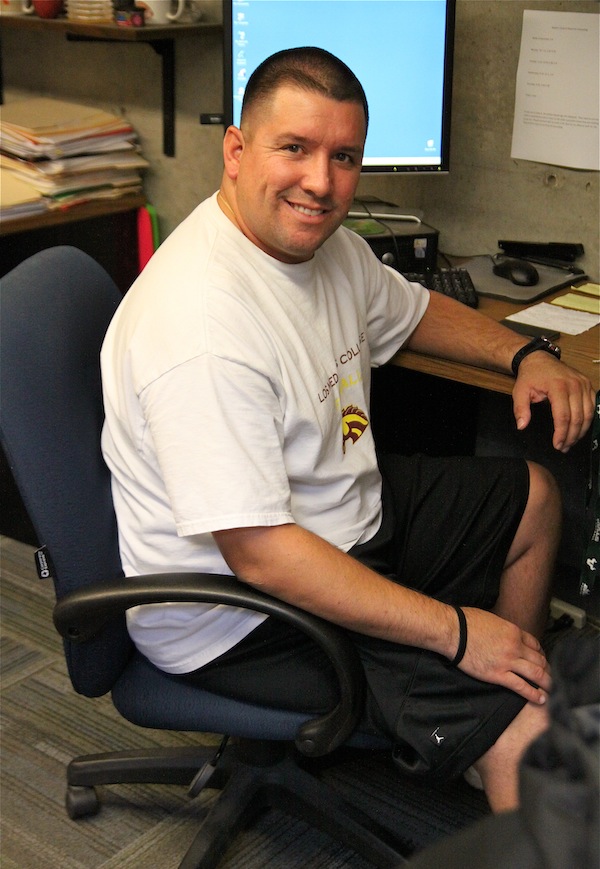 As De La Salle's Northern California and NCS streak grows, the more famous the event and the game becomes.
Like member of the 1972 Miami Dolphins — the only team to go through an entire NFL season undefeated at 17-0 — who openly root against unbeaten teams in order to keep their record alive, do the Pirates from 1991 find themselves rooting for De La Salle?
"I wouldn't say I root for them," Shipe said. "Especially against Pittsburg. But I don't root against them either."
Aaron Alatorre, a starting receiver on the 1991 squad, who currently teaches special education at Pittsburg and is an assistant football coach at LMC, said he roots for De La Salle out of the area.
"I would love their streak to end against a Pittsburg squad," he said. "Or someone out in East County."
That doesn't appear likely anytime soon. The gap has widened largely since the days when Alatorre, Shipe and a talented, spirited and most of all fearless group of Pirates played.
The De La Salle mystique had not yet infiltrated Pittsburg's psyche. Not by a long shot.
The seniors on the team, including running backs Percy McGee and Derrick Huffman, receiver Mike Gargalikis, two-way lineman John Buxton, linebackers Anthony Shipe (Chris' cousin) and Dyshun Beshears, and receiver Greg Quesada, had defeated De La Salle at lower levels. Handily even.
McGee, Chris Shipe, Beshears and Buxton all had successful college careers at Humboldt State. Quesada earned a scholarship to Washington.
And the team's top player was a junior, offensive tackle and defensive end Regan Upshaw, who starred at Cal and the NFL. Sophomore linebacker Charlie Ramirez and defensive back Leif Hall were other standouts.
Besides all that talent, Pardi had just replaced Larry Rodriguez as head coach after leading the Pirates JV team to back-to-back 10-0 seasons.
"That team was very talented and we knew it," De La Salle defensive coordinator Terry Eidson said. "They were also very well coached. We knew they were going to give us problems."
Pardi had superb assistants, starting with defensive coordinator Jerry Halfrich (now at American River College), along with Lenny Davis, Sam Quinones and Joe Aliotti, brother of current Oregon defensive coordinator Nick Aliotti.
Joe Aliotti, one of Pittsburg's all-time great quarterbacks who starred at Boise State, is now an assistant at De La Salle and school Dean. He wanted the head coaching job Rodriguez vacated, but Pardi was a proven commodity.
The brain-trust worked together to perhaps outcoach one of the most famous staffs in high school football.
"We knew what we wanted to do," Pardi said. "And we had kids with the talent and know-how to get it done."
'SEE YOU IN DECEMBER'
Most of all, they had a swagger.
The Pirates lost a 28-16 game to De La Salle during the regular season, "but we knew we could play with them," Pardi said.
And Pardi knew De La Salle knew.
After the first game when the two coaches shook hands, Pardi told De La Salle coach Bob Ladoucer: "See you in December."
Said Eidson: "They could have easily beaten us the first game. They just missed on three bombs or they would have gotten us."
When the Pirates walked into the Coliseum that night, Alatorre said the game was theirs.
"We all sprinted over to the base paths," he said. "I remember us all talking about this is where Rickey Henderson steals bases. We were relaxed. In the moment.
"I remember when De La Salle took the field. They just looked stiff. Business like. I felt right then that we had them."
Pardi had a good hunch at halftime. Shipe, who completed 29 touchdowns to just two interceptions all season according to Pardi, had fired a pair of crisp TD passes to tie the game at 21 heading into intermission.
"All our guys sprinted into the locker room," Pardi said. "They couldn't wait to get ready for the second half. And they sprinted out of the locker room too. I remember thinking to myself, 'My God we're going to win this thing.' "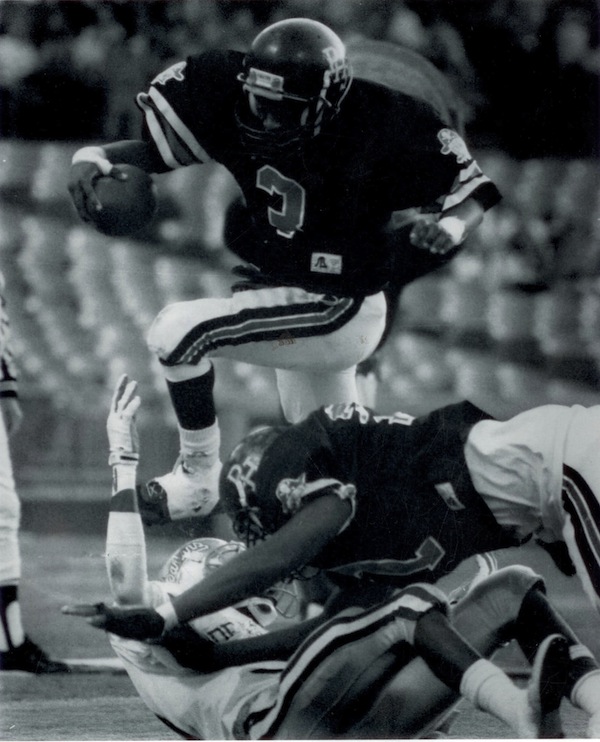 Added to the enthusiasm was a secret plan devised by Aliotti. It was basically the spread offense — new to the world back then — that Aliotti had brought with him from Boise State.
The Pirates had practiced it all week and it caught the Spartans off guard.
"They ran a five receiver set and we hadn't seen it that year," said Eidson, who was in his first season as defensive coordinator. "It definitely caught us by surprise."
The short passing game led to a long drive and touchdown to put Pittsburg up 28-21 and after a Walsh touchdown and missed extra point, one of the most famous plays in Bay Area prep football transpired.
SEA OF BLACK AND ORANGE
Driving to what looked to be a go-ahead touchdown, De La Salle quarterback Ali Abrew, pressured by Beshears, threw a short pass that was intercepted by McGee at the Pittsburg 21.
The All-East Bay running back, inserted on defense to make a big play, sprinted down the De La Salle sideline 79 yards for the score to go up 35-27 with 2:15 left. He was escorted most of the way by Upshaw.
"As soon as I scored, I knew we had won the game," McGee told Neil Hayes in his book about De La Salle entitled "When the Game Stands Tall."
That's funny, because Chris Shipe didn't. He ran to the dog pile in the end zone and one-by-one pulled players up to get the off the field.
All signs of a future coach.
"I didn't want to get a penalty and give them good field position," Shipe said. "They still had plenty of time."
De La Salle completed a pair of passes to future NFL great Amani Toomer on the next drive, but Beshears sacked Abrew, forced a fumble and Upshaw recovered, setting up Shipe's memorable taking of the knee.
More Pardi recollections:
"Gatorade bath," Pardi said. "Hysteria. I remembered my wife (Roxanne) running onto the field and hugging me. I asked her how she got on the field because the security was so tight. She said, 'I told them they can arrest me but right now I have to congratulate my husband.'"
The celebration followed in the stands. Pardi said close to 20,000 showed up that night, making it the largest Coliseum crowd for an NCS event.
"There was a sea of black and orange everywhere," he said. "There was an incredible buzz."
And the bus ride back to Pittsburg?
"A dream," Pardi said. "Phenomenal."
At the end of the bus ride was a giant reception at school.
"The town didn't sleep much," Pardi said. "We all hung out. It was a magical night."
It lasted more than one evening, Alatorre said.
"We celebrated for two or three weeks," he said. "TV stations showed up. There were parades in town. It was just a completely different feel in town. It was such an ordeal.
"Funny, because it's 20 years later and it's still an ordeal."