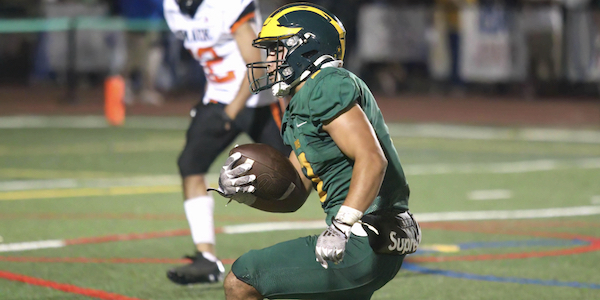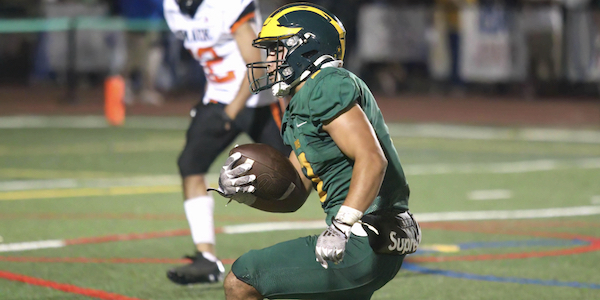 San Ramon Valley Football Has Playmakers All Over The Field, But Its Multi-Purpose Running Back John Pau Mendoza That Has Even The Wolves Talking...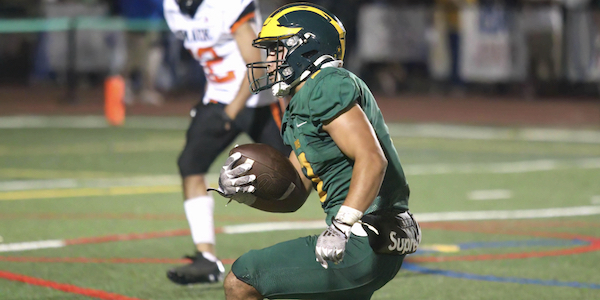 San Ramon Valley Football Has Playmakers All Over The Field, But Its Multi-Purpose Running Back John Pau Mendoza That Has Even The Wolves Talking
During a recent appearance on SportStars' podcast 7 Friday Night, San Ramon Valley-Danville quarterback Luke Baker singled out Wolves running back John Pau Mendoza as a player that not enough people were talking about.
If Pau Mendoza's performance in a 35-7 win over Northern California powerhouse McClymonds-Oakland is any indication, that shouldn't be a problem for much longer.
Playing against one of the top defenses in the region, SRV's lead runner left his mark in a number of ways. He scored three touchdowns, one rushing and two receiving, and accumulated 138 total yards of offense to help the Wolves build a 14-0 lead by halftime and eventually pull away in the third quarter.
"You guys saw it tonight. That dude was the best player on the field," Baker said of Pau Mendoza. "That first touchdown kind of pierced the heart of their defense with that one cut on that safety. People can't move like that. People can't move like he can. Every college in the country should be looking at him. He's one of the most dynamic playmakers in Northern California."
Pau Mendoza's steady hand — and steady legs — offer fitting symbolism for a San Ramon Valley team that is again among Northern California's best after taking its first trip to a California Interscholastic Federation bowl game one year ago.
That trip ended in a 31-24 loss to Granite Hills-El Cajon, but a second half rally to force overtime showed that the Wolves absolutely belonged on that stage. It also provided plenty of proof that San Ramon Valley wouldn't be satisfied making a one-time cameo on the state bowl stage.
_______________________________
CONNECT WITH US:
Follow SportStars on Twitter & Instagram | Like us on Facebook | Subscribe!
_______________________________
"We learned a lot. We learned that you can't get anywhere by yourself," Pau Mendoza said. And it's worth mentioning that he was limited that afternoon due to an ankle injury suffered earlier in the postseason. "It's a family thing. It's a team thing. All the gears have to be working for you to make a run like that."
In facing their toughest test of the season to date, the Wolves learned that even if their high-powered offense takes a little while to get rolling, the defense can be a difference-maker too.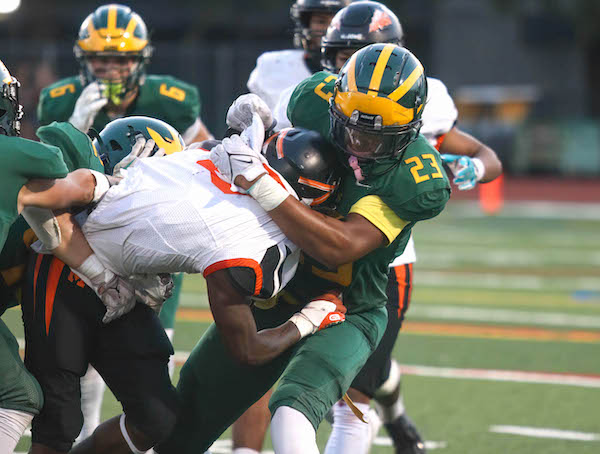 Having outscored its two opponents 85-0 in a 2-0 start, McClymonds figured to be able to keep pace with San Ramon Valley.
Instead, the Wolves held their visitors to just 188 yards of total offense on the evening.
"I thought we stayed to our assignments well and made sure that we kept outside contain," linebacker Marco Jones said. "(We knew) they've got some athletes in the backfield, but as long as we get hats to the ball, we're going to win that game every time."
That defensive effort gave the Wolves time to shake off an uneven first quarter and eventually get rolling. Pau Mendoza opened the scoring with a 35-yard touchdown run late in the second quarter, then combined with Baker for a 21-yard touchdown pass with only 30 seconds before halftime.
Those were the flashy plays, but ask the Wolves what Pau Mendoza does to influence a game and they can list a lot more than just the points he puts on the scoreboard.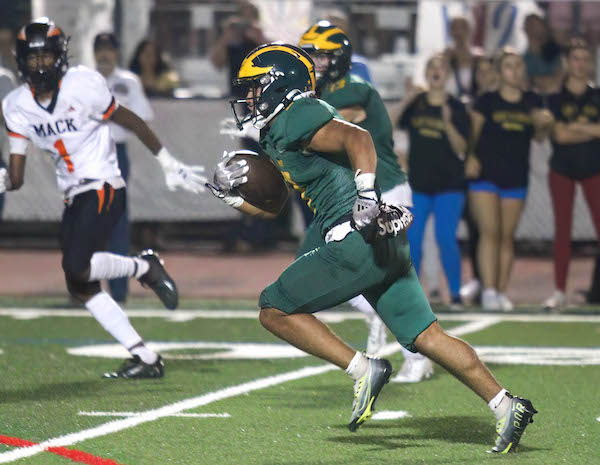 "He never goes backwards. He's always going to make a positive gain," Wolves head coach Aaron Becker said. "He puts his nose down, gets something when there's nothing there, and before you know it, he finds a little crease and makes something big out of it."
Added Jones: "Everyone talks about the glitz and glamor, the big touchdowns and everything like that, but really the four and five-yard runs to get the extra first down to help us win the game and seal it off at the end, that's what sets him apart."
Nobody in Danville is thinking about state championship weekend just yet, and a home matchup against Liberty-Brentwood will provide another test to close out the nonleague portion of the schedule.
Then it's on to an East Bay Athletic League slate that includes an October 13 home game against De La Salle-Concord that will likely be circled on any high school football enthusiast's calendar.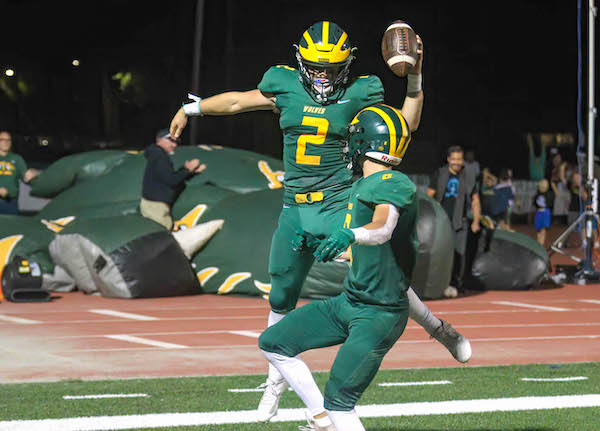 "I definitely think this was a big win for us," Baker said. "The first three games were all kind of blowouts. You don't really know what kind of team you are yet, and then you know you're playing a proven, good team and you get a big win. The defense I feel like really took a step tonight. I'm excited for what this team can do."
If Pau Mendoza, Baker and the Wolves can continue to play the way they did against McClymonds, there will be plenty of people talking about SRV football come season's end.