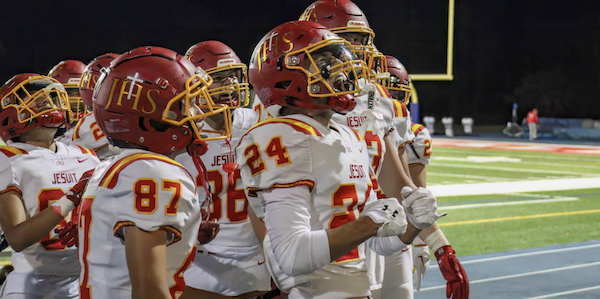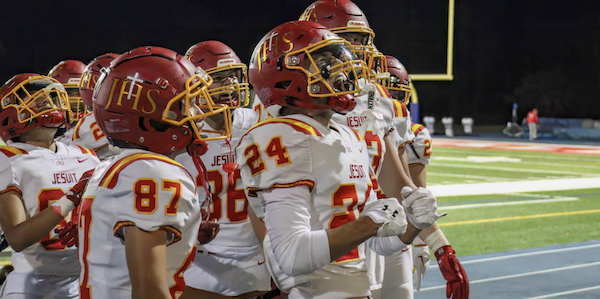 With CJ Lee Shining At Quarterback And The Marauders Defense Getting More Stingy By The Week, Jesuit Football Zeroes In On Delta League Crown...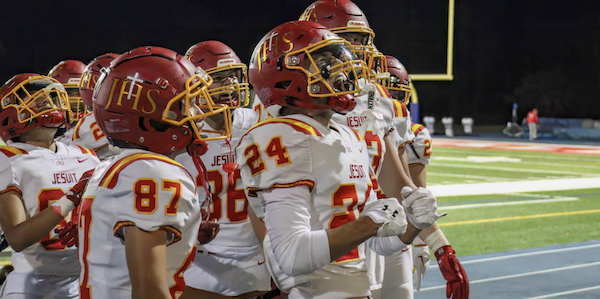 With CJ Lee Shining At Quarterback And The Marauders Defense Getting More Stingy By The Week, Jesuit Football Zeroes In On Delta League Crown
Addressing his team a few moments after Jesuit-Carmichael wrapped up a 26-0 win at Clayton Valley-Concord, head coach Marlon Blanton informed his team of its Saturday plans by emphasizing one key word.
"You've earned a day off," the longtime Marauders coach said, making sure to pause for effect.
A road win over a quality East Bay Athletic League team certainly falls into the category of earned, not given for the Delta League heavyweights.
Earning a shutout victory against a team of Clayton Valley's caliber isn't something that comes out of nowhere, and the effort is just the latest example of a team that is hitting its stride when the games start to mean the most.
Including the win over Clayton Valley, Jesuit (5-1) has allowed a total of 26 points in its last four games. All of those points have come with each contest already decided, and Blanton estimates that the Marauders' first-team defense hasn't allowed a point since week two at St. Ignatius-San Francisco.
"Our coaches do a good job of prepping those guys and do a good job of scouting our opponents to get those guys in the right spots," Blanton said. "Those guys are getting better at getting to the right spots and they're flying around."
_______________________________
CONNECT WITH US:
Follow SportStars on Twitter & Instagram | Like us on Facebook | Subscribe!
_______________________________
Senior defensive end Cooper Babb has been one of the leaders on that side of the ball, entering the game with a team-high 4.5 sacks and two forced fumbles.
On Friday, he played a major role yet again as the Marauders held the Ugly Eagles to just 131 yards of total offense. Babb, along with fellow senior Drew Vassar, earned mention from their offensive catalyst, quarterback CJ Lee, as the "heart and soul" of the team's defense.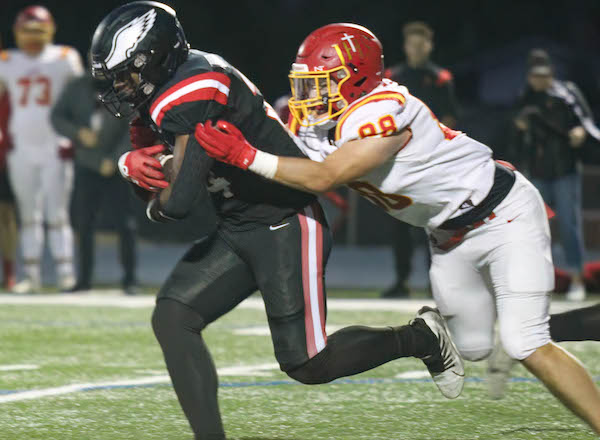 "Our defense has been great the past three weeks. We haven't gotten a donut all season and this is a great way to get it," Babb said. "Our offensive possessions really came through today. In the third quarter, we wasted what, 10 minutes, and still got that touchdown and our defense did its job all game."
Offensively, the scouting report starts with Lee and Friday's game was no different. One of Northern California's most electric dual-threat quarterbacks showed off his wheels immediately, breaking loose for an 11-yard touchdown run on the game's first possession.
After the Jesuit defense forced a three-and-out to take the ball back, Lee broke free again, this time for a 52-yard touchdown run that left the Marauders up 12-0 at intermission. Each time Lee broke contain, he had the option to pass or run and more often than not, the right decision followed.
"That's just coach Blanton," Lee said. "He's giving me the ropes of the offense, giving me the keys and he just trusts me."
"At the half, he goes 'can we just run the ball? Let's run the ball at these guys,'" Blanton said. "I think we might have thrown the ball a few times in that half. He's fun to coach. He's not just fun to coach. He's fun to watch. I love his spirit and his attitude. He's a team player. You want your guys to be like that."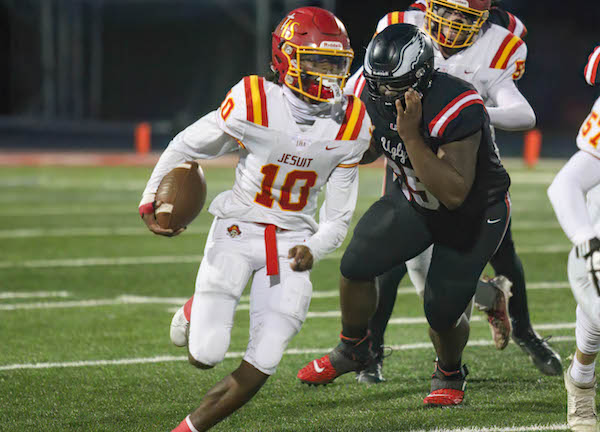 Blanton listened to his quarterback after the break. Jesuit turned back to the ground game and senior Johnnie Brannon IV found paydirt twice, capping a 13-play drive with a 2-yard touchdown run and then adding a 40-yard touchdown run to punctuate the victory.
Jesuit's trip to Concord offered a brief detour from the rigors of the always-tough Delta League. One-sided wins over Sheldon-Sacramento and Pleasant Grove-Elk Grove have the Marauders in a good spot as they return to league play with a trip to Franklin-Elk Grove, and then it's Saturday afternoon home games against Cosumnes Oaks-Elk Grove and Elk Grove before the regular season concludes at Davis.
Blanton knows if his team is going to achieve its goals, there is plenty of work left to be done.
"Get to the spots quicker. Technique, what we're asking them to do, quicker, faster," Blanton said. "As we get further into the season and we play better teams, we're going to be challenged. Like this, we anticipated this being a good game for us and a challenge to see what we could do so it was good to see our offense really move the ball in the second half the way they did."
Friday's win earned the Marauders a valuable day off, but if they want to continue their roll, they won't wait long to get back to putting in the work required to earn even more success.