Jacob Pruitt, Physical Run Game Power Rancho Cotate Past Granada; Heritage Takes Down Redwood With Its Own Physicality PICTURED ABOVE: Rancho Cotate quarterback Jacob...
Jacob Pruitt, Physical Run Game Power Rancho Cotate Past Granada; Heritage Takes Down Redwood With Its Own Physicality
PICTURED ABOVE: Rancho Cotate quarterback Jacob Pruitt, left, and Heritage running back Mekhi Adenandus. (Ben Enos photos)
Look good, feel good. Feel good, play good. The Rancho Cotate football team is getting healthy, and that has the Rohnert Park high school in position to make its loudest noise of the season when the results matter most.
Utilizing its usual brand of physicality along the offensive and defensive lines, No. 6-seeded Rancho Cotate rumbled right through its North Coast Section Division II quarterfinal at No. 3 Granada-Livermore, rushing for 256 yards as a team en route to a 40-18 victory.
Seemingly underseeded at No. 6, the perennial power from the Redwood Empire had no trouble running through its higher-seeded foe. Geovanny Ortiz rushed for 120 yards and two touchdowns, quarterback Jacob Pruitt rushed for 106 yards and two touchdowns.
So, was it a case of being underseeded, or is this simply a team coming into its own at exactly the right time?
"We earned that seed, to be honest with you," Pruitt said. "We had a really rough league (season), so we earned our seed and we just have to live with it and we have to fight moving forward."
A serious battle with the injury bug put Rancho Cotate at a disadvantage for a key part of the season. The spate of poor health coincided with big games against North Bay League-Oak Division rivals Windsor and Cardinal Newman-Santa Rosa, and led to losses against each.
_______________________________
CONNECT WITH US:
Follow SportStars on Twitter & Instagram | Like us on Facebook | Subscribe!
_______________________________
As players have returned, so have Rancho's winning ways.
"We've gotten healthy. We were super banged up and injured for the middle of our season for many games," said Rancho Cotate head coach Gehrig Hotaling. "A lot of outstanding football players couldn't suit up, but now I think we're peaking at the right time. It's a nice time to get hot."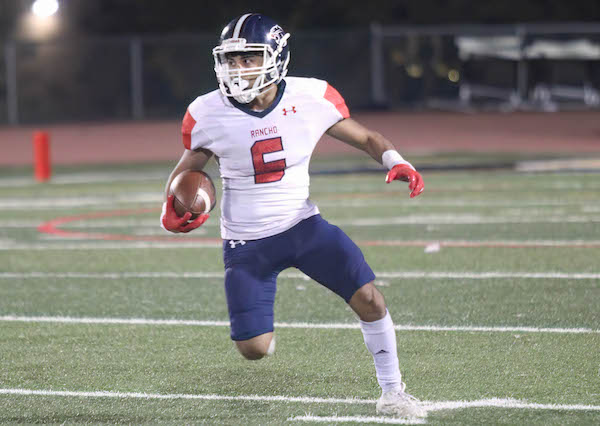 Pruitt's return to health, along with several other key playmakers, provides a major reason for optimism in Rohnert Park.
One of the most dynamic dual-threat quarterbacks in Northern California, the Cougars' signal-caller showed off not only his speed but also his toughness against the Matadors.
On one third quarter run, he bounced off several Granada defenders to get Rancho Cotate (7-4) to the Granada 1-yard line. On the first play of the fourth quarter, he turned the corner and never looked back, bolting for a 29-yard touchdown run.
He also forced a fumble defensively, and made his presence felt on that side of the ball throughout the evening.
"He's just an incredible person, athlete and leader on the field. He's in full control at all times," Hotaling said. "I'm happy to see him getting healthy and doing what he did tonight is amazing. It's scary for other teams. He's just getting healthier each game."
Pruitt also knows the script that comes with being the leader of a football team with big aspirations.
"It is the intelligence of our offensive line. Every single week, they're getting smarter and they're getting more physical," Pruitt said. "Allowing them to not have to think before the play, they're just balling out and moving forward, it's just going to get better from here."
A road win in Livermore is nice, but the stakes go up another level in the Division 2 semifinals.
Waiting for Rancho are the rival Jaguars, with this installment of the rivalry set to take place in Windsor. The Jaguars earned a 35-7 victory when the two teams met on October 13 in Rohnert Park, so the Cougars will look to lean on their improved health, as well as a 5-1 road record this year, as they push to keep their season going.
"I didn't think we played particularly well on either side of the ball. Good thing (is) we played them and we've got film and we'll make our adjustments," Hotaling said. "The bottom line is we just need to play with a lot of passion and heart.
"It's a rivalry game and we're familiar. It's tough to beat a team twice in one season, so I think we can give them a battle."
HERITAGE HAMMERS REDWOOD
Physicality was again the name of the game on a sunny Saturday afternoon in Marin County as No. 5 seed Heritage-Brentwood established the run, called on the playaction pass when needed, and otherwise used its size to dominate in the trenches in beating host No. 4 Redwood-Larkspur 35-8 in an NCS Div. II quarterfinal.
The return to physical football was a point of focus for the Patriots entering the postseason after a 52-21 loss to Brentwood rival Liberty ended the regular season with a bit of a thud.
"I'm so proud of these guys," Heritage coach Dave Fogelstrom said. "We had a rough one last week against Liberty, and all week long we just preached physicality. We wanted to come out here today and run the football, take our shots deep when we had them and I feel like we did that today."
Junior Mekhi Adanandus set the tone early, scoring on runs of 3 and 62 yards in the first quarter. Those two scores sandwiched a 34-yard touchdown pass from Phillip Babbitt to JJ Kinnaird, and Heritage (5-6) jumped out to a 21-0 lead to put Redwood (7-4) on its heels. That was the extent of the scoring until the fourth quarter. Babbitt found senior Brooks Davis for a 6-yard touchdown pass, and sophomore Ilias Muhammad scored from a yard out to wrap up the Heritage scoring.
Babbitt threw for 175 yards and two touchdowns, Adanandus rushed for 145 yards and Muhammad added another 59 on the ground.
"It means the world. We've been working for this moment," Davis said. "We haven't made the playoffs in a minute, so we decided to come here and take care of business. It's a big deal for us."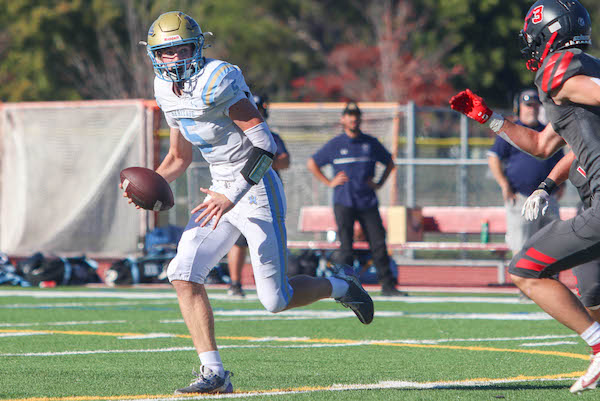 Redwood got on the board late thanks to a 12-yard touchdown pass from Kody Vasquez to Jackson Walker, but the Giants struggled with dropped passes throughout the day and could never establish a rhythm offensively.
The win marked another step in the growth process for a Heritage group that relied on a large senior class in 2022. By beating Redwood, the Patriots claimed their first playoff win in six years and punched their ticket to the NCS semifinals for the first time since 2016.
"I think for us it's been just the maturity thing and then waiting for leaders to step forward," Fogelstrom said. "We had 23 seniors last year. They all graduated, that was a veteran group and (this year's players) were all kind of looking around to see who the leaders were this year. I think now we've found them, and that pays big dividends, especially in playoff football."
Heritage now heads to No. 1 seed El Cerrito on Friday with a spot in the Div. II final on the line.