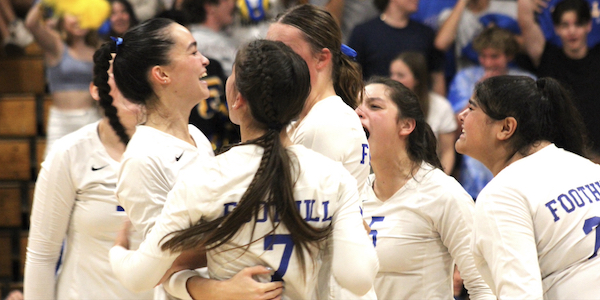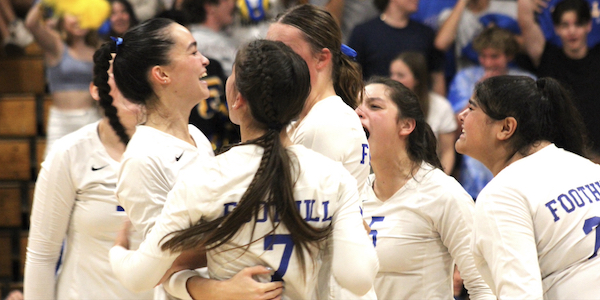 With Come From Behind Win Over Marin Catholic, Foothill Volleyball Improved To 36-1 And Snapped Four Game Skid In NCS Finals Appearances PICTURED ABOVE:...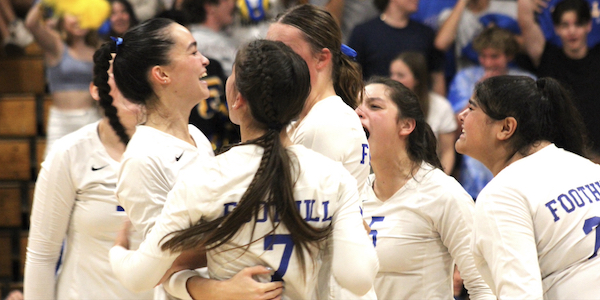 With Come From Behind Win Over Marin Catholic, Foothill Volleyball Improved To 36-1 And Snapped Four Game Skid In NCS Finals Appearances
PICTURED ABOVE: Nisa Kincaid (left) and Katie Salonga (5) join teammates in celebrating a Foothill point late in the NCS championship match. (Chace Bryson photos)
Katie Salonga fully admitted to not having got the best night of sleep Friday.
The Foothill High four-year setter was about to be heading back to the North Coast Section Division I finals after losing the same championship game a season ago. It was the program's fourth runner-up finish during a 13-year title drought dating back to 2010.
There was a lot to think about.
Salonga flashed a big grin when asked about her previous night's rest. "Not great," she said. "I was a little nervous. I was thinking about it. I was like, 'Wow. I can't believe it's here already.' I'm not ready for this season to be over."
It's not over just yet. After topping Marin Catholic-Kentfield in five sets Saturday in Pleasanton, the next stop for the 36-1 Falcons will be the CIF Open Division NorCal playoffs. The team will learn its seed and first-round pairing Sunday afternoon.
Salonga and her teammates may not be ready for the ride to end, but they were certainly ready to rise to the challenge after Marin Catholic won back-to-back sets to take a 2-1 lead in the championship tilt.
_______________________________
CONNECT WITH US:
Follow SportStars on Twitter & Instagram | Like us on Facebook | Subscribe!
_______________________________
Foothill took the opening set 25-23 before Marin Catholic grabbed the momentum with 27-25 and 25-17 wins in Sets 2 and 3. As the Falcons players returned to their bench, longtime Foothill volleyball coach Dusty Collins did his best to remind them that this situation wasn't new to them.
"I tried to just calm them down and make them realize that we've been in tough situations before," Collins said. "We were down 0-2 twice in a row in our league playoffs and had to come back and win three in a row. So I said, 'That was worse than this. At least it's just 2-1.' … We knew we could play better in our serve and our passing game too."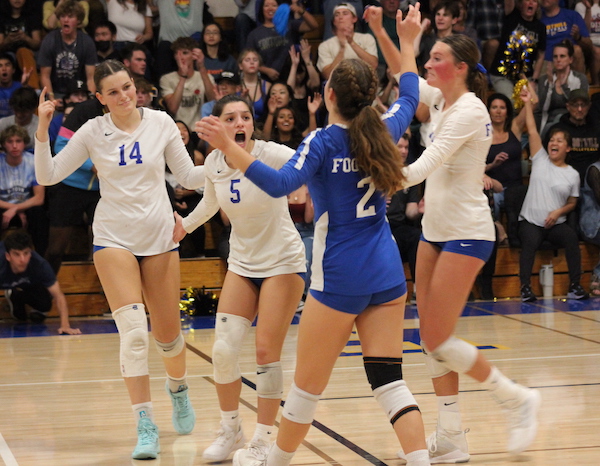 Senior outside hitter Paige Bennett had similar thoughts as she stood in the huddle and listened to Collins.
"I thought to myself that this is why we get five sets. We're going to get it done; we're going to pull it through," Bennett said. "We were a little ticked off by that third set, so we were ready to take it to them."
It was a kill by sophomore Paige Nelson that broke a 5-5 tie in the fourth set, and the Falcons would never trail in either set the rest of the way. Foothill went on to tie the match with a 25-20 set win. It then rolled to a 15-7 victory in a deciding set that was also tied at 5-5 before the team pulled away with five unanswered points.
The win secured the program's third section title, and according to Collins, puts this team right on par with some of the best teams of his 27-year tenure at the Pleasanton school.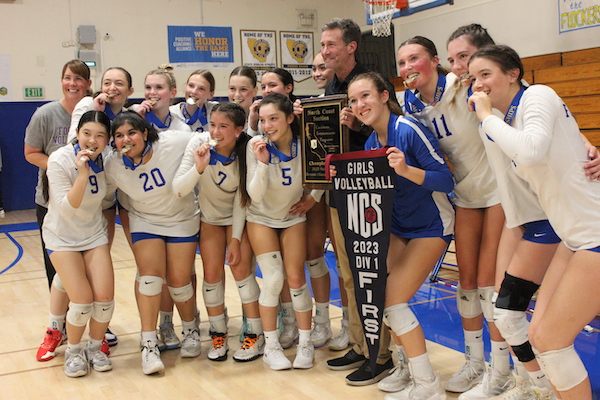 "It's one of the tops, obviously," Collins said. "We've talked with them about the 2006 team that got all the way to the state championship and was 38-0 (before losing the final). This team is ranked with that team. To get the amount of wins we've gotten in a row here. … To pull out some of the matches they've won. … They can get this done."
Salonga and Bennett are the engine that makes it all go. Both have been on varsity since a 2020-21 freshman season that was played in the spring as NCS sports returned from COVID.
Saturday night had several heroes for the Falcons, but the biggest points of the match always seemed to involve Salonga or Bennett.
"Paige and I have played together ever since we were babies, different sports through the years," said Salonga, who finished with 51 assists on the night — 22 of them resulting in Bennett kills. "We have great chemistry and we've been learning to work with each other since we were 4. So it's great."
Bennett shared similar sentiments about her setter, but widened the scope too. When asked why it was this particular team that broke through for the title, she spoke of the bond between all 14 players.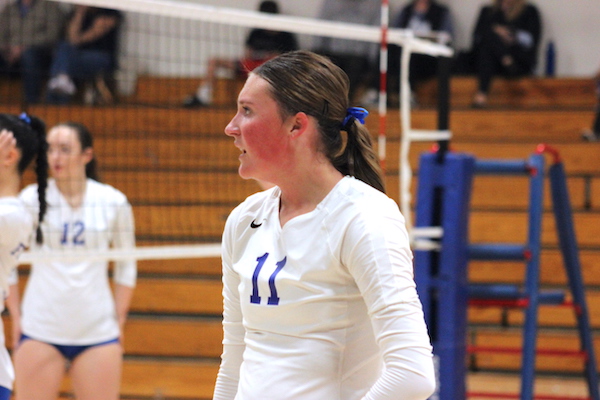 "I think we're just super connected on and off the court," she said. "We're just one unit and we work together really well. We communicate with each other. We just flow."
Seven different Falcons had kills against Marin Catholic, three reached double figures. In addition to Bennett's 22, junior Kaycie Burdick had 14 and senior Nisa Kincaid had 10.
While being proud and happy for all the girls, Collins was particularly thrilled for those seniors who had suffered through championship and big-game losses in recent seasons.
"I told them when we walked off the court a couple times after losses, 'We're going to walk off the court together having won one of these big ones,'" the coach said. "It was fun to do tonight."