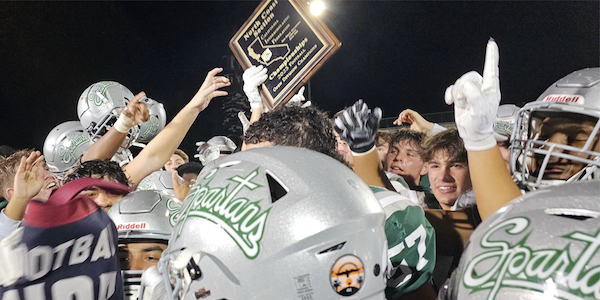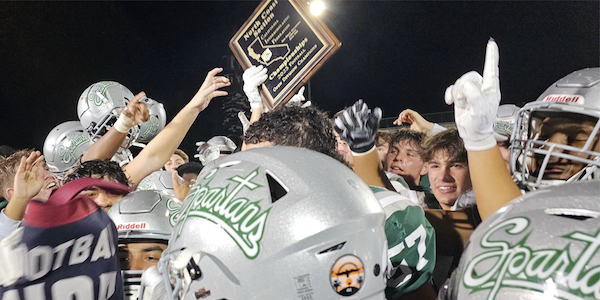 Despite Two Major Challenges From San Ramon Valley, De La Salle Football Upholds Three-Plus Decade Of Excellence Over North Coast Section Presented without context,...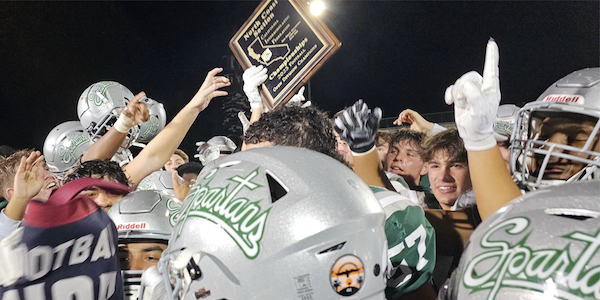 Despite Two Major Challenges From San Ramon Valley, De La Salle Football Upholds Three-Plus Decade Of Excellence Over North Coast Section
Presented without context, the numbers associated with the De La Salle-Concord football team's dominance of its own backyard never cease to amaze.
31 straight North Coast Section titles. 38 total section titles. A 271-game unbeaten streak against section teams over that span.
Now add the context, and the Spartans' collective feats of strength become even more impressive.
Having battled De La Salle to overtime earlier in the season, San Ramon Valley-Danville figured to be the primary candidate to end those lofty streaks this year. The Wolves again had their chances to be that team, but on a damp night at Dublin High, two Toa Fa'avae touchdown runs and a game full of quality defense proved the difference as the Spartans won, 17-7.
In the era of teams chasing state championships, section titles sometimes get lost.
Not for the Spartans.
_______________________________
CONNECT WITH US:
Follow SportStars on Twitter & Instagram | Like us on Facebook | Subscribe!
_______________________________
"My brother's in the stands right now and he was on the '92 team that started it. A couple guys on the staff, I played with, and a couple guys on our staff I coached. It means a lot to uphold tradition," said head coach Justin Alumbaugh. "(San Ramon Valley) is a very good team. Those guys are really good. They're definitely one of the better teams we've played in this championship game.
"It means a lot to me to uphold tradition. That's why I'm here. I'm a product of the tradition."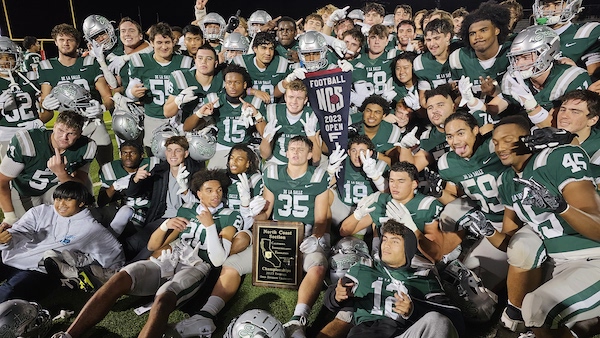 That tradition translates to some fairly mind-boggling historical benchmarks. In claiming its 38th section title, De La Salle moved ahead of Bakersfield for the most California Interscholastic Federation section titles of any football team in the state, according to CalHiSports.com.
When it comes to all sports statewide, the 31-straight section titles ties De La Salle with Bellarmine-San Jose's 31 consecutive boys swimming titles (1985-2016), and they both trail Poway's still-active wrestling section title streak of 42.
In between the lines, the script remains largely the same as it always has for De La Salle. Trailing 10-7 late in the third quarter, the Spartans (10-2) took the ball on their own 7-yard line and went to work on the ground. A 13-play, 93-yard drive — all runs — ended with a 15-yard touchdown by Fa'avae and put De La Salle (10-2) ahead.
After the De La Salle defense held, the Spartans put the finishing touches on the game, this time going 54 yards in 11 plays and scoring on a 14-yard run by Fa'avae.
"It means that we're here every year. You come to De La Salle not just to play regular football but to win state championships," Fa'avae said. "The higher and higher you move into the playoffs, the bigger deal it is, but we take every game as serious as we take the next. It doesn't matter who we're playing."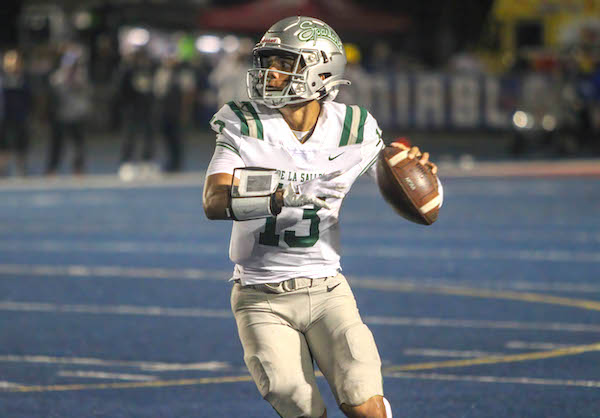 No matter how lofty their aspirations, it would have been hard for the Spartans to overlook the opponent on this occasion. That's because San Ramon Valley (10-2) pushed De La Salle to overtime in their first meeting of the season, an eventual 33-27 Spartans win. For three quarters this time, the Wolves looked in prime position to be the team that made history by ending another notable streak.
After senior quarterback Luke Baker rushed for 181 yards in the first meeting, De La Salle paid particular attention to limiting his ability to scramble. That plan certainly worked, but a 33-yard touchdown pass from Baker to Evan Economos with 24 seconds left in the first half gave San Ramon Valley a 7-3 lead at intermission.
That was all the Spartans allowed. Because of De La Salle's ability to increase the physicality offensively, San Ramon Valley got only four possessions in the second half, and they resulted in a missed field goal, punt and two turnovers on downs.
"We just stayed more disciplined in our coverages and more disciplined in taking care of business and getting to the quarterback," linebacker Drew Cunningham said of the adjustments from game one to game two. "Hell of a job by the defensive line, closing up gaps, staying disciplined in their alignments and their assignments. That made it a lot easier, and once he broke out of the pocket, there were 11 hats on the ball getting to him."
Growth on defense has been the linchpin of this particular title run for the Spartans. De La Salle has allowed only 14 points per game this season, but subtract the first two games of the season — the Spartans only losses — and that number drops to 10.7 during a 10-game winning streak.
"We're just a much more physical team across the board," Alumbaugh said. "Still not a lot of flash and all that stuff. Play really good special teams, play really good defense, be physical on O and try to wear teams out. That's our MO. That's how we've got to be."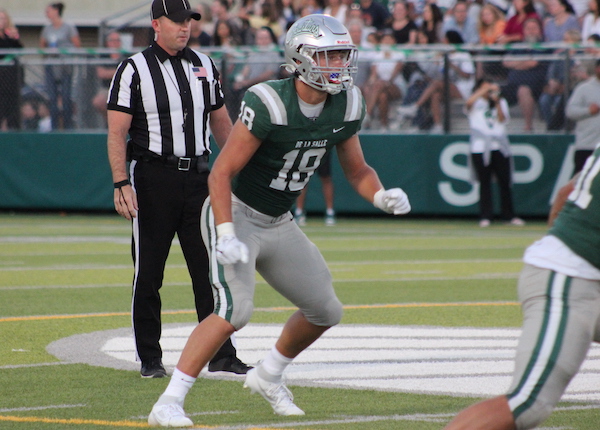 The win qualified De La Salle for yet another California Interscholastic Federation Northern Regional game berth. The Spartans no doubt entered into the later stages of the postseason with plenty of confidence given the fact that their success hasn't come just against NCS competition.
Wins over Folsom, St. Mary's-Stockton, St. Francis, McClymonds and San Ramon Valley have De La Salle firmly established right behind Serra-San Mateo in the NorCal hierarchy.
"Obviously the main goal is state, but by all means this is a huge step in the direction of state," Cunningham said. "We don't care about the streak, we don't care about the numbers. We just know it's another big game against a tough opponent and we need to execute."
That forward vision is understandable given the time of year. But, by securing yet another NCS title, the 2023 Spartans have already made one contribution to a tradition all their own.