7 Up! Jesuit's rugby club battles to claim a 7th national title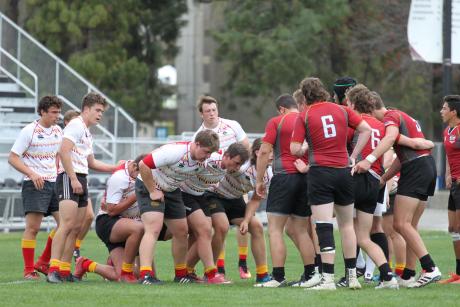 Jesuit's rugby club battled back from a pair of halftime deficits to claim a 7th national title.
 By JIM McCUE | Senior Contributor
The Jesuit High rugby team does not need much motivation for games. The Marauders are a nationally-recognized power that strives each year to live up to the standards and reputation established by their predecessors in the program.
At the recent High School Rugby National Invitational Tournament in Elkhart, Indiana, Jesuit got an unexpected motivation en route to the Marauders' seventh national championship in 17 years of existence.
Prior to the team's semifinal game against No. 2 Xavier of New York, Jesuit discovered that the oldest high school rugby program in the nation was more than a little confident in its ability to defeat the Marauders. The Outlaws had downed Jesuit 41-20 in an April 1 matchup in Carmichael, so Xavier supporters reserved an entire restaurant to celebrate their team's national championship berth.
The problem was that the semifinal game to earn the national title game berth had not yet been played against Jesuit when some Jesuit parents and supporters stumbled upon the information about the Outlaws' reservation while dining at the restaurant the night before.
"At our morning stretch and walk-through, we let the boys know that there was a big party planned by Xavier to celebrate their win," coach John Shorey said. "We didn't play it up, but we let them know."
In the semifinal, Jesuit trailed at halftime before scoring 29 consecutive points after the intermission on their way to a convincing 39-20 victory to earn a shot at the national championship.
In the final, the Marauders again trailed at halftime — this time, 13-7 to national No. 1 Gonzaga College High from Washington, D.C.— before tightening up their vaunted defense and allowing just a single three-point try by the Eagles to record a 21-16 victory and secure the national title.
"The game was top-flight and our defense was amazing," Shorey said. "We were able to put tremendous pressure on what they wanted to do and they were unable to change their game."
Wing Devin Kelly scored a pair of tries and Jesuit's defense, led by junior flanker Connor Rock, set the tone. The Marauders allowed just 53 points in three games (17.6 per contest) against top-level competition.
"Our defense if our offense," Shorey said. "If you don't let teams score, then it puts more pressure on them and allows us to capitalize on mistakes teams might make if they start to panic."
Jesuit's biggest defensive stand came in the first game at the NIT when the Marauders defended their goal line against a bigger and more physical Herriman (Utah) squad that featured five Division I football scholarship athletes. The clutch defensive effort spanned the last five minutes of the game in a narrow 18-17 win.
That kind of desire and intensity has been a staple of Marauders squads under Shorey, who helped found the program in 1997 along with help of General Manager Fred Khasigian and support from then-athletic director Chris Smart. Shorey initially told Smart and Khasigian that he would coach for one year to help start the program, but the off-campus coach has not been able to step away for 17 years.
In addition to the traditional desire and determination, this year's Jesuit rugby team featured great depth and unmatched team speed.
"From one through 15, this is one of the best teams that I have had in terms of talent at all positions,"
The veteran coach said. "These young men have built an amazing bond where everyone is in for the team."
Shorey credits captains Matthew Ternan and Casey Reilly for the team's bond and unselfishness. The senior pair led the Marauders and the school with integrity, according to Shorey, and built a trust and brotherhood that the coach believes will last for years.
"We want kids to be able to come back to the school years later and show their kids and family the trophies and share the stories about the teams and their success," Shorey said. "I tell them that we play to win the hardware, but we do it with class and humility. That is their legacy."
The legacy of the 2013 Jesuit rugby team will include another national championship trophy for the storied program. That, in and of itself, will be motivation for future teams to live up to the standards and traditions upheld by this year's team.
And it will likely be motivation for every opponent that faces the defending national champions in 2014.