Aaron Gordon Archbishop Mitty-San Jose – Basketball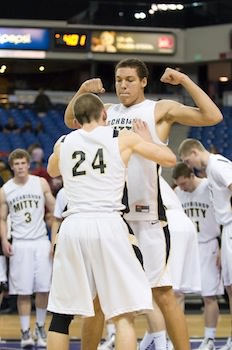 No surprise here. When you score 33 points, grab 20 rebounds and live up to endless hype as your team just wins its second straight state championship, it's tough not to make you the AAA SportStar of the Week. Aaron Gordon came up big against La Costa Canyon-San Diego as the Monarchs won 78-57 on March 23.
SportStars Magazine: You've had a great career so far, what's your favorite highlight? 
Aaron Gordon: Winning that second state title. Scoring 33 points and getting 20 boards and winning by 21. We had that target on our backs all season and we were still able to win. That was pretty good.
SSM: This must've been the most stressful time in your life (battling mononucleosis, basketball season, recruiting, national spotlight, etc.), how did you rise above it all?
AG: (laughs) No, man. High school's pretty stress-free.
SSM: What advice did your older brother Drew, star player for the University of New Mexico, give you about the recruiting process?
AG: Don't go through all the glitz and glamour. Just look for a coach that's looking out for your well being. 
SSM: What are your summer plans?
AG: Playing with the Oakland Soldiers and going to Lithuania with the USA team.
AARON'S QUICK HITS
Favorite athlete: LeBron or Magic Johnson
Favorite team: Knicks
Fave ice cream flavor: Mint chip
Honorable Mention
KC Waters — The junior forward posted game-highs in points (14) and rebounds (13) in the CIF Div. III state final as she helped Bishop O'Dowd beat Laguna Hills 62-24 on March 24.
Cody Blick — The San Ramon Valley senior golfer won the Gambetta Invitational shooting a 2-under 70 on March 5 and the San Francisco City Championship (match play) over Weston Payne of Menlo Park at Harding Park on March 11.
Rachel Howard — The senior got a double-double (13 points, 12 boards) in Berkeley's NorCal final win over Kennedy-Sacramento and a team-high 12 points in a loss to Mater Dei-Santa Ana in the state final.