Amazin' Mats: Miramonte Girls High School Water Polo Dominant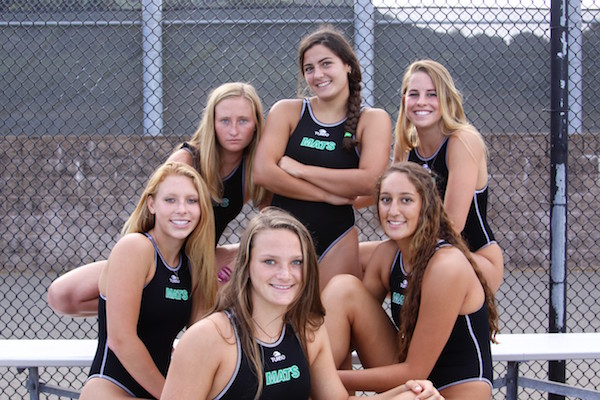 With A 17-0 Start Against A Loaded Schedule, Miramonte Girls Water Polo Has Never Looked More Dominant
Miramonte High School water polo girls team is pointing out there are two elite varsity water polo programs at the Orinda school.
Granted, the Matadors boys are an established dynasty, with 15 North Coast Section titles over the past 22 years. The Matadors girls own four NCS championships, including a Division II title in 2015.
But this season, the girls have taken it to a new level. They are at 17-0 through the first third of October, with victories over some of Northern California's most renowned programs.
"The competitive side of our team definitely comes out, because, personally I'd just want to show the boys that we're the dominant team. We're the ones in charge here," senior Kelly Murphy said with a grin.
The Matadors' roll includes a 14-8 win Oct. 4 over six-time defending NCS Division I champion San Ramon Valley-Danville . It was a bit of payback for the Wolves.
"It felt great to beat SRV this year, because last year we lost 5-4 in the (NCS) finals to them, which was very disappointing," Murphy said. "So it felt really good to come back and beat the reigning champions."
Last season was Miramonte's first in Division I, having moved up because of competitive equity.
"I think we went in knowing we weren't on top anymore, and we had to work our way to get back up there," said senior Carson Broad. "So it was a higher level of competition, so that made it more challenging. I thought we did pretty well last year with getting second. Hopefully this year we'll be able to finish on top."
The Matadors have built quite a case for that to happen. They are 3-0 against Monte Vista-Danville, a power which has played for the NCS championship 12 of the past 14 years, winning seven in that span. Those wins were in the finals of both the Acalanes Tournament and California Capital Challenge at Woodcreek-Roseville, and in a Sept. 23 nonleague match in which Miramonte prevailed 9-7.
"I think we knew it would take a lot of effort to being where we are right now, as to being undefeated," said senior Katrina Drake.
Their closest margin was 7-6 on Oct. 7 against Davis, owners of eight of the last 10 Sac-Joaquin Section Division I titles.
"We controlled 75 percent of the game, and Davis made a big run toward the end," coach Lance Morrison said. "Guess you can say we let our guard down a little bit, and Davis being the team they are, weren't ready to quit and were going to fight to the very end. That's why we play the game."
Said senior Skylar Savar: "We wanted to keep our streak going and didn't want to lose sight of our goals."
Also, the team keeps a strong mental approach regardless of the caliber of opponent.
"We know not to go into every game thinking that we're just going to win; we have to go out really strong no matter who we're playing," senior Grace Tehaney.
The Matadors returned their entire starting lineup for this season. Of the five senior captains, Drake is bound for UCLA, Savar is headed to USC, and Murphy, Broad and Tehaney are undecided. For those who have followed girls water polo, there's something special going on.
"What I like about this group is the leadership of the captains is tremendous," assistant coach Chris Lloyd said. "They are an inclusive team, from the top player on varsity to the least experienced player on junior varsity. You don't get a lot of cliquishness. I've been familiar with the program — I've had four daughters go through it. This is hands down the best team I've ever seen."
Morrison, who played at Fairfield High, Santa Rosa Junior College and Pacific, is in his first year as Miramonte's varsity head coach, having been the JV head coach the previous two seasons. He worked with all five captains in club water polo as part of the 680 Drivers program, so he had a strong notion of the talent he'd been getting.
"Our goal as coaches is to work with the players so they can be a positive influence in other areas of their lives," Morrison said. "It's kind of a nice bonus to get the wins. I'm especially lucky to be a first-year varsity coach and have such a talented team."
With the NCS playoffs less than three weeks away, the Matadors senior captains remain focused.
"We're excited to finish the season strong, especially since it's our last year," said Broad.
Lastly, they've been able to enjoy what they've accomplished thus far.
"There's definitely a fun dynamic on the team," Drake said. "Everyone has the same goal. That's different than past years. We're super committed and motivated. That's what brings us to this point."
Miramonte Girls High School Water Story by MIKE WOOD | Photos by KRISTEN TEHANEY