Bay Area Divers In the Zone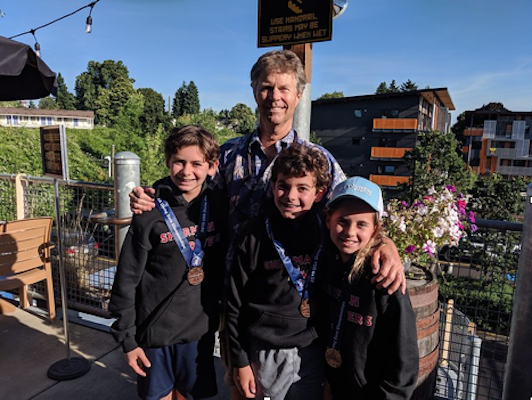 Feature Photo: Sofie Lehane with Michael Solomon (left), who dove in the Boys 12-13 age group in both the 1 meter and 3 meter springboard events, placing 7th on 3m and 6th on 1m. and brother Jake Solomon who competed in the Boys 11 & Under 1 meter event, placing 7th.
Sherman Diving Club had an exciting start to the summer with three of the team's divers having qualified to compete in the prestigious Zone Diving Championship held in Beaverton, Oregon, from June 13-16.
The top three from each age group qualify directly to Finals at Junior Nationals, and 4th-10th qualify to the prelims at Junior Nationals.
Coach Steve Sherman was excited with the outcome as all three of his divers qualified for Junior Nationals from July 30-Aug. 5. At the end of July, the top divers from across the country will compete at the University of Tennessee in Knoxville.
"All three of our divers qualified for Junior Nationals prelims," Sherman said. "I am very proud of them."
Michael Solomon, 12, scored best on his front double-flip. Sofie Lehane, 11, (a SportStars feature athlete this time last year) was very proud of her inward 1 1/2. And 10-year-old Jake Solomon was happily surprised that his front 1 1/2 went so well.
"Diving at Zones was a wonderful experience," Jake Solomon said. "I am extremely excited that everyone on our team who went to Zones will now be traveling to nationals."
Lehane and both Solomons each placed within the top 7 divers in their events.
About Sherman Swim and Dive School
Sherman Swim School originated in 1961 by founder, Bob Sherman. Since then, Sherman Swim School has taught over 39,000 students to swim and turned out numerous diving champions. It is now run by Bob's son, Steve and wife, Laurie.
Get valuable answers to your swimming and diving questions, [Sherman FAQs].
WHAT IS THE RECOMMENDED AGE FOR BEGINNING SPRINGBOARD DIVING LESSONS?
ARE THERE PRE-REQUISITES IN ORDER TO SIGN UP FOR DIVING LESSONS?
WHAT SKILLS ARE LEARNED IN BEGINNING DIVING LESSONS? and
WHAT IS AVAILABLE AFTER BEGINNING DIVING?