Volleyball Blocking Techniques- What works for you?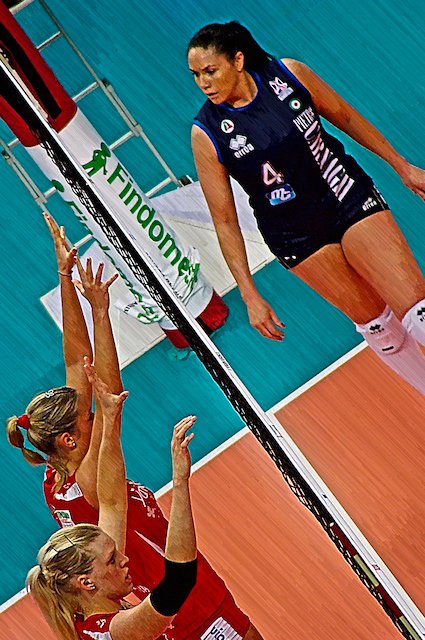 In my last blog post, I covered 3 Weapons For Effective Blocking. We detailed our way through "soft blocking", "swing blocking" and "the joust". Each have to do with hand positioning and making sure your hands are as big as you can make them appear to be.
Now, lets talk about blocking techniques and finding what works for you!
A quick bit of advice here: Being adaptable and having a good attitude will always serve you well. This is what I mean…
Toward the end of my career, my coaches decided it was more important for me to get a good touch than to help with the middle attack, so sometimes I would swing block, other times I would already be on the outside covering that area.
It's important to learn and try these different types of blocking techniques. At the end of the day, your coach will determine what works best for you and the team, but being adaptable and having a good attitude about trying new techniques will serve you well.
It's worth pointing out that for four straight Olympics – 2000 (Sydney), 2004 (Athens), 2008 (Beijing) and 2012 (London) – our starting setter on the women's team was under 5-8. In Sydney and Beijing, the setter was Robyn Ah-Mow, who is 5-7. I was the setter along with Robyn in Beijing. In London, I was the starter and our other setter was Courtney Thompson, who is also 5-7.
In both 2008 and 2012, we won silver medals.
Get My Point?
I'm sure you do. If shorter than 5-8 works at the Olympic level, it will obviously work at every level. Wink!
Next Lesson: Moving To The Ball
One thing we all might agree on in the volleyball world is that the possibility that a shorter/smaller setter will make faster moves to the ball. But that wouldn't be a good enough reason to choose a shorter setter over a taller one, because efficient footwork and reading can be taught to all setters. That being said, I do believe you can teach an already quick smaller setter to be more efficient and read even better, which is a huge positive for a team.
Lets cover that next time.
Thanks for following me with my SportStars blog. I have a lot more experience and technique to share with you. As the founder of the CUORE PROJECT, I hope you will watch our latest CUORE Feature mini-documentary on Micha Hancock. Micha shares with us what she had to sacrifice and some of the difficulties along the way of becoming a professional volleyball player.