Cal Poly Wrestling Adds Coach Sean Fausz to Staff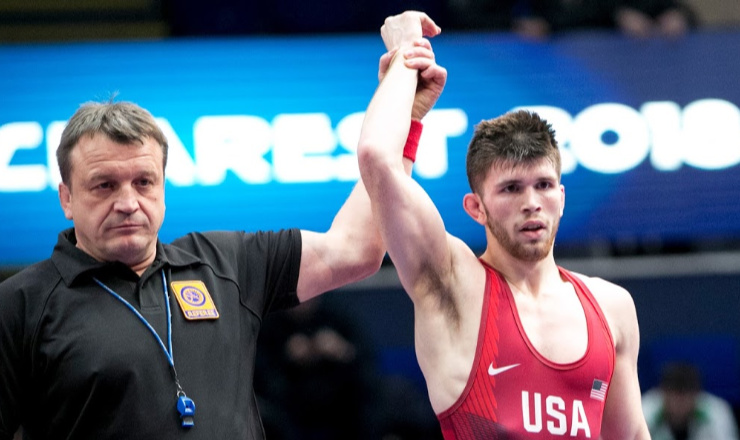 Cal Poly Wrestling
San Luis Obispo Cal Poly head wrestling coach Jon Sioredas has added a top young talent to his staff.  Sean Fausz has joined the program as an assistant coach.
Fausz is a third-place finisher at the 2019 Senior Freestyle World Team Trials. He will begin his coaching career at Cal Poly after a successful wrestling career at North Carolina State, where he compiled a 54-22 career record with eight falls.
Wrestling Head Coach Sioredas Says-
"This move is insurmountable for our program," said fourth-year Mustang head coach Jon Sioredas. "Sean will not only bring a wealth of wrestling experience to our lightweights, but the fact that he was a four-time Academic All-American while pursuing an engineering degree is a testament to his work ethic. This will carry a lot weight at Cal Poly.
"Sean's mentorship will provide our guys with first-hand experience on how to accomplish extraordinary goals, both on the mat and in the classroom," Sioredas added.
Fausz captured a world silver medal in the 2018 U23 World Championships. This was held at Bucharest, Romania. Also, he was a four-time Atlantic Coast Conference finalist. And he captured an ACC championship in 2018 while competing for the Wolfpack. Furthermore, he also qualified for the NCAA Division I National Championships four times.
At Campbell County High School in Alexandria, Kentucky, Fausz was a two-time Kentucky state champion. Also he was an NHSCA Senior National runner-up, and posted a high school record of 234-24 with 115 pins. Furthermore Fausz posted a 62-0 record en route to the state title as a junior. In addition he placed third in the state finals as a sophomore and second as a freshman.
Fausz also was a Fargo Junior Freestyle All-American, FILA Cadet national champion and FILA Cadet World Team member.
Fausz earned his bachelor of science degree in electrical engineering in May 2019 from North Carolina State. Also he graduated with a minor in science, technology and society. In addition he was a four-time NWCA Academic All-American, a member of the Student Athlete Advisory Committee (SAAC) and a three-time team captain with the Wolfpack.
Sean Fausz File
Third Place at 2019 World Team Trials at 61 KG
Second Place at 2018 U23 World Championships at 61 KG
Four-time NCAA Qualifier
Four-time Academic All-American
Three-Year Team Captain
Bachelor's degree in electrical engineering
Two-time Kentucky state champion
Three-time NHSCA All-American
Fargo Junior Freestyle All-American
FILA Cadet National Champion
FILA Cadet World Team Member

GET CONNECTED:
Follow SportStars on Twitter & Instagram | Like us on Facebook | Subscribe!
_______________________________
Sean Fausz at the U23 World Championships (Photo/Gabor Martin, United World Wrestling)
Story by SportStars INSIDER, Al Fontes. Follow Al at thecaliforniawrestler.com.
,