CIF Football: Underdog De La Salle Set For Bosco Battle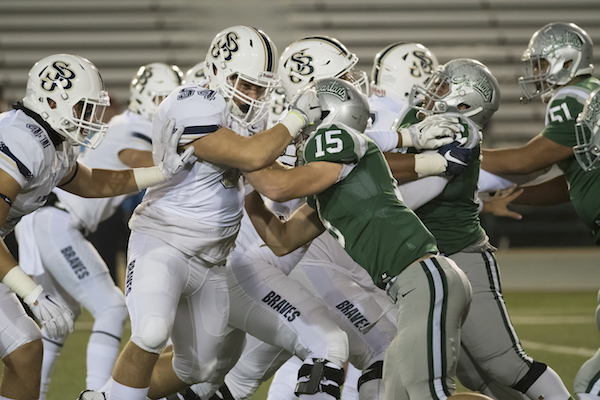 De La Salle Steels Itself To Challenge National No. 1 St. John Bosco In The CIF Football Open Division State Championship •
When you are as good as national No. 1-ranked St. John Bosco High-Bellflower, the array of talent never ends. With more than two dozen college recruits and threats galore on each side of the ball, there is not one must-stop individual for the De La Salle football when the Spartans play in their 11th consecutive CIF Football Open Division State Championship game on Saturday at Cerritos College in Norwalk.
St. John Bosco (12-1) is ranked No. 1 in the nation by both MaxPreps and USA Today for a multitude of reasons. Coming up with one individual or one aspect about the Braves that stands out leaves De La Salle coach Justin Alumbaugh perplexed. 
"Nothing and everything," he said in a moment of amazement. "The offense is incredible and the defense is fast. It's a compliment to them that not one thing stands out. They are that good.
_______________________________
CIF Open Division State Bowl
St. John Bosco-Bellflower (12-1) vs. De La Salle-Concord (12-1)
WHEN: 8 p.m. Saturday, Dec. 14 | WHERE: Cerritos College, Norwalk | TV: NBC Sports Bay Area
THE MATCHUP: The Braves head into this CIF State Open Division title game on a full head of steam, holding the nation's top ranking after rallying to beat former nation No. 1 Mater Dei-Santa Ana in a dynamic 39-34 Southern Section Div. 1 championship game. De La Salle enters firing on all cylinders, not allowing any opponent since September to score more than 14 points in any game, and winning its 12 games by an average margin of more than 41.
HISTORY: This is the third meeting between these teams, all in CIF Open Division state championship games. St. John Bosco defeated De La Salle 20-14 in 2013 and 56-33 in 2016.
_______________________________
"We have a huge challenge in front of us."
Indeed, even though the Spartans (12-1) are back in familiar CIF terrain, having beaten Pittsburg 49-7 on Nov. 29 to win their 28th consecutive North Coast Section title. 
_______________________________
CONNECT WITH US:
Follow SportStars on Twitter & Instagram | Like us on Facebook | Subscribe!
_______________________________
The Spartans, ranked eighth nationally in the MaxPreps Xcellent 25, have won six state Open Division titles and one more in Division I. The program has played on every state championship weekend since the CIF began its bowl games in 2006. But lately it's been very tough sledding against the powerhouses of Southern California, with the Spartans losing to Bosco in 2016 and to Mater Dei-Santa Ana back-to-back in 2017-18. 
Another De La Salle-Mater Dei matchup seemed in the cards for much of this season, until the Braves upended the Monarchs in an epic 39-34 comeback win in the Southern Section Division 1 championship game on Nov. 30, scoring the last 34 points of the game. 
Clemson-bound quarterback D.J. Uiagalelei threw for 444 yards and five touchdowns in the win, which avenged a 38-24 loss to Mater Dei in an Oct. 25 Trinity League game. He is just one of 25 St. John Bosco players with FBS offers, according to MaxPreps.com.
"The quarterback is very good, but it is not just him," Alumbaugh said. "They have 25 FBS players and there will be more on the way. You look at wide receiver and you have a guy going to Oregon (Kris Hutson) and the other to UCLA (Logan Loya). The quarterback is going to Clemson, and there are three really good running backs. And that's just on offense. Their defense is very similar, with big, strong guys who are fast to the ball."
Even though St. John Bosco is a strong favorite, the Braves find motivation in needing to defeat the Spartans to win the program's third state title in seven years. 
"Playing De La Salle for a chance to win a state championship is something that we talk about from the beginning of the offseason," St. John Bosco coach Jason Negro told MaxPreps.com. "The De La Salle program is one of the most iconic and storied programs in the history of high school football."
Like many of its state championship teams, this De La Salle squad has been tough on defense. Their secondary is the most athletic one Alumbaugh has coached in some time, he said. That defense will need an exemplary effort in the Open championship.
"We need to limit the big plays and get to their quarterback when we have the opportunity," Alumbaugh said. "We need to play very stout defense."
Offensively, junior quarterback Dorian Hale can do it in the air or on the ground. In 10 regular season games, he passed for 1,314 yards and nine touchdowns and ran for 446 yards and six more scores. The Spartans have a handful of talented multifaceted players like running back/safety Shamar Garrett, a San Jose State commit who finished the regular season with 800 rushing yards, 100 receiving yards and a 71-yard punt return among his 13 touchdowns. He was also 3 of 4 passing for 172 yards and three TDs.
Whether an underdog or not, the Spartans cherish each opportunity to play for a state title. It's the culmination of a year-long effort; next year's Spartans will get to work right when Christmas break ends.
"This is why we work so hard as a community and as a program," Alumbaugh said. "We knew if we were able to make the State Open Division championship game, we knew what type of team we were going to be playing. 
"We're not surprised. We're excited for the challenge."