CIF State Football 2018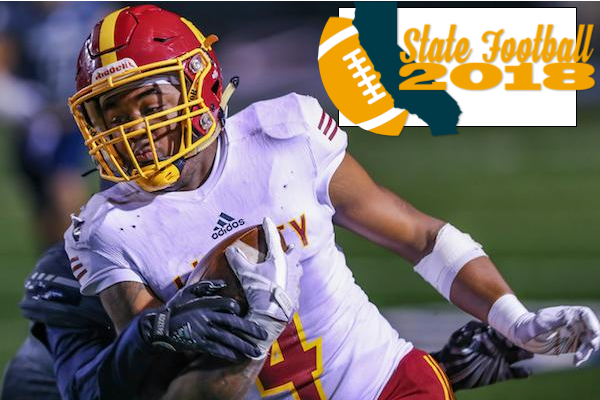 A Compilation Of Multimedia Presentations Chronicling The CIF State Football Appearances Of Folsom, Liberty And Del Oro •
Northern California football teams won 10 of the 15 potential CIF State Football Bowl crowns in 2018. The list of winners included, Folsom (1-AA), Liberty-Brentwood (1-A), Menlo-Atherton-Atherton (3-AA), Wilcox-Santa Clara (3-A), Pleasant Valley-Chico (4-AA), McClymonds-Oakland (4-A), Rio Linda (5-AA), Hilmar (6-AA), Lincoln-S.F. (6-A) and Denair (7-A).
SportStars sent photographer David Gershon and reporter/videographer Steven Wilson to Cerritos College for the Division I and II bowls on Dec. 14-15. Below, we offer three slideshows of Gershon's photos and a pair of videos produced by Wilson. Enjoy!
For writeups on these games, our partners at Cal-Hi Sports have extensive coverage from Day 1 (Folsom/Del Oro) and Day 2 (Liberty).
Division 1-AA: Folsom 21, Cathedral Catholic-S.D. 14 (OT)
Slideshow
Video
________________________
Division 1-A: Liberty 19, Sierra Canyon-Chatsworth 17
Slideshow
Video
________________________
Division 2-AA: Grace Brethren-Simi Valley 21, Del Oro 14
Slideshow