Dakarai Allen Sheldon-Elk Grove – Basketball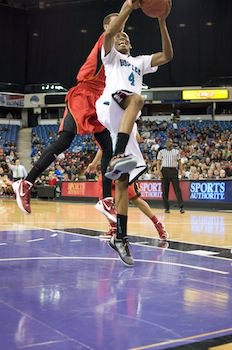 There's really nothing more nail biting than a championship boiling down to penalty kicks. Just ask Sarah Robinson, member of the Mountain View Los Altos SC Lightning U16 team. They won the FarWest Regionals on June 24 but not before they endured two overtimes and an epic penalty kick session in the sweltering Phoenix heat as they defeated Sereno of Arizona 1-0.
 The Huskies' guard has led the team to three summer basketball tournament titles, including the Sheldon-Trail Summer Jam hosted by Sheldon and Monterey Trail High Schools this past weekend. Allen, who will be a senior next season, was a key player in the Huskie's run to the CIF Division I state final. This summer, Allen has been the floor leader and mentor to younger players while teammates D'Erryl Williams and Armani Hampton recover from injuries. In the 60-team Sheldon-Trail Summer Jam. Sheldon was a perfect 4-0 in pool play before earning the tourney's top prize by winning the Platinum Division title with a 79-42 victory over Central-Fresno. 
SportStars Magazine: What is the advantage of playing summer tournaments with new or younger players that will be counted on during the 2012-13 season?
Dakarai Allen: These tournaments are more for the young guys like Devon Green and Ian Miller to get lots of playing time. It's good to get out there with them and help them correct any freshman mistakes and get them used to playing at the varsity level.
SSM: What is your role as a leader or mentor during the summer?
DA: It's my responsibility to help the younger players understand what they are supposed to be doing and where they need to be in certain situations. I try to draw upon my experience to give them advice on the floor and tell them what they should expect at this level.
SSM: Between summer high school tournaments and AAU practices and tournaments, when do you get any free time for yourself?
DA: I usually have a couple of workouts each morning and practice at night, so I have from like 1-6 PM for some free time. (Play Hard, Play Smart AAU team) travels to Philadelphia, LA, and Las Vegas this summer, too, so basketball keeps me real busy.
HONORABLE MENTION
Megan Dulaney — The Rodriguez-Fairfield freshman won the girls shot put competition at the 53rd Annual Golden West Invitational at Folsom High School. Her throw of 35 feet, 7.25 inches was tops for all female competitors at the event. Dulaney threw 40-1.75 at the Sac Joaquin Section Masters Meet to finish fifth.
Andrej Bevins —The Christian Brothers golfer shot a 4-under 140 to finish second at the Yolo Fliers Club qualifier on June 24-25. The top four golfers at the event advance to the 2012 U.S. Junior Amateur Championship at the Golf Club of New England in Stratham, New Hampshire in mid-July.
Cary McClain —The recent Kimball-Tracy graduate won the girls' hammer throw at the Golden West Invitational with a throw of 160-0 on June 9. She followed that up with a winning throw of 163-9 at the California State High School Hammer Championships in Modesto on June 10.