Gilroy Makes Ultimate Addition by Hiring Cornmier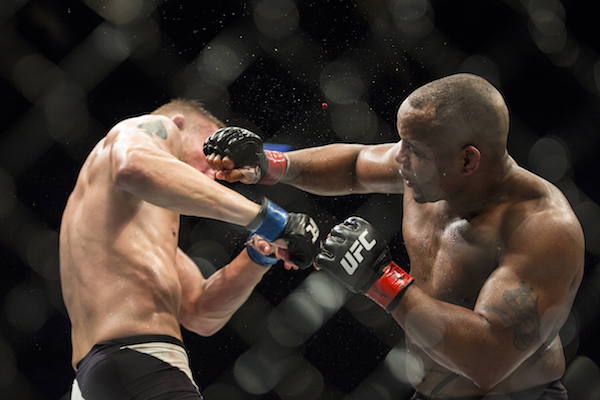 Gilroy High Wrestling — NorCal's Premier Program — Makes A Splash With Hiring Of UFC Light Heavyweight Champion Daniel Cormier As Its New Coach •
Daniel Cormier: One of the biggest names in combat sports — shortened to just two syllables ("DC") for fight fans. He's trading his fame and fortune to take the reigns of one of California's most prolific prep wrestling programs.
The 39-year-old Ultimate Fighting Championships star and reigning Light Heavyweight Champion, is the new head coach of Gilroy High wrestling. He adds tremendous excitement to a program already soaring on the riches of a sensational 2017-18 season — California Interscholastic Federation state runners-up and record-setting Central Coast Section cthamps (10 titles, 12 state berths).
Cormier will seek to expand the brand that nine-year Mustangs coach Greg Varela elevated into a CIF juggernaut before stepping down last month.
"Coach Greg has done a tremendous job," Cormier said April 23. "I want to take the foundation he has built and try to build off that, critique and work on some areas that need improvement.
"Right now the team is ready to make a run for the state championship."
Cormier's first step is to shed the hype and fame of a prolific mixed martial arts (MMA) career and reach youth wrestlers on the brink of their own achievements.
"They have to eliminate the idea of me as the fighter," Cormier said. "I am not going in there as Daniel Cormier the fighter, 'DC.' I am going in there as a coach. I'm just a coach and I'm going to try and make my mark on them, motivate them to excel on the mat and in the classroom. 
"You have to be a aware to apply yourself as much in academics as athletics."
Cormier said he hopes Gilroy's wrestlers will be more interested in his career on the mat than in the Octagon.
After his father was shot and killed when he was just 7 years old, Cormier found his way onto a youth wrestling team. He continued to Northside High's wrestling program in Lafayette, Louisiana, and won three state championships. At Oklahoma State he reached the NCAA championship finals his senior year — only to be bested by the unbeatable Cael Sanderson.
Cormier graduated from OSU with a degree in sociology, competed on the U.S. National team from 2003-2008 and qualified for two Olympics. He was fourth in Athens in 2004 and pulled from the 2008 games in Beijing with an injury. He was the U.S. team captain and a gold medal favorite.
Cormier began fighting for the American Kickboxing Academy (AKA) in 2009. The UFC champ is 20-1, sporting a lone defeat to rival Jon Jones and impressive wins over MMA stars Anderson Silva, Anthony Johnson, Alexander Gustafsson, Dan Henderson, Roy Nelson, Frank Mir, Josh Barnett, Antonio Silva and most recently, Volkan Oezdemir, to defend the UFC Light Heavyweight title.
Cormier will fight Stipe Miocic for the UFC Heavyweight title July 7 in Paradise, Nevada. It's the main event of UFC 226: Miocic vs. Cormier. If Cormier wins, he will be only the second fighter in combat history to hold UFC titles in two different divisions, and he will cement his status as one of the best pound-for-pound fighters of all time.
It's not usually what a wrestling coach will do in the offseason.
"I'm no UFC champ — no celebrity — I'm just Daniel," Cormier said. "I think that when the kids truly get a chance to know me, they will embrace me.
"I love to coach. It's what I do."
Cormier and Miocic are opposing coaches on The Ultimate Fighter: Undefeated, a Fox Sports 1 series that began airing episodes April 18. Cormier also trains fighters at AKA and coaches youth wrestling. He said he hopes his youth wrestlers wrestle for him at Gilroy.
Cormier lives in Gilroy with his wife, Salina, and their two children. He's actually the neighbor of 2018 CIF fourth-place medalist Chase Saldate, a Gilroy sophomore.
"I watched Chase and supported him and the entire team last season," Cormier said. "This is a small town, not a big place, and when you see something as special as what these kids did last year, you take notice.
"People think fighters are dudes on TV that don't pay attention to the little things, but we do. We support these kids, albeit from afar."
Not any more.
Cormier will lead an already reputable staff at Gilroy, and AKA fighters and college All-Americans Kyle Crutchmer, Shawn Bunch and Deron Winn will join the staff as well. If a fighting commitment or Cormier's side-job as a FOX Sports and UFC analyst takes him away from the wrestling room, he knows the team is in good hands. And he won't be missing practices for fight camps for very long. Cormier says he plans to retire from MMA before his 40th birthday next March.
"We will take away a lot from every one of these coaching philosophies," Cormier said. "We have a team full of great coaches more than qualified to lead this program when I am not around."
Gilroy is aflame with anticipation.
"The buzz is pretty widespread on campus," Mustangs Principal Dr. Marco Sanchez said. "National and local newspapers have been calling and kids everywhere are fired up. They are training now, already working for next year.
"I think we have a pretty decent shot at making a run (at the state title) next year."
Gilroy returns state medalists Jayden Gomez (fifth at 106), Joseph Barnes (eighth at 160), Nick Villarreal (sixth at 285) and Saldate. CIF qualifiers Dallas Gutierrez (170), Johnny Fox (152), Nathan Villarreal (145), Daniel Vizcarra (138) and Nathan Aguilar (113) will also populate a lineup that should include Noah Castro and Victor Jacinto, state-caliber wrestlers who didn't make Gilroy's final 14 because of other stars in their weight classes.
Dr. Sanchez believes Cormier is committed to leading that talented roster to greatness.
"Nothing gets your wrestlers better than wrestling against better competition," Dr. Sanchez said. "There is a lot of value added into that room and it will step their game up.
"Myself, athletic director Jami Reynolds, and all the staff support those coaches."
It's a demanding position, but Cormier is ready.
"I told him what the schedule demands of the job, looked him in the eye and and asked him if he wanted such a big commitment and he didn't blink," Dr. Sanchez said. "He said 'Sign me up.'"
Cormier told Dr. Sanchez he will forgo his coaching stipend to his assistant staff. It's a humble concession considering Cormier has career fight earnings of over $4 million.
"He apparently wants to be the most underpaid and overqualified coach in the league," Dr. Sanchez said with a laugh.
It's a side of Cormier the California wrestling community is going to get used to.
"I'm excited," Cormier said. "We have all come from wrestling and we are going to give back to wrestling."
Credit for lead story image: Meddi Kabirzadeh/Bildbyran via ZUMAPRESS