Danville Oaks Rugby Catapults Cal 7s Pac 12 Win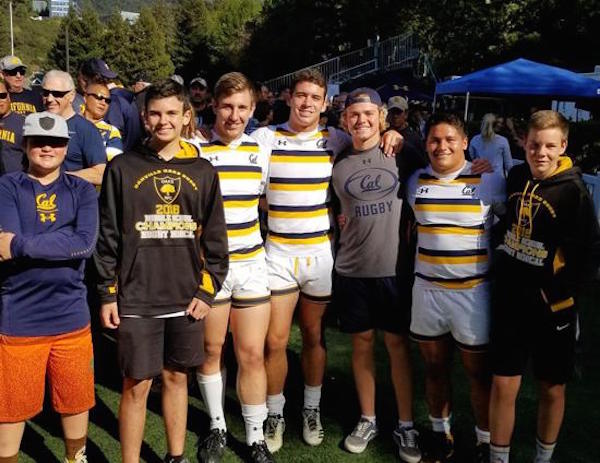 According to Opps VP, Kevin Barth (Danville Oaks Rugby Football Association), "the Oaks were everywhere" when asked about the championship tournament win for the Cal 7s on Nov. 5th over Arizona.
Current and former Danville Oaks Rugby players contributing to Sunday's win are (pictured above) 
Jake Ryan (MS), James Carney (MS), Jason Severance ('18), 
Luke Freeman ('18), Cal Liebowitz (Varsity), Keanu Andrade ('16), and Tucker Barth (MS).
Danville Oaks Rugby final free clinic
Barth reminds us of the final free rugby clinic coming this Saturday November 10.
This, the last of the Oaks three clinics will be held at Osage #5 next to the tennis courts. 10 am to 11:30 am.
The goal of these clinics is to introduce new players to rugby as well as giving returning players a chance to shake the rust off.
All age levels are welcome from U8 to HS. And are separated by age grade and go through a session of fun games and drills that focus on fundamentals.
Likewise, the Danville Oaks High School Rugby program has been running 'pick up' touch rugby games (no contact) each Sunday at Osage Park from 4pm to 5:30pm. These are open to both returning and new players—especially new players!
Danville Oaks Rugby are committed to expanding rugby opportunities for girls in the Bay Area.
Barth mentions, "We have created more girls rugby programs than any other team in Rugby NorCal."
Girls only Try on Rugby – Touch Rugby program, coed-youth rugby from U8 through U12, Girls Middle School Rugby and Girls High School Rugby.
In the Spotlight: Girls High School Varsity Coaching Staff
Girl's HS Head Coach Win Shortland, from New Zealand, has represented North Auckland and Waikato in rep side rugby competition.
Coach Shortland has over 20 years experience coaching various sports for boys and girls ages 6 to 18, but primarily rugby which he's coached at the youth, high school, college and club levels.
Coach Shortland is an assistant coach with Life West Women's Rugby program. Shortland helped bring them back-to-back USA Rugby National Championships in 2017 and 2018.
Assistant Coach Jen Sever is from Alameda, CA. She graduated from UC Berkeley and now plays rugby at Life West College. Jen is USA Rugby National Team Player and former All American.
Assistant Coach Jessica Lewis, from San Jose, graduated from UC Berkeley and now plays rugby at Life West College. Jessica is a 4-time All American in both Rugby 7s and 15s.