Aaron Gordon fast-tracks to NBA lottery pick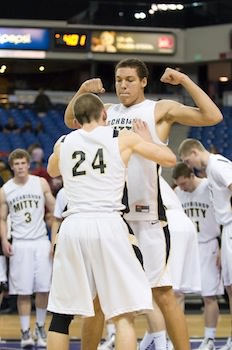 Draft Double-up:
   It was only fitting University of Arizona freshman forward Aaron Gordon was selected by the Orlando Magic with the No. 4 pick in the 2014 NBA Draft.
   After all, the 6-foot-8 1/2 forward from Archbishop Mitty-San Jose proved over the last three years he's among the very best in what shaped up as a fantastic group of players selected on June 26 at the Barclays Center in Brooklyn.
_______________________________
GET CONNECTED:
Follow SportStars on Twitter & Instagram | Like us on Facebook | Subscribe!
_______________________________
Mr. Basketball
   Three years ago, Gordon proved he belonged among the nation's elite when he was California's first junior to earn Cal-Hi Sports Mr. Basketball honors since Tyson Chandler of Dominguez-Compton in 2000. As a senior, he was in the running for Mr. Basketball USA honors along with eventual winner Andrew Wiggins (Kansas) and Jabari Parker (Duke).
   Gordon led Mitty to the first NorCal Open Division title, earned MVP honors at the McDonald's All-American Game and was the choice for Mr. Basketball once again.
   Wiggins went No. 1 overall to the Cleveland Cavaliers, Parker went No. 2 to the Milwaukee Bucks and then Gordon was selected after center Joel Embiid (Kansas), who was not a high school superstar in Florida, was taken No. 3 by the Philadelphia 76ers.
   One of the most impressive things about Gordon's rise is his age compared to his peers. Even after a season of college ball, Gordon won't turn 19 years old until September 16. To put that in perspective, he's actually younger than some high school players from the 2014 class.
   Aaron's mother, Shelley Davis Gordon, once told ESPN, "My son went to college at the age of 17 because I didn't know people held their kids back for sports purposes." She should know a lot about academics, too. Aaron's sister, Elise, went to Harvard after going to Mitty.
   Gordon is the highest Californian draft pick since Derrick Williams was selected No. 2 overall by the Minnesota Timberwolves in 2011. Williams attended La Mirada in Southern California. The only Californian ever picked No. 1 remains Bill Walton (Helix-La Mesa), who was the top choice in 1974 by Portland. Gordon is the highest player from a Bay Area to be chosen since Drew Gooden of El Cerrito went No. 4 overall to Memphis in 2002.
Going Early in the Draft
   Gordon's high school coach, Tim Kennedy, was ecstatic to see his former player picked early.
   "I am so excited for Aaron to make his dreams come true," Kennedy said. "He deserves everything coming his way and he won't stop working to get better. I'm so proud of him because he is so poised for being as old as a high school senior. He is going to make Orlando a better team because of all the little things he does to win."
   Other high California natives taken in the top 10 of the NBA Draft in recent years include NBA All-Star James Harden (Artesia-Lakewood) at No. 3 by the Oklahoma City Thunder in 2009. That same year, DeMar DeRozan was taken No. 9  by the Toronto Raptors and Gardena native Brandon Jennings was selected right after him at No. 10.
   Another NBA All-Star taken in the top 10 was Paul George (Knight-Palmdale) at No. 10 by the Indiana Pacers in 2010. In 2012, the Portland Trailblazers selected Damian Lillard (Oakland) at No. 6.
   In the 2014 second round, former Taft-Woodland Hills teammates DeAndre Daniels (No. 37 to the Toronto Raptors) and Spencer Dinwiddie (No. 38 to the Detroit Pistons) were taken back-to-back. Dinwiddie played at Colorado and Daniels helped UConn with the NCAA title.
   The fourth and final California product taken was Xavier Thames, the No. 59th pick overall by the Toronto Raptors. The former Pleasant Grove-Elk Grove product was 2014 Mountain West Conference Player of the Year at San Diego State. He began his college career at Washington State.