SportStars Final NorCal Football Rankings | 2019's Top 30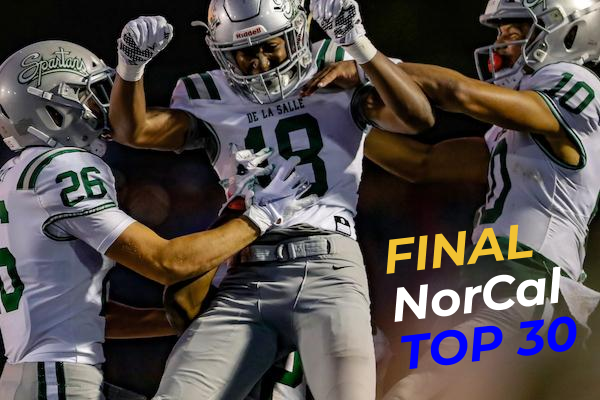 FINAL RANKINGS: Bay Area Teams Take Top Four Spots In Our Expanded 2019 Final NorCal Football Rankings •
Final NorCal Football Rankings — Like this page (above) and leave your name in comments (below) for a shot at winning a sweet SportStars T-shirt!
1. (1)  —  De La Salle-Concord   12-2
COMMENT: Spartans maintained NorCal dominance, and battled tough before once again finishing runner-up in CIF Open Division State Bowl (49-28 to St. John Bosco-Bellflower).
2. (2)  —  Serra-San Mateo  13-2
COMMENT: The 13 wins were a program best. The Padres won their second CIF NorCal regional title in three years and came up just eight points shy of winning another state bowl.  
3. (3) — Valley Christian-San Jose  11-2
COMMENT: Warriors only two losses were a pair of defensive slogs against Serra, 10-0 and 17-0. 
4. (4)  —  Pittsburg  11-2
COMMENT: This wasn't Coach Victor Galli's most talented team, but it maximized the talent it did have and was among his most poised squads under pressure.
_______________________________
CONNECT WITH US:
Follow SportStars on Twitter & Instagram | Like us on Facebook | Subscribe!
_______________________________
5. (5)  —  Oak Ridge-El Dorado Hills  10-3
COMMENT: The program finishes as the top Sac-Joaquin Section team after taking its first Div. I title (a 35-27 win over Monterey Trail) before a 38-32 CIF 1-A regional loss to Central-Fresno.
6. (6)  —  Monterey Trail  12-2
COMMENT: The Mustangs were celebrated across the section after becoming the first SJS to defeat Folsom since 2016 (35-23 in the Div. I semis).
7. (7)  —  Folsom  10-2
COMMENT: Only St. John Bosco scored more points against De La Salle than Folsom did (27 in a mid-September defeat). The Bulldogs weren't the juggernaut of previous seasons, but they were still pretty darn good. 
8. (8)  — Liberty-Brentwood  10-2
COMMENT: Both of the Lions losses came against league-rival Pittsburg, one in overtime and both by single digits.
9. (9)  —  Cardinal Newman-Santa Rosa  14-1
COMMENT: CIF 3-AA State Bowl champions could have arguably won the 2-A or 2-AA title as well. Lone loss came on the road against Liberty, 17-13.
10. (10) —  McClymonds-Oakland  11-1
COMMENT: The CIF state bowl committee jumped the Warrior two full divisions (from 4-AA to 2-A), and it resulted in a 34-6 loss to Pacifica-Oxnard  
11. (11)  —  St. Ignatius-S.F.  9-3
COMMENT: Underrated Wildcats had their best campaign in several seasons, and were the only NorCal opponent to defeat Serra.
12. (12)  —  Wilcox-Santa Clara  9-3
COMMENT: Chargers continue to establish themselves as a growing Central Coast Section power; only losses were to Valley Christian, Pittsburg and Serra. 
13. (13)  —  Monte Vista-Danville  8-4
COMMENT: Mustangs maintain spot over 2-AA State Bowl champion Clayton Valley due to head-to-head win (31-21) over Ugly Eagles. Two of MV's four losses were to De La Salle.
14. (14)  —  Clayton Valley-Concord  10-5
COMMENT: Ugly Eagles closed year on five-game win streak, claiming NCS Div. II title and a CIF 2-AA State Bowl victory. 
15. (16)  ↑  Marin Catholic-Kentfield  11-2
COMMENT: Few defenses were better than the Wildcats'. MC allowed just 69 points (5.3/game) on the season with five shutouts.   
16. (NR)  ↑  San Ramon Valley-Danville  7-4
COMMENT: Wolves were deserving of a boost when considering their head-to-head wins against Clayton Valley and Monte Vista (MV avenged its loss in the playoffs)
17. (17)  —  Manteca  11-3
COMMENT: Senior-laden group stormed its way to an SJS Div. III title by de-throning both finalists from 2018, Placer-Auburn and Capital Christian. Lost CIF 2-A regional to McClymonds.
18. (18)  —  Inderkum-Sacramento  11-1
COMMENT: Ho-hum, just another 10+ win season in the books for the juggernaut Tigerts. Only loss was to eventual SJS Div. I champ, Oak Ridge.
19. (19)  —  Buhach Colony-Atwater  11-1
COMMENT: Rolled into SJS Div. III semifinals with 11-0 record before 21-20 loss at Placer.
20. (15)  ↓  Elk Grove   10-5
COMMENT: Late season surge landed Thundering Herd an SJS Div. II championship and a trip to Clayton Valley where they nearly won the CIF 2-AA regional (28-26)
21. Edison-Stockton  10-2
COMMENT: This team came within three points of knocking off Folsom in the SJS Div. I quarterfinals — and it still has RB Raleek Brown for two more seasons. (Welp. Nevemind. It's now been reported Brown will transfer to Mater Dei. Sigh.)
22. Campolindo-Moraga  10-3
COMMENT: Despite 27-7 rain-soaked NCS Div. II finals loss to Clayton Valley, Campolindo has now won 10 games or more for nine straight seasons.  
23. Placer-Auburn  10-3
COMMENT: The Hillmen reached another SJS final before falling to Manteca. There only other losses were to Cardinal Newman (on a last-second play) and SJS Div. II-finalist Whitney-Rocklin.
24. Capital Christian-Sacramento  9-3
COMMENT: Manteca was the only NorCal team to beat the Cougars this season. With a number of skill players set to return, this team is set up for a strong 2020.
25. Rancho Cotate-Rohnert Park  11-4
COMMENT: The Cougars won their first NCS title since 2002 (7-0 over Las Lomas-Walnut Creek) and first CIF regional game (10-0 over Sierra-Manteca).
26. Cosumnes Oaks-Elk Grove  8-4
COMMENT: Wolfpack's wins included a 36-35 early season upset of Monterey Trail, as well as a regular season win over Elk Grove. (The Herd returned the favor in the playoffs.)
27. Menlo-Atherton-Atherton 7-4
COMMENT: The Bears closed the season with six straight wins (one by forfeit) to secure the PAL-Bay League title and a CCS Div. I first-round home game. Wilcox needed OT to knock them out (42-35).
28. Ripon  14-1
COMMENT: The first of back-t0-back Trans Valley League teams to make our final NorCal football rankings, the CIF 4-AA State Bowl champs get the nod over Escalon due to their 42-21 head-to-head win.
29. Escalon  14-1
COMMENT: The Cougars won their second CIF State Bowl by stomping La Jolla 52-21 in the 4-A final. 
30. Sutter  12-2
COMMENT: Huskies finish as 2019's top Northern Section team. Their only losses were to CIF bowl champions: Ripon (31-14) and Cardinal Newman (21-7).