Haley Jones: '18-'19 NorCal Girls Player Of The Year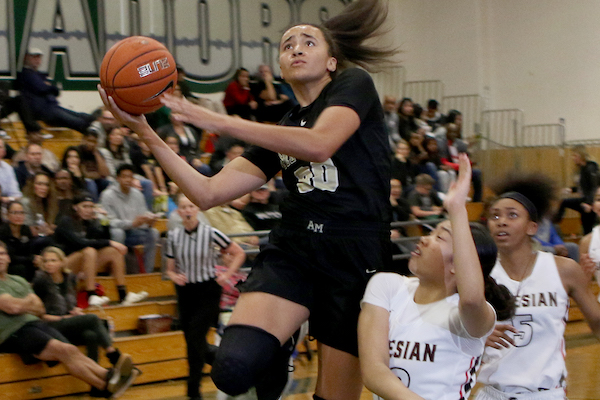 Archbishop Mitty's All-American, Haley Jones, Cements Her Legacy Among NorCal's Greatest Girls Hoops Talents With Another Do-It-All Season •
It's no surprise that Haley Jones is the SportStars' Girls Basketball Player of the Year for the second straight season. Coming into the season, she was widely considered the top senior in the country, and had her pick of colleges. 
It was also no surprise that she chose Stanford (over UConn and pretty much everyone else). Or that Archbishop Mitty-San Jose had a tremendous season, spending most of the year ranked No. 1 in Northern California, and even enjoying a couple weeks in the MaxPreps' national Xcellent 25.
And really, no one was surprised by her impressive collection of statistics — 26.1 points, 12.1 rebounds, 4.4 assists, 3.7 steals and 2.8 blocks per game — as they reflected perhaps the most outstanding of Jones' many outstanding traits: Versatility.
"Her versatility is off the charts," says her coach, Sue Phillips. How so?
1) Her size. At 6-1, she is tall enough to both score and defend in the paint, especially at the high school level.
2) Her athleticism. She is quick enough to guard top-shelf perimeter players; fast enough to lead or finish a break; and strong enough to hold her own around the basket.
3) Her skills. She can handle like a point guard, shoot like a two guard, penetrate like a strong forward and work inside like a post.
4) Her basketball IQ. "Haley makes the correct basketball play," says Phillips, "whether that's attacking the rim, pulling up from the 3 or assisting to another player who has a mismatch. She can do it all."
On top of that, Jones became a team leader for the perennial powerhouse. She stepped into that role after three starters graduated in 2018. "Haley is an outstanding teammate," says Phillips, "thanks to her ability to be so incredibly inclusive of all her teammates both on and off the court."
Given her dominance on the court since her arrival at Archbishop Mitty (she averaged 10.0 points, 6.1 rebounds and 2.7 assists as a freshman on a 23-4 team), putting her career into a NorCal perspective is a natural next step. Though comparing players of different sizes, skill sets and eras is always problematic, with a player like Jones, there's more to the story than having one great season.
One name that certainly jumps to mind is St. Mary's-Stockton's Jacki Gemelos, who like Jones was 6-1 and incredibly skilled. (Her career was derailed by five knee operations at USC, but despite losing much of her explosiveness, she still managed to play in the WNBA.) Gemelos was less likely to post up than Jones, but the two were both dominant players that were matchup nightmares.
Other tall wings who made a major impact were Gabby Green (St. Mary's-Berkeley), Mariya Moore (Salesian-Richmond), Tierra Rogers (Sacred Heart Cathedral-S.F., another whose college career was cut short), Niveen Rasheed (Monte Vista-Danville), McKenzie Forbes (Folsom) and Sara James (Oak Ridge-El Dorado Hills). That leaves out players like Afure Jemerigbe and Chelsea Gray of St. Mary's-Stockton, who were more purely guards, and Mikayla Cowling (St. Mary's-Berkeley), Tracy Morris (Campolindo-Moraga) and Brandy Reed (Balboa-S.F.), who were more forwards.
Still, to torture an Abraham Lincoln adage: Though those players could all do some of the things all of the time, and all of the things some of the time, Haley Jones could do all of the things all of the time. And that's why she's not only the 2019 Player of the Year, but one of the best ever to play in Northern California.