FINAL Girls Basketball Rankings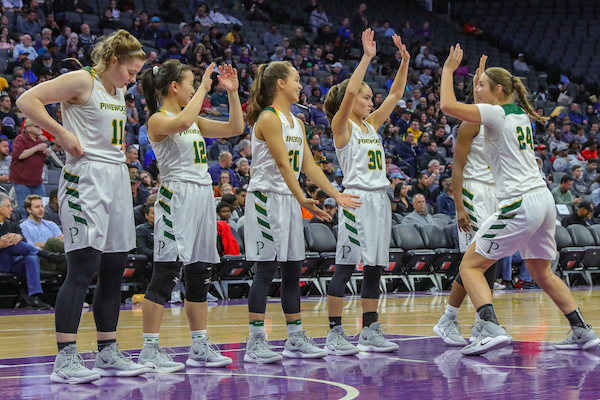 NorCal Lays Claim To Four State Titles, But It's Open Division Runner-Up Pinewood That Earns Our Final No. 1 •
Final Girls Basketball Rankings
All Records Are FINAL
1. (1) — Pinewood-Los Altos Hills   27-4 [PICTURED ABOVE: Hannah Jump, far right, and fellow Pinewood starters during state final starting lineups; David Gershon photo]  
2. (2)  —  Salesian-Richmond  25-9
3. (3)  —  Archbishop Mitty-San Jose 25-3
4. (5)  ↑  Bishop O'Dowd-Oakland  24-10
5. (4)  ↓  Carondelet-Concord  26-5 
6. (6) — St. Mary's-Stockton  22-9 
7. (7) — Bear Creek-Stockton  30-5
8. (8) — St. Joseph Notre Dame-Alameda  22-8
9. (9)  —  Miramonte-Orinda 28-4 
10. (10)  —  Antelope  31-4
11. (11) — Heritage-Brentwood  26-5
12. (12)  —  McClatchy-Sacramento  28-5
13. (13) — Cardinal Newman-Santa Rosa  24-5
14. (14)  —  Sacramento 25-8
15. (NR) ↑ Oakland   30-5
16. (15)  ↓ San Ramon Valley-Danville 26-5
17. (16) ↓  St. Patrick-St. Vincent-Vallejo 27-4
18. (18) — St. Ignatius-S.F.  16-11
19. (NR) ↑  Menlo School-Atherton  26-5
20. (NR)  ↑  Oakland Tech 30-6
DROPPED OUT:
No. 17 Valley Christian-San Jose, No. 19 St. Francis-Mountain View, No. 20 Cosumnes Oaks-Elk Grove.
SIX WHO JUST MISSED (alphabetically):
American-Fremont (22-5), California-San Ramon (22-6), Cosumnes Oaks-Elk Grove (25-8), Enterprise-Redding (28-5), St. Francis-Mountain View (16-10) and Valley Christian-San Jose (17-10) .
FAST

BREAK

DOWN

Naturally the final two rounds of the California postseason upset the rankings a little, but most teams had been eliminated already so there wasn't much of a reason to move them around.

One team that did was No. 17 Valley Christian, which dropped out of the rankings despite not playing a game — and despite having beaten St. Ignatius, which stayed in the rankings, twice. The reason? St. Ignatius beat Division II state champion Menlo School twice and Division IV state champion Oakland Tech once, results that take on more significance now that the season is over.

And then there's Division III state champion Oakland ahead of Division II Menlo? The reason is an early season win for Oakland over NorCal Division I champ Bishop O'Dowd, No. 4 in these final rankings, a quality win Menlo cannot match.

At the top, there was no significant change, as even though Pinewood lost to national No. 12 Sierra Canyon in the Open Division finals, Doc Scheppler's shooters were still the best in Northern California. Bishop O'Dowd moved up a notch past Carondelet thanks to the win over Bear Creek in the NorCal Division I finals, but otherwise the boat didn't rock.

Overall, though, it was a good year in Northern California, with lots of quality teams playing each other and settling the rankings on the court — hopefully there will be more of the same next year, as it appears there will be lots of turnover at the top due to graduation and, of course, the many transfers and incoming freshmen we don't know about yet.