History & Heart Of Harvard-Westlake Girls Basketball Team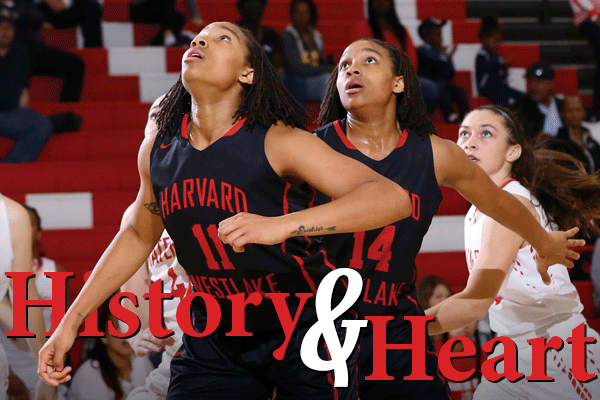 Harvard-Westlake's 2017-18 Narrative Involves Several Storylines — But The Wolverines Are Still Working On The Most Important One •
The unfolding story of this year's Harvard-Westlake girls basketball team has more twists and turns than a Shakespearean play, but in reality the facts about the Wolverines' season up to this point makes a very strong case for it to be a tale of its own.
Where do we start? Is it with the Cal-Hi Sports No. 4-ranked Wolverines or with record-setting Coach Melissa Hearlihy?
Harvard-Westlake Girls Basketball Coach Melissa Hearlihy
A lot of folks in the girls high school basketball community in California know about the current Harvard-Westlake team. Mostly because of the prominence of the Pepperdine-signed Ruffus-Milner twins, Jayla and Jayda, who helped lift the Wolverines to the CIF Southern Section Open Division final last season before they lost 62-58 to Long Beach Poly.
There's a lot more to Harvard-Westlake than the twins this season, with some very solid role players and a freshmen group that includes a potential future superstar. But it really all starts with Hearlihy.
A native of Los Angeles who was raised in Texas. Hearlihy came back to the West Coast to attend the University of San Francisco where she graduated in 1983 after starring as a power forward. Hearlihy went back to Southern California immediately after graduation. She took a position as a graduate assistant at UCLA under legendary women's coach Billie Moore.
After a year under Moore's wing Hearlihy got a job as a varsity assistant at Bishop Alemany-Mission Hills. When the head coaching job opened up for the 1985-86 season. She got the position along with a teaching job and began a career that is now in its 33rd season. Hearlihy was at Alemany until the 1999-2000 season.
The next year she moved across the San Fernando Valley to North Hollywood and Harvard-Westlake. Where she also teaches seventh and eighth grade in the middle school.
Amazing Career
Almost astonishingly, and until just recently, Hearlihy herself didn't even realize how amazing a career she has had.
Back in 2010 when her team which starred Nicole Hung, who went on to Princeton, Nicole Nesbitt (UC Santa Barbara) and Sydney Haydel (Hawaii), went 34-1 to win the CIF Division IV state championship. Hearlihy was asked to get her overall record together for inclusion in the Cal-Hi Sports Record Book. At the time she had been coaching for 25 years. She clearly had more than the 400-wins needed to qualify for the career wins list. Seven plus years passed and it never happened.
When compiling her career record was suggested again for this feature, Hearlihy hesitated and thought for a moment.
"I have it all in an envelope at my office at the middle school and I'll add it all up and text it to you but I think I'm around 600," Hearlihy said.
What she came back with was mind-boggling.
Titles
Not only has Hearlihy won a CIF Southern Regional and Div IV state title. She's won 17 league titles and six CIF Southern Section championships at the two schools combined.
Coming into this season her 345-86 record at Alemany added to her 346-166 record at Harvard-Westlake meant she had a career coaching record of 691-252. After a 65-45 defeat of Fairmont Prep-Anaheim on Feb. 1, the Wolverines moved to 21-4 and Hearlihy to 712 career coaching victories. And incredibly she assumes the No. 3 spot all time behind Joe Vaughan who had a 761-112 record from 1976-2007 at Buena-Ventura, and the 744 current career wins of still-active Mater Dei-Santa Ana coach Kevin Kiernan.
"I knew she was up there but didn't realize she was this high up on the list," said Cal-Hi Sports Editor/Publisher Mark Tennis, who very shortly will be adding Hearlihy to the Record Book.
When the Santa Barbara area fires caused the cancellation of the Santa Barbara tournament the Wolverines were scheduled to play in, Hearlihy hastily arranged her own event and invited the displaced teams from the Santa Barbara event.
 60-55 victory
Ironically, had she known what her record was, it would have made for a humongous celebration when Harvard-Westlake won the tournament with a 60-55 victory over Cal-Hi Sports No. 6 Clovis North-Fresno — her 700th win.
"Thanks, it would have been nice, but just get me an (CIFSS) Open title for the twins and I will be ecstatic," was Hearlihy's response when we did the arithmetic.
Personal accolades are great, but part of the reason it's been so hard to get Hearlihy to accept the tributes over the years is it has always been about the girls — and the past four years a lot of the focus of her love and admiration has been for the Ruffus-Milner twins.
Positive Energy
"You can't help it," Hearlihy said with a chuckle. "They're laughing all the time and they're always the life of the party with constant positive energy.
"They have such a positive outlook on life in everything they do. They're always trying to be the best they can be in everything. They hold teammates accountable because they have expectations. They welcome the competition and take on whatever comes their way. Also, they have that 'it' factor."
There is no question the Ruffus-Milner twins are the heart and soul of the Wolverines, but will their talent and drive be enough to propel Harvard-Westlake to an Southern Section Open Division title and beyond?
So far, it has not been an easy road.
They opened the season with a 68-67 overtime loss to Windward-L.A., but came back 10 days later to beat the Wildcats 67-54 in the title game of the Redondo Union Battle at the Beach Tournament. Then after winning four games at their impromptu home tournament, Hearlihy and her girls went to the Dallas suburb of Duncanville, Texas, for the Sandra Meadows Classic. There they won their first four games before losing the final 45-30 to host Duncanville (ranked No. 8 nationally by MaxPreps as of Feb. 1). Not only did they lose to Duncanville, Jayla separated her shoulder.
From Texas they returned home but after 10 games in 10 days and all the travel involved going to Texas, the team was beat, and Jayla couldn't raise her arm.
Wolverines
In their next game, the bottom fell out. The Wolverines lost 53-49 at an El Camino-Woodland Hills team they beat by 20-points in the Redondo tourney.
Hearilhy's squad would quickly regroup and win eight of nine, despite Jayla playing through her shoulder pain and playing a pair of MLK showcase games in the Bay Area without their best outside shooter, Melanie Hirsch. The senior that is No. 3 on the team in scoring at 10 points per game was sick with the flu and could not travel.
Jayda, who is No. 2 on the team in scoring and rebounding at 10.7 points and 7.6 rebounds a game, and Jayla (8.7 points, 7.1 rebounds a game) did play in the MLK games at St. Mary's-Stockton. The 5-foot-11 twins impressed, but the girl who really turned some heads was 6-foot-1 freshman Kiki Iriafen.
She had 22 points and 16 rebounds against Salesian-Richmond while outplaying the Pride's 6-foot-5 junior post Angel Jackson and earning a very positive review from respected ESPN analyst Dan Olson.
Natural Talent
"She has a lot of natural talent and knows her limits, but even so she was the best player on the floor," Olson said.
Having the twins has helped Iriafen, who according to Hearlihy is just starting to develop. If she's already leading the state's No. 4-ranked team with 17.4 points and 10.4 rebounds per game averages, the sky is the limit.
"Kiki has a long way to go but the fact this kid has not played much organized basketball and is doing what she's doing is phenomenal," Hearlihy remarked. "She's coming out of her shell. The twins are grinders and do all the little things, and that's allowed Kiki to grow."
Hearlihy says the hop and agility in Iriafen's game is also improving and thinks she'll be able to dunk a tennis ball by the summer. If she grows a couple of inches, she may be able to dunk a basketball.
"She's so athletic and quick, and now she's starting to shoot threes in practice and getting excited about it," Hearlihy said.
Getting back to the twins and Jayla in particular. A burning question is how can someone play with a separated shoulder and the pain that must come with it?
"I have to thank the trainers. They make my shoulder stable enough to play in games but I have to play with extreme caution," Jayla said. "But being at 50-percent on the court is better than not at all."
Twins
The twins have not only excelled on the court, but in the classroom as well. At a school considered in some academic rankings as the No. 1 private school in the state and among the top 10 in the nation, both Jayda and Jayla are right at a 4.0 grade point average.
"They're prolific readers, and all they talk about are their grades," Hearlihy said. "And they're doing all this while being raised by a single mom, LaQuette Milner. It's pretty unbelievable."
Only Jayla was interviewed for this feature, but when asked if Jayda would have most of the same answers, she giggled and said "for sure."
It's not just about the twins and the freshman. To be where the Wolverines are at so far this season takes a complete team. Besides the twins and Hirsch, 5-7 guard Ashlee Wong provides 5.8 points a game and intangibles that come with being a senior leader.
Kimiko Katzaroff, another freshman, averages 8.2 points from the guard position. "Kimiko is a crafty little scorer and I haven't had one of those in a while," Hearlihy said.
Harvard-Westlake Group Have What It Takes?
But does this Harvard-Westlake group have what it takes to win a Southern Section Open title and possibly a trip to Sacramento in March?
Jayla only wanted to talk about the Southern Section Open playoffs. "Last year when we went to the championship it was a bit of a shock. This year it would be a shock if we don't make it. I truly believe we do have what it takes to get to the championship and win. State is a long ways off."
Who knows, along the way the two top active winningest coaches, Hearlihy and Kiernan, might meet. That would be a ticket worth having.
Story by HAROLD ABEND