Jackson Pavitt | SportStars 2019 NorCal Offensive Player Of The Year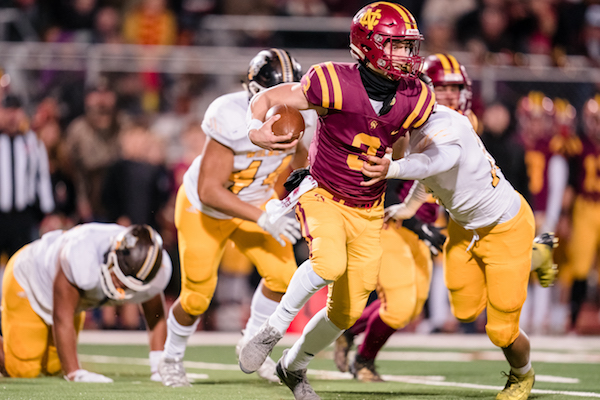 Accounting For 41 Touchdowns, Cardinal Newman's Jackson Pavitt Was A Prolific Dual-Threat QB — And Just The Right Leader For 3-AA State Bowl Champions •
A great quarterback once said, "You can't have success if you don't visualize it first." That great quarterback is the SportStars NorCal Offensive Player of the Year, Cardinal Newman senior Jackson Pavitt.
Pavitt's mind is a movie theatre with choose-your-own adventure controls.
The setting is always one of Cardinal Newman's West Coast-spread offense plays. The adventure is the defense — different scenarios he imagines throughout the week, using his knowledge of his own team and insight gained from hours of film footage of the opposing defense.
"It's just mental reps throughout the week," Pavitt explained on Feb. 3, 51 days after his team won the CIF Division 3-AA State Bowl Championship against El Camino-Oceanside. "It helps to visualize the defense in certain coverages, and run the play in your head against all the coverages, going through every possible thing that could happen.
"I do it all throughout the day."
_______________________________
CONNECT WITH US:
Follow SportStars on Twitter & Instagram | Like us on Facebook | Subscribe!
_______________________________
Pavitt will soon be running mental plays at California Polytechnic State University, San Luis Obispo. He committed to a Mustang football scholarship just four days after his state championship game.
His title performance may have aided the cause. He ran for 181 yards and two touchdowns in the win, also throwing for 158 yards on 15-of-21 passing with a touchdown and one interception. In five playoff games, Pavitt was 64-of-95 (67 percent) with 921 yards, nine touchdowns and two interceptions. He also ran for 382 yards and five scores across that span.
For the season, Pavitt was 200-of-292 (69 percent) for 2,750 yards, 30 touchdowns and two interceptions. He was second on the team with 744 rushing yards and 11 touchdowns.
"He's a dual-threat guy who adds a number of things to your offense," Cardinal Newman coach Paul Cronin said. "He's another (threat) in the run game. And he throws well enough to not let the defense load up the box."
Cronin spoke even higher of Pavitt's character.
"His biggest attribute is how passionate he is about football and he leads his team with that passion," Cronin said. "He's always been there for his team, and will spend extra time working with them, or cheer them up during the hard times in life."
Pavitt said his favorite moment of the 2019 season wasn't a special play. It was the shared elation experienced with his program and Santa Rosa community in state bowl's aftermath.
"I just loved seeing how proud everyone was of all the work they had put in. From the players (he named each position group), to the coaches and teachers and everybody who supported us," he said. "That was just the most memorable thing for me."