Marcella Hughes – Basketball – Senior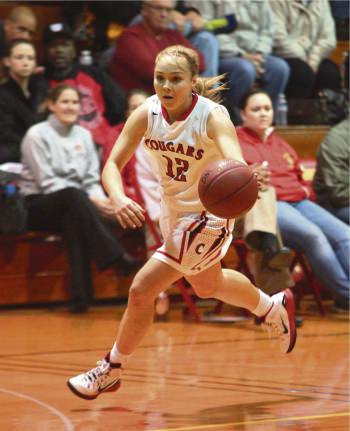 It's a new era at Carondelet — three new starters and a new coach — but it looks a lot like the old era thanks to Hughes. The non-stop, full-throttle point guard has been the catalyst for the Cougars 11-1 start through Jan. 12. Carondelet looked especially good toward the end of December when they rolled through…
Carondelet – Basketball – Senior
   It's a new era at Carondelet — three new starters and a new coach — but it looks a lot like the old era thanks to Hughes. The non-stop, full-throttle point guard has been the catalyst for the Cougars 11-1 start through Jan. 12. Carondelet looked especially good toward the end of December when they rolled through the Diamond Division bracket of the West Coast Jamboree with wins of 18, 19 and 17 points. Hughes was awarded the Scoop Jackson MVP Award for the division. Hughes scored 8 points in the championship game and produced a stellar all-around game in the semifinals with a 7-point, 6-assist, 4-rebound and 4-steals effort.
   IN HER OWN WORDS: "We had a lot of losses from last year's team, but practice has been paying off for us so far because we've been working really hard. We're playing as a team. If we play as a team, we're great."
Honorable Mentions:
   Carlos Johnson: The El Cerrito junior basketball standout scored 21 points to go with eight rebounds, five assists and one block as the Gauchos beat Modesto Christian 63-61 on Jan. 10.
   Lindsay Rood: The Monte Vista senior delivered three goals in two games as the Mustangs soccer team claimed wins over California (Jan. 6) and Granada (Jan. 10).
   Jack Stephens: The Campolindo senior quarterback helped captain the Cougars' incredible CIF Div. III comeback victory on Dec. 20, throwing for 291 yards and 4 TDs (3 in the last 15 min. of the game).