Martial Arts with a Mission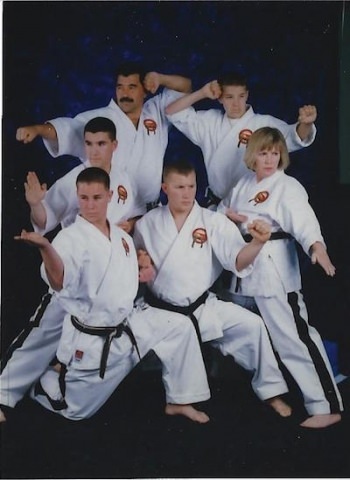 Annual Performance Marks 30th Anniversary for USKS
Martial Arts is a way of life that is steeped in tradition. It has evolved over the last 2,000 years from a way of developing discipline and fitness, both mentally and physically, into a wide range of activities. These include self-defense, confidence, respect, and, of course, discipline and exercise.
Martial Arts with a Mission
Since February 1987, families have embraced the benefits of martial arts through classes at United States Karate Systems (USKS), a state-of-the-art family training facility located in Concord.
Ron and Joyce Krupa, owners of the USKS studio, or "dojo," offer classes in mixed martial arts to participants from ages 4 to 104.
Their eclectic approach to learning the best of Karate, Judo, Aikido, Jujitsu and Taekwondo showcases a curriculum that is diversified and multi-faceted. The site also includes a full weight room, circuit training, and classes that meet the needs of a constantly changing marketplace.
This year, yoga classes may be added to the schedule, perfect for adults who would like to exercise while their children are taking classes.
Prior to the popularity of martial arts, the Krupas were giving off-site performances, showcasing the talents of their students in an effort to educate and entertain those who weren't familiar with the arts. They have performed annually for 25 years at Bay Area KidFest, along with performances through the years at Concord Fall Fest, Police Olympics and at local schools in an effort to promote the benefits of martial arts training for all ages.
Today, even though martial arts has reached the mainstream, USKS continues their annual off-site performance tradition, and on Saturday, February 11, will host "Just for Kicks," a martial arts show that celebrates the dojo's 30 years and features performances by many of their students, including the Performance Team and those who have earned black belts. Proceeds will be donated to a local charity. 
"These performances show the value of learning a life skill such as martial arts and what the result of respect, discipline, focus and self-control can bring," said Ron Krupa. "It is also a unique opportunity for the younger students to see that if they stay committed and on task what they can achieve. After all, every black belt was a white belt that just never gave up! And, it's another opportunity for us to give back to the community."
The Krupas, who met in high school were introduced to martial arts when Ron was attending a police academy in the early 1970s and was encouraged to learn how to defend himself without using a weapon. He began taking martial arts classes, Joyce joined him and together they developed a love for the art's philosophy, trained, achieved accolades and eventually decided to teach others.
For the first five years, the Krupas operated out of the multi-use room at King's Valley Christian School, until the need for a larger space prompted a move to their current location in the Dianda Shopping Center, where they've remained over years.
Shihan and Sensei
Today, Shihan (which means "most excellent role model" in Japanese) Ron, a Martial Arts Hall of Fame Master, and Sensei ("teacher," in Japanese) Joyce, a 5th degree Black Belt, have raised four sons, all of whom have achieved black belts and are accomplished in martial arts, and have five grandchildren who are currently in training. Along with their biological martial arts family, the Krupas are grateful for the relationships they've forged through USKS:  "We have generations of families who have been with us for many, many years," said Joyce.  "Our students really are an extension of our family."
In addition to training students and having awarded an average of three black belts every year over the past 30 years, the Krupas are perhaps the most fulfilled by the impact they've had on their students.
"To watch a young person who grew up here go off to college and now make their way in the world is so rewarding," said Joyce. "Our USKS Black Belts have gone on to U.S. Military Academies, Harvard, Yale, Northwestern, UGA, UVA, Stanford, Cal, UC DAVIS, UCLA, USC, Cal Poly, etc.
Earning a black belt is a remarkable achievement that for many springboards them on to even bigger accomplishments.
There are also parents who have broken down in tears because they've said their child was shy and easily bullied and now have seen them grow in confidence and belief in themselves. We have had children who were afraid to walk in the door who are now mentoring others.
We are very proud of each one.
"We feel privileged and honored to be a part of this community," she continued. "We are Martial Arts with a Mission –- we are training Champions of Character." 
For more information about USKS Martial Arts, located at 4493 Clayton Rd. in Concord, call (925) 682-9517 or visit www.usksmartialarts.com.
Andrea Cardinale is a freelance writer in the East Bay Area