Maximum Mat Watch-List: 10 Must-See Events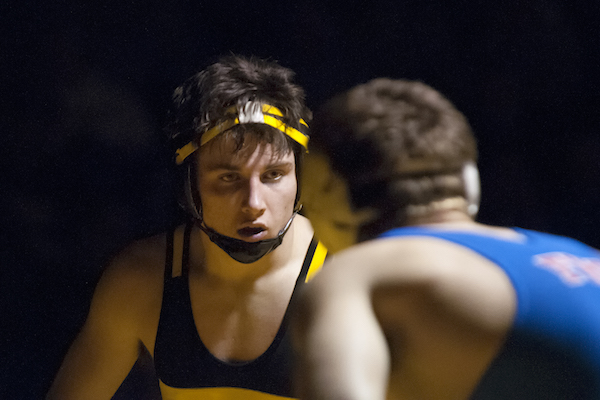 Make A New Year's Commitment To Take In Some Of NorCal's Best Wrestling Events — We've Helped You Out With A List •
By IKE DODSON
"I'm going to eat better and exercise more."
No, you're not.
I'll give you a week before your longing hands go plunging into your co-worker's candy bowl when she leaves the room.
And that fitness plan will give way to season two of "Westworld" by spring.
So let's focus on a realistic New Year's resolution, like attending as many of these epic wrestling events as possible in 2018. Northern California wrestlers have barely over two months to sharpen their skills and scramble to peak at the right time — the California Interscholastic Federation State Wrestling Championships. That's Feb. 23-24 for girls and March 3-4 for boys, which are two of 10 monumental events featuring NorCal grapplers listed below.
You can't attend them all, but these must-see spectacles will provide the most thrills for a meager fee at the gate.
Just convince yourself those snack bar nachos are kale chips and pretend to tote a giant log on that hike up the bleachers à la Vision Quest.
I think you'll make the weight.
Doc Buchanan Invitational
Setting: Jan. 5-6 at Clovis HS.
Hype: Four of the five returning California state champions will be in attendance and at least eight nationally-ranked teams, including Bergen Catholic (New Jersey) and Pomona (Colorado). NorCal will send six of its top 10 teams (Gilroy, Oakdale, De La Salle-Concord, Del Oro-Loomis, Folsom, Pitman-Turlock) and the likes of San Benito-Hollister, Silver Creek-San Jose, Alvarez-Salinas and Granada-Livermore. An expected 69 percent of returning state medalists will take the top seeds in 14 ridiculous brackets. NorCal couldn't crack the top 10 last year, but that should change in 2018.
Sierra Foothill League Duals
Settings: Del Oro-Loomis at Folsom Jan. 10.; Del Oro at Oak Ridge-El Dorado Hills Jan. 17; Folsom at Oak Ridge Jan. 31.
Hype: The best wrestling league in Northern California is downright dominant, and responsible for a bevy of state medalists and qualifiers each year. Oak Ridge, Del Oro and Folsom alone sport 22 ranked NorCal wrestlers. It's why the SFL puts on epic shows during league duals, complete with video screens, spotlights, music, and even fog machines. Fans pack the bleachers to see these SJS juggernauts go toe-to-toe. Expect some electrifying matches to kick off the New Year.
Temecula Battle for the Belt
Setting: Jan. 12-13 at Temecula Valley HS.
Hype: The same dynamite weekend features Temecula's Battle for the Belt, Five Counties and the Tim Brown Memorial, but Temecula is likely the toughest. Gilroy, Oakdale and Vacaville should challenge for top honors. State powers Poway and St. John Bosco-Bellflower will also join the fray. This tournament takes its name seriously. Champions win a giant belt for taking their bracket.
Tim Brown Memorial
Setting: Jan 12-13 at the Sacramento Memorial Auditorium.
Hype: Many of the top Northern Section, North Coast Section and SJS teams will collide in the spacious theatre-style arena in Midtown Sacramento. Along with SFL heavyweights Oak Ridge, Del Oro and Folsom are NS powers Chester, Corning, Chico, Shasta-Redding, Lassen, Orland and Anderson. This tournament was loaded with state qualifiers and place winners last year. The tournament was re-named in honor of US Marine Timothy Brown, who was killed in Iraq in 2006 by a roadside bomb.
Mid Cals
Setting: Jan 26-27 at Gilroy HS.
Hype: NorCal's best program will host elite programs in a two-day spectacle that represents the last major tournament of the regular season. Wrestlers are typically at their final weight by this weekend. Oakdale, Del Oro, Foothill-Palo Cedro, Benicia, Alvarez, Granada and most of the CCS elite should be in attendance. Last year Tuttle of Oklahoma was runner-up to champion Poway.
Sac-Joaquin Section Team Duals
Setting: Feb. 3 at Lincoln HS, Stockton
Hype: The SJS has delivered thrilling dual meet competition at this annual event, and only recently have SFL teams provided serious opposition to the Vacaville program that has rolled to 20 blue banners at this event since 1986. The Bulldogs were champions last year, but allowed Elk Grove and Folsom to steal three of the last four. Expect the SFL champion and Vacaville to meet in this year's SJS finale. Oak Ridge is probably the favorite here. The best SJS team, Oakdale, will handily win Division III.
Girls SJS & Northern Section Masters
Setting: Feb. 16-17 at McNair HS, Stockton.
Hype: No California sport has grown like girls wrestling. Teams now field entire dual lineups and Northern California's best often wrestle their way to a collegiate scholarship. The SJS & Northern Section Masters set the table for dynamic state competition the following week. Last year Tokay-Lodi won the event handily.
Section Championships
Settings: Feb. 23-24 (SJS — Stockton Arena; North Coast Section — James Logan HS; Union City; Central Coast Section — Independence HS, San Jose; NS — Redding Civic Center).
Hype: The last step before state is a thrill ride for season-long rivals desperate for high seeding in Bakersfield. Someone is down to get stuck, miss weight or fall victim to the same guy they bested all year. The Stockton Arena provides a brilliant setting for SJS powers that will vie for six tickets to state. The rest of NorCal will settle for three or fewer, and there is less team-score anticipation. Gilroy could break CCS records with dominance and De La Salle-Concord should dominate scoring in the NCS. Foothill is given early nods to win the Northern Section, but it won't be easy.
Girls CIF State Championships
Setting: Feb. 23-24 at the Visalia Convention Center.
Hype: Selma and Corona finished 1-2 last year, followed by NorCal's Tokay and Del Oro. Enochs-Modesto was sixth while Menlo-Atheron representing the CCS in eighth and James Logan-Union City the NCS in ninth. Northern California is packed with talent on the girls mat. Expect more on that in future editions of SportStars.
CIF State Wrestling Championships
Setting: March 3-4 at the Rabobank Arena, Bakersfield.
Hype: None needed. Nothing compares to the state wrestling championships.