Montaz Thompson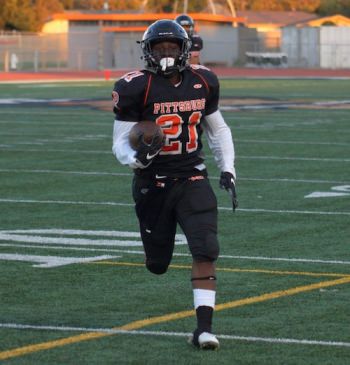 SportStar Of The Week | Pittsburg | Football | Senior • The Pirates senior running back continued his monster start to the season on Sept. 9 when he rushed for 379 yards and four touchdowns to lift Pittsburg to a 48-25 win over visiting Serra-San Mateo. Thompson wasted no time getting in on the action as he had three carries for 77 yards on the team's game-opening drive, scoring on a 38-yard run. He would add touchdown runs of 2, 40 and 50 yards over the course of the night. Thompson — whose older brother, Olito, was a record-setting back for Concord High (and a former SportStars cover athlete) — is already among the top three career rushers in Pittsburg history after just 16 games. He rushed for 1,766 yards as a junior and is already at close to half that total (839 yards) in three games this season. Thompson had 11 touchdowns through his first three games after rushing for 19 all of last year.   
HONORABLE MENTIONS: 
   Sofia Castiglioni: The Davis senior set a Lagoon Valley course record (18:18) to lead the Blue Devils cross-country team to a dual meet victory over host Vacaville. The defending SJS Div. I individual champion will be key to her team's run for section and state team titles.  
   Sam Untrecht: The sophomore led the Menlo School-Atherton water polo team in scoring with eight goals as the Knights defeated Saint Francis-Mountain View 9-6 on Sept. 2 and Campolindo-Moraga 12-10 in overtime on Sept. 3. He also posted five assists, seven steals, and four ejections earned.