NCVA Power League Regional Championships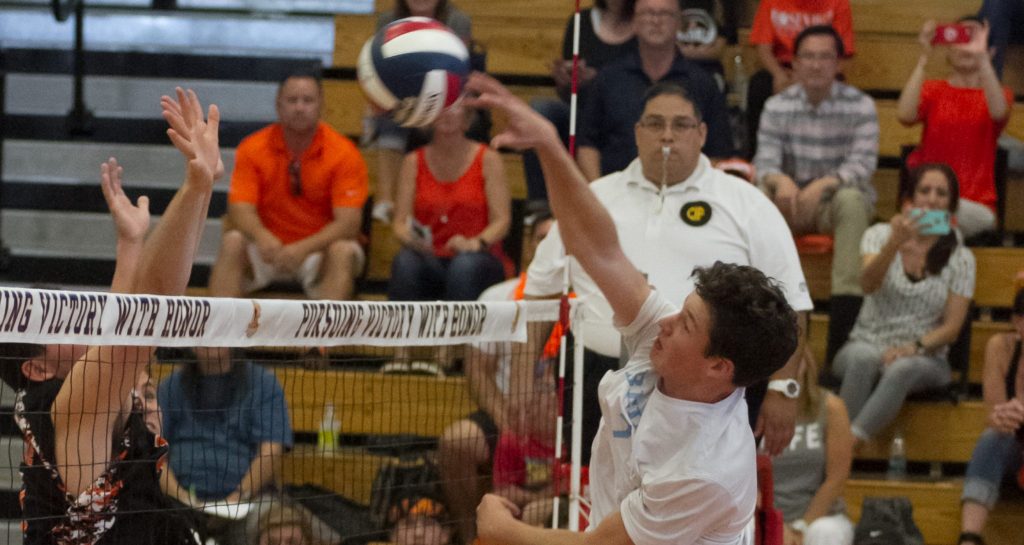 Boys Power League Regional Championships to decide tight points races. 
Four months of top tier boys club volleyball comes down to the NCVA Power League Regional Championships the weekend of Dec. 16-17.
And no club is looking better the Mountain View Volleyball Club.
Heading into championship weekend, MVVC has the top seed and points leader in each of the top three divisions. MVVC 18 Red holds a 12-point lead in the 18/17s standings, MVVC 16 Red leads the 16/15's by the narrowest of margins and MVVC 14 Red holds an 8-point lead in the 14s Division.
In the 18/17's field, MVVC Red 18 comes in having won three of the four season tournaments. If they're going to claim the regional title, it will likely go through the following three clubs: Main Beach 18-Jake (Santa Cruz), Northern California Volleyball Club 18-1 Asics (Rocklin) or Bay to Bay 18-1 (San Jose). The previous three teams are seeded 2 through 4, respectively, and — along with MVVC Red — are comprised of rosters featuring the best boys varsity volleyball talent in NorCal.
MVVC Red 18 is led by 6-foot-7 oustide hitter Jerod Nelsen. The St. Francis High-Mountain View senior is considered among the region's most prized recruits and recently competed for Team USA in the FIVB U19 World Championships in Bahrain. Main Beach is led by Carmel standouts Keegan Forrester and Cole Dickman, among others. NCVC 18-1 features Long Beach State-bound outside hitter Dawson Fugate of Del Oro-Loomis and Whitney-Rocklin standout setter Danny Sharrah. Finally, Bay to Bay 18-1 is powered by Bellarmine-San Jose's dynamite 2018 class featuring Brett Allen, Ryan Foreman and Weston Del Signore.
In 16/15's, MVVC Red will attempt to hang on to its razor-thin half-point lead over Pacific Rim Volleyball Academy's U16 squad. Meanwhile two Bay to Bay teams sit in third and fourth place, just 10 and 13 points back.
The 14s race appears down to MVVC 14 Red and Bay to Bay 14-1.
The San Mateo Events Center will play host to to the 18/17's tournament, as well as the 12's. The 16/15's and 14's will take place at the San Jose Convention Center. Pool play at both venues will begin at 8 a.m. on Dec. 16.