First Annual NorCal Wrestling Postseason Awards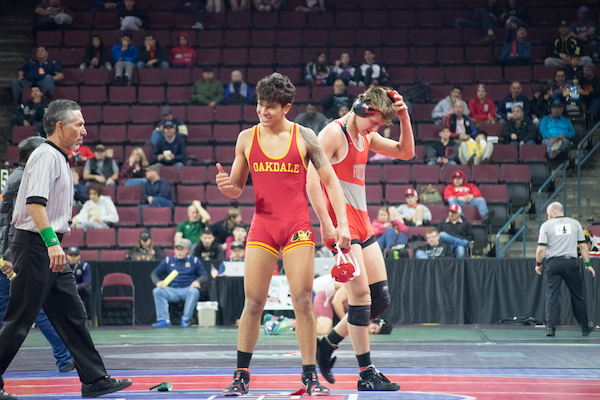 SportStars' NorCal Wrestling Writer, Ike Dodson, Dishes Out His First Annual NorCal Wrestling Postseason Awards In The Wake Of The CIF Wrestling Championships 
How do you put a full NorCal Wrestling season of triumphs and heartbreaks — the result of countless hours of grass drills, weight cuts and sniffing smelly knee-pads — into words?
With a list of NorCal Wrestling postseason awards you completely make up, of course.
Below is a look at the top performers from last week's CIF championships, and six recipients of end-of-the-year awards highlighting some of NorCal Wrestling's biggest moments on the mat.
Most Valuable Wrestler
Antonio Andrade, Sr., Gilroy (CCS)
The Mustangs don't finish runner-up without Andrade's first-place points or the four pins he accumulated during a 6-0 run through the 195-pound bracket at state. Andrade beat one of the pound-for-pound best wrestlers in the state (Oakdale's Colby Harlan).
In fact, he capped a remarkable team performance by perhaps the best team to ever hail from Gilroy.
The Pioneer
Peyton Omania, Sr., De La Salle-Concord (NCS)
Omania's state championship, the first in school history, reminds sports fans that De La Salle is not just a football school.
Notably, he was one of the most emotional NorCal wrestlers of the tournament.
In addition, Peyton deserved the elation he displayed on California's biggest stage — literally the only CIF sport that props up its champions for competition under a spotlight.
Biggest Non-Medal Moment
Donny Fontillas, Sr., Ripon (SJS)
Competing for Div. V Ripon of the SJS, Fontillas earned his first trip to state by taking fourth at Masters.
When the Ripon contingent arrived in Bakersfield, they were stunned to find Ripon's newly designed mat — utilized at state as part of an agreement with the vendor — on the arena floor.
Not to mention, even more shocking was Fontillas' designation to wrestle on that same mat in his opening match.
Further, Fontillas lost the match to gold medalist Jesse Vasquez of Santiago-Corona, but the Ripon faithful won't forget the moment.
Mr. Upset
Russell Rucklos, Sr., Foothill-Palo Cedro (NS)
The biggest upset of the tournament was bagged by Rucklos. Who beat No. 1 seed and gold medal favorite Christian Rodriguez of Selma 5-4 in the round of 16. Rucklos, the No. 16 seed.
Also, beat No. 9 Nathan Haas of St. John Bosco-Bellflower to reach the semifinals and ultimately finished sixth after 2-1, 5-3 and 7-6 losses against the No. 5, 1 and 4 seeds.
Lastly, on Twitter, Rucklos' sister said his upset was "the only cool thing" about him. Roasted by his sister, but a medalist — he will take it.
Mr. Perseverance
Jimmy Heryford, Jr., Sutter (NS)
A three-time state qualifier without a CIF win under his belt. Heryford entered the state tournament as an unheralded, unseeded grappler who nabbed a No. 19 state ranking because he won the Northern Section for the third consecutive season.
As well, he proved he can learn from experience by shellacking the No. 12 seed in his opening match, 10-3.
Lastly, he won two more big matches in consolation, pinning No. 11 Christian Cabuag of Monte Vista Christian-Watsonville. Also, collecting an 11-3 major decision over Central-Fresno's Adrian Chavez.
Breakout Wrestler of the Year
Levi Markey, Jr., Del Campo-Fair Oaks (SJS)
Listed as a 5-11, 205-pound linebacker for Del Campo football back in the fall.
Markey erupted onto the state wrestling scene at 285 by beating two state-ranked opponents at the SJS Masters (silver medalist).
He then won three straight matches to reach the state quarterfinals.
Lastly, he finished 5-2 at state (seventh), after entering the postseason completely off the state radar.
All-CIF Tournament Team
106 pounds
Jayden Gomez, Fr., Gilroy (CCS)
One of nine freshman in this weight class, Gomez proved he was NorCal's best by beating SJS champ Jake Stone of Oakmont-Roseville. In addition, Blake Fredrickson of Windsor (twice) and nabbing a fifth-place medal.
113 pounds
Eric Sanchez, Sr., Silver Creek-San Jose (CCS)
Four NorCal wrestlers reached the top-12 round at state. But, only Sanchez, who beat Sutter's Jimmy Heryford 8-3 to move on. Thus, went on to medal.
120 pounds
Nic Aguilar, Sr., Gilroy (CCS)
In addition, to leading his team to a runner-up finish, Aguilar cruised through his 120-pound bracket with six straight lopsided victories to claim gold.
126 pounds
Chase Saldate, So., Gilroy (CCS)
Saldate rallied to reach the state semifinals by beating Buchanan-Clovis' Ethan Leake.
Also, he pinned Elk Grove's Lokhai Tonge on his route to fourth.
132 pounds
Alex Felix, Sr., Gilroy (CCS)
The fifth-straight Central Coast member of the All-NorCal team, Felix quietly won the matches he was supposed to, before ending runner-up to Jesse Vasquez of Santiago-Corona.
138 pounds
Lawrence Saenz, Sr., Vacaville (SJS)
Saenz may have lost the most controversial final at state. Also, his runner-up performance included three pins and a 17-5 route in his third match.
145 pounds
Peyton Omania, Sr., De La Salle (NCS)
The first state champion in De La Salle history won emotional-charged matches in the semifinals and finals. In addition, he beat Selma's Tony Mendoza 3-2 to make Spartan history.
152 pounds
JT Stinson, So., Del Oro-Loomis (SJS)
Stinson was never in real danger of elimination and bagged his first state medal in two trips.
While, his team finished 11th and will return all six qualifiers next season.
160 pounds
Noah Blake, Jr., Del Oro (SJS)
Blake never recovered from being caught and pinned in the semifinals.
Furthermore, he stoically went through the motions to finish third.
But, was visibly devastated on the medal podium. Noah's still a state medalist and Masters champion.
170 pounds
Gabe Martinez, Jr., Oakdale (SJS) (pictured at top)
Martinez went down eight points in the opening moments of his final match. But, he enjoyed a terrific run to the finals and will relish his silver medal.
182 pounds
Matthew Martinez, Sr., Everett Alvarez-Salinas (CCS)
Martinez twice beat the third-seed on his path to a fifth-place medal and won two matches by pin.
195 pounds
Antonio Andrade, Sr., Gilroy (CCS)
This was Colby Harlan's spot until a few seconds remaining in the 195-pound final.
In addition, when Andrade landed an explosive takedown and captured state gold.
220 pounds
Isaiah Perez, Sr., Pitman-Turlock (SJS)
Perez was the best of several Turlock-area standouts at state.
Also, he pinned his first three opponents and slipped 5-2 in the state finals for a runner-up finish.
285 pounds
Jake Levengood, Sr., Vacaville (SJS)
Levengood is much more than the "who did Seth Nevills beat for his fourth state title?" trivia answer.
Thus, the state runner-up won a tight 1-0 decision to reach the finals and enjoyed a stellar season.
More NorCal Wrestling stories here: SportStars NorCal Wrestling