NorCal's Biggest Tennis Tournament Just Got Bigger!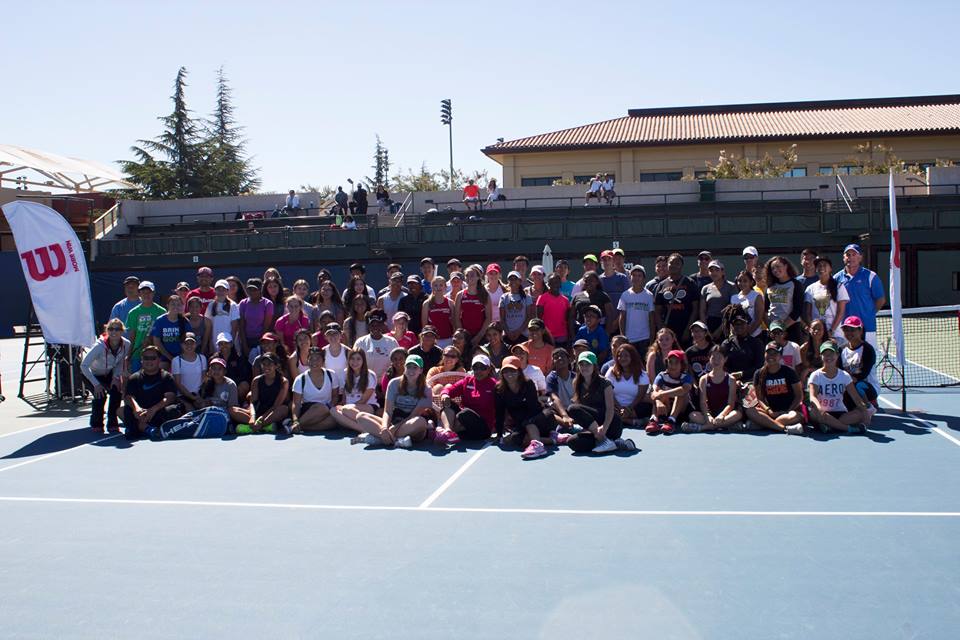 Bank of the West Classic | July 31 – August 6, 2017 | Stanford University
The Bank of the West Classic is the longest-running women-only professional tennis tournament in the world and is the first stop of the US Open Series. Owned and operated by IMG, the WTA Premier event features a 28-player singles draw and a 16-team doubles draw with total prize money of $753,000.
Held on Stanford University's campus at Taube Family Tennis Stadium since 1997, former champions include: Billie Jean King, Chris Evert, Martina Navratilova, Andrea Jaeger, Monica Seles, Martina Hingis, Lindsay Davenport, Serena Williams, Venus Williams and Kim Clijsters.
This year, fans will be treated to another stellar player field as five-time Grand Slam champion Maria Sharapova comes back to Stanford. Victoria Azarenka will make her comeback after giving birth to son Leo, and Madison Keys is making her debut at the tournament. Azarenka, a former World No.1 and two-time Australian Open singles champion, will be making her fifth appearance at Stanford where she won the singles title in 2010 and the doubles title in 2011.
"I am very excited to be returning to the WTA at the Bank of the West Classic," said Azarenka. "I am looking forward to beginning this new stage of my career."
The Bank of the West Classic has also received a commitment from World No. 11 Madison Keys. The young American had a breakthrough 2016 season, winning her second WTA title, breaking into the World Top 10 and qualifying for the prestigious year-end WTA Championships for the first time in her career.  She ended the year ranked a career-high World No.8.
Ticket Information and Member Discounts
Individual session tickets for the opening round start at just $27. Ticket packages are also available. USTA members receive 20-30% discount on tickets for certain days (members use code BANKUSTA17). For more info on member pricing, visit www.usta.com/botwc2017/.
Tickets can also be purchased by calling the box office at 866-WTA-TIXS (866-982-8497) or on  www.BankoftheWestClassic.com.
EVENTS SCHEDULED DURING TOURNAMENT WEEK:
The tournament kicks off with NET GENERATION Kids Day!
Monday, July 31, 2017  | 9:00 – 11:00 am
Angel Field | Stanford University
It's Fun—and it's Free! Join us for an epic tennis festival! We offer tennis games, prizes, activities, coloring contest and much more.  You'll hear from tournament pro players in an intimate Q&A style format to introduce them to the dynamic world of professional tennis. Come and join us for a day full of fun activities—on and off the court! The first 100 participants will receive lunch and tickets to the day's session. 
After parking, follow the signs to the "Unregistered Groups" table on the field. We suggest you arrive a half hour early (must complete a waiver to participate). For any questions, please email Silvia at duenas-bielser@norcal.usta.com.
NET GENERATION High School Day
Monday, July 31, 2017 | 5:00 – 7:00 pm
Taube Family Tennis Stadium
625 Campus Drive | Stanford University | Palo Alto
CALLING ALL HIGH SCHOOLTENNIS PLAYERS – FREE ADMISSION!  Don't miss this fun-filled day with some activities on court, a pro appearance, free dinner and free ticket to watch the matches at the Bank of the West Classic, courtesy of the USTA. Supply is limited. Register today!
RSVP TODAY: USTANORCAL.COM/REGISTER
Enter Keyword: 1239. Click Search Now. Limited spots available.
Email questions to Cherryl Silva at silva@norcal.usta.com
USTA NorCal Member Appreciation Day
Tuesday, August 1, 2017 | All Day
USTA NorCal Membership Booth
USTA NorCal Member Appreciation is our way of extending quality hospitality to USTA members and to show how much we value your membership as well as your involvement with local tennis programs. Join us at our booth for an autograph session with tournament player and a premium USTA NorCal logo'd item before things start heating up on the courts! Bring your valid USTA member card to take part in the fun! Members also receive a 30% discount on tickets to the day session on this day as well!
During the entire tournament, USTA NorCal's membership booth will be staffed by a team of volunteers, offering daily raffles, tennis-themed activities, and opportunities to renew or become a new USTA member. New and renewing members receive a free gift, too! 
Adjacent to our booth area is the Fast Serve Challenge. Tennis enthusiasts of any age or skill level can test their serve strength and we'll measure your serve speed on our radar gun display. Top speed of each day wins a prize!
USTA NorCal Tennis Hall of Fame
Thursday, August 3, 2017 | 10:30 am – 2:00 pm
Hospitality Area by Taube Family Tennis Stadium
This year, we recognize five individuals who have influenced and grown the sport of tennis over the years, both on and off the courts. From Kristy Pigeon, a member of the "Original Nine", and Ted Robinson, an avid tennis fan and American sportscaster, to EPATT Executive Director and Tennis Director Dave Higaki, former professional tennis player Steve DeVries, and ATP supervisor Tom Barnes, we are truly honored to count them among the USTA NorCal family and to recognize their success at this year's
To find out more about our inductees, read their full biographies at usta.com/norcalhof2017. 
A WEEK BEFORE THE TOURNAMENT…
Join us for the NET GENERATION Tennis Festival
Saturday, July 22, 2017 | 10:00 am – 12 noon
Taube Family Tennis Stadium
625 Campus Drive | Stanford University | Palo Alto
ENJOY FUN TENNIS ACTIVITIES, SNACKS AND PRIZES – FREE ADMISSION!  Enter for a chance to win tournament tickets! Families welcome with children 5 and over. Parents are encouraged to partner with their child. All participants will receive a prize, enjoy snacks at the end, and win prizes in a raffle! Participation includes first year free USTA Membership for ages ten and under. Racquets and balls provided.
RSVP TODAY: USTANORCAL.COM/REGISTER
Enter keyword: 1188. Click Search Now. Limited spots available.
For more information:
Christy Perez: (916) 990-4438 |  Perez@norcal.usta.com
Lucy Schermerhorn: (336) 580-0189 | Schermerhorn@norcal.usta.com
NET GENERATION, an official part of the USTA, makes it easier and more fun to get kids and teens into tennis. It is a program that EMPOWERS Providers with the latest tools and curricula. Together, we're going to grow the game. Find out how you can help to shape the future of tennis. Visit www.netgeneration.com.
For more information about all of the events going on at the Bank of the West Classic, visit  usta.com/botwc2017/.