Pedal Paradise With Scenic Views – Redding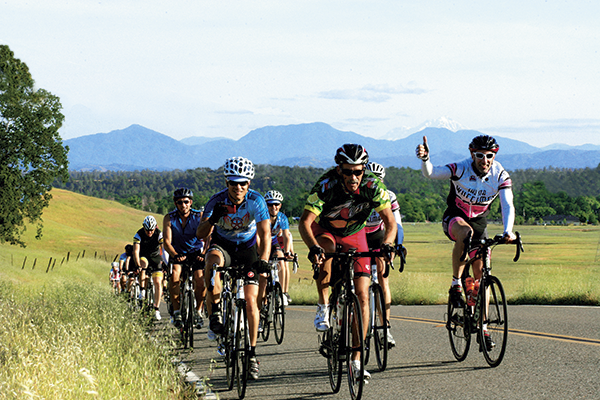 The open road has a different feel to it when scenic views accompany your ride around every turn, climb and descent.
In Redding – the sunniest city in California – you can forget congested roads and crowded streets when you cruise the countryside and open spaces. Sweeping vistas and rolling foothills fill your peripherals when you ride in the heart of Northern California.
Already known for its world-class fishing, the Sundial Bridge and water recreation on lakes and rivers, Redding is quickly becoming a cyclist's paradise. The Sacramento River National Recreation Trail stretches 17.4 miles from the internationally-acclaimed Sundial Bridge to Shasta Dam, alongside a historic abandoned railway.
Paved pedestrian trails fan out from either end of the bridge and wind their way up hills, through botanical gardens, along the water and through downtown. It's the crown jewel of Redding's trails, which the San Francisco Chronicle called the "gem of the U.S. trail system."
The areas surrounding Shasta Lake and Whiskeytown National Recreation Area also offer abundant unpaved trails that are popular with single-track bicyclists, and the nearby mountains present endless opportunities for great trail experiences and challenges.
On Oct. 21, roll out with your comrades at sunrise in Redding for the annual Wildcat GranFondo – a 15 to 123-mile race, climbing anywhere from 500 to 11,000 feet in elevation. Riders of all ages and skill levels ranging from beginner to recreational and elite tour the gorgeous backroads east of Redding.
The GranFondo has its roots in Italy and loosely translates to "big ride." Cyclists ride together as a community for the camaraderie, scenic views, personal achievement and a chance to win prizes.
Pump up those tires, grab your helmet and ride in Redding!  
— Story and photos contributed by Visit Redding