Placer Football: Size & Smarts Guide Hillmen's Leading Duo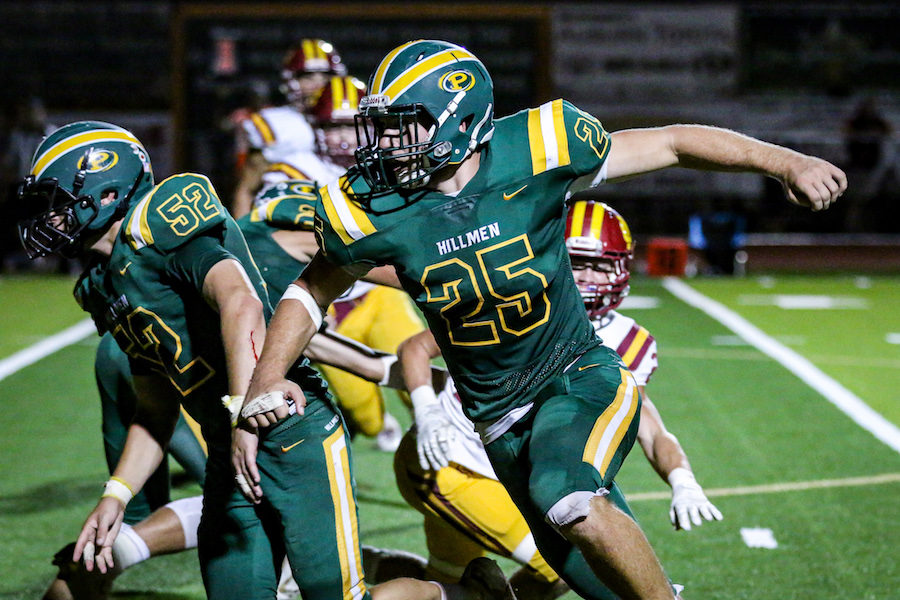 Placer Football Plows Toward League Title Run Behind Punishing Fullback Hans Grassmann And Scholarly Lineman Kyle Christensen •
Before the monster under your bed goes to sleep at night, he first checks to see if Placer Football fullback Hans Grassmann is hiding in the closet.
The Auburn school's hulking senior inspires nightmares, and not just because of his punishing up-the-middle runs. Grassmann is a sensational blocker, and in Placer football coach Joey Montoya's Wing-T offense he is the vital lead attacker on a bevy of outside runs.
You know it's coming when Grassmann sprints for the edge at top speed, looking for someone, anyone to lay his hands on. Some defenders choose to opt out of this encounter.
"I wouldn't want to be out there with him coming at me," Montoya said. "That's a 6-4, 230-pound statue coming at you. He's a devastating blocker.
"I know our running backs appreciate that."
_______________________________
CONNECT WITH US:
Follow SportStars on Twitter & Instagram | Like us on Facebook | Subscribe!
_______________________________
Grassmann certainly has the help of Placer's perennial application of beefy linemen. His lead blocks helped Placer rush for 5,269 yards (No. 5 in California) last year.
"You have to have a mindset that you are going to get out there fast and seal the edge with your block," Grassmann said. "Your block matters. You have to stop the guy who can make the difference between a five-yard run and a touchdown."
If you see Grassmann with the ball near the sideline, Placer had to have lined up on an outside hashmark. He's a no-nonsense runner that initiates contact and only goes north. He might lead the state in consecutive rushes within the boundaries.
Through two-plus seasons, that's also 317 carries for 2,548 yards and 42 touchdowns. He played mostly defense his sophomore season, and broke out with 1,632 yards and 24 scores last year. He's averaging 156 yards a game and three touchdowns heading into the Foothill Valley League schedule on Oct. 4. The Hillmen (3-2) visit Nevada Union-Grass Valley (4-1) for a 7 p.m. kickoff.
"I want to go over 2,000 yards this year," Grassmann said, only admitting the goal because he was directly asked about it. "I want to improve upon last year."
It's just not in him to boast. In fact, you will rarely hear Grassmann even speak or crack a smile.
"I would never try to make a kid be something he's not, and Hans is one of those lead-by-example guys," Montoya said. "He's one of the quietest kids I have ever coached. He doesn't say a word in practice.
"Rarely, if you get him into a super comfortable situation with his closest friends or his girlfriend, all of the sudden you will hear his deep, booming voice. When he does speak, it carries a lot of weight."
Grassmann has a scholarship offer from UC Davis and is also in talks with the University of Montana. 
He was considered among California's top rugby players until he left the pitch last year to focus on football. Since then, he's developed his next-level tools, especially his speed. He anticipates a future role on the defensive side of the ball, since most collegiate programs don't support a traditional fullback.
Montoya will deploy him in defensive packages, but he doesn't overwhelm his workload.
It's important that Placer has Grassmann at full strength for a gauntlet of FVL games against teams that already look special this year. There are no easy games. Oakmont-Roseville, Nevada Union, Rio Linda, Lincoln and Ponderosa-Shingle Springs combined for 19 wins and just six losses through September. Rio Linda is the reigning CIF 5-A State Bowl Champion and Oakmont delivered a statement win by shellacking returning Sac-Joaquin Section Div. IV finalist Casa Roble-Orangevale 44-0 on Sept. 20. Lincoln plays a tough schedule and beat Whitney-Rocklin 22-17 two weeks after the Wildcats upended Placer 47-34.
The Hillmen were unbeaten FVL champions last year, and would have been big favorites in an SJS Div. IV bracket that propelled Rio Linda to section, NorCal and CIF honors. However, the SJS has a postseason alignment rule that designates league champions to compete in the divisional bracket that most closely matches the enrollment of conference teams. 
Instead of meeting public schools of similar sizes, Placer landed in Div. III and fell 25-22 to Capital Christian-Sacramento — a private program often bolstered by the strength of transfers.
The Hillmen faithful are no strangers to hard luck endings.
Though Placer football has won seven straight conference titles, made the playoffs in 11 consecutive years and reached a section championship game five times in the last 10 years (including the last three), postseason alignments have made playoff success incredibly difficult.
Hillmen fans could point to at least two state bowl wins earned by area teams that could have easily been posted in the rafters at Earl Crabbe Gym, if not for wacky enrollment moves.
In 2015, a magical undefeated season went awry when Placer was bumped into Div. III and eliminated from the playoffs by arguably the best Central Catholic-Modesto team in the history of the private school juggernaut. Sierra-Manteca advanced from a weak Div. IV bracket and won a CIF bowl game.
Last year, the Hillmen watched Rio Linda, a team Placer nearly beat with a running clock, roll to state lore from Div. IV. 
"We don't shy away from the challenge of being moved up," Montoya said. "We embrace it and try to make the most of it."
A 2019 bump into Div. III is a long way away, considering the obstacles in Placer's own conference, where teams average an enrollment that exceeds Placer by 518 students.
Vital to that effort will be wins in the trenches, easily the hallmark of Placer football teams. The Capra brothers — Johnny, Jacob and Joey — are all departed (those last two are at San Diego State) and Blake Baughman is at Nevada. Eddie Vanderdoes was recently released by the Oakland Raiders and Jackson Tate just wrapped up his career with Claremont McKenna.
The latest prestigious Placer lineman is one of the obvious leaders of this team, Kyle Christensen. Yeah, he's 6-4 and 263 pounds, but even more impressive are his academic numbers: a 4.25 GPA and a 1300 SAT. 
"I learned the importance of being an intelligent football player from Blake Baughman. He had an amazing mind," Christensen said moments after a heartbreaking 30-27 final-second loss to Cardinal Newman-Santa Rosa on Sept. 6. "I think I learned to be calm under pressure from Joey Capra and I admire all the other big-time linemen that came before me here because of their strive for success and selfless attitude with the team."
Christensen is entertaining scholarship offers from UC Davis, Cal Poly, Oregon State and San Diego.
"Kyle is maybe the smartest kid I have ever coached," Montoya said. "He is like having a coach on the field, and he and I make in-game adjustments together.
"His feedback is something I really trust."
That relationship means a lot to Christensen.
"I love my coaches to death," he said. "It's nice to be surrounded by a program with so much passion."
It's great to be Hillmen, partly because of the obvious investment coaches make in their players. 
Montoya spent the weekend in San Diego during the team's Week Five bye, and watched Jacob and Joey Capra play Utah State. He will miss them both when Placer faces Rio Linda Oct. 11, on the road.
"We have a great tradition to build on, and I think our kids know and understand that, and want to keep the legacy going," Montoya said. "We want to continue getting better and better."  ϑ