Placer United Soccer Girls Cup Packs the House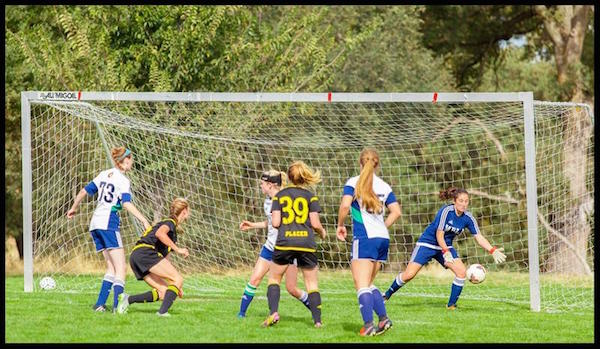 Nearly 3,000 Youth Female Soccer Players to Compete Oct. 26-28 in Placer Valley
Placer Valley Tourism (PVT) is teaming up with Placer United Soccer Club for the biggest and most competitive all-female fall soccer tournament in Northern California.
Oct. 26-28 the Placer United Girls Cup returns, bringing nearly 3,000 youth soccer players ages 10 to 19 to Placer Valley.
Placer United will use 10 locations and 27 fields in Lincoln, Loomis, Rocklin, Roseville and Cherry Island Soccer Complex in Elverta.
Teams from Alaska, Idaho, Nevada, Utah and throughout California will compete in the prestigious three-day event.
"This year we are excited to have 162 teams participating. We are looking forward to the high-level competition this tournament provides on the great fields we have" stated Placer United Club Administrator Jodi Tarr.
"By the end of the weekend we will have crowned 22 teams as champions of the Placer United Girls Cup!"
Placer Valley Hotels Hit Capacity with 
Annual Girls Cup Tournament 
Kim Summers, Director of Marketing for PVT, says the 23 hotels in Roseville, Rocklin and Lincoln essentially fill to capacity. Due to the sheer number of players, coaches and families that come to play and stay for this tournament, some teams will even have to book hotels outside of Placer Valley in nearby markets."
"Not only is this tournament one of the most competitive in Northern California, the economic impact to Placer Valley is significant," added Summers.
"Because of our top amenities and Placer United continually putting on a great event, teams return every year knowing they are going to have a fun, memorable time here."
All games are free to spectators!
The tournament schedule is available online here and you can also sign up for mobile updates right to your phone.
If you love soccer (and we know you do!), want to see some live action, then come enjoy the competition!
About Placer Valley Tourism
Placer Valley Tourism (PVT) is made up for the 23 hotels in Roseville, Rocklin and Lincoln, California. PVT recruits and supports hundreds of annual events with grants, marketing, volunteers and other services as needed. To learn more about how PVT can help bring your event here, visit www.playplacer.com or call 916-773-5400.