Punching Prodigy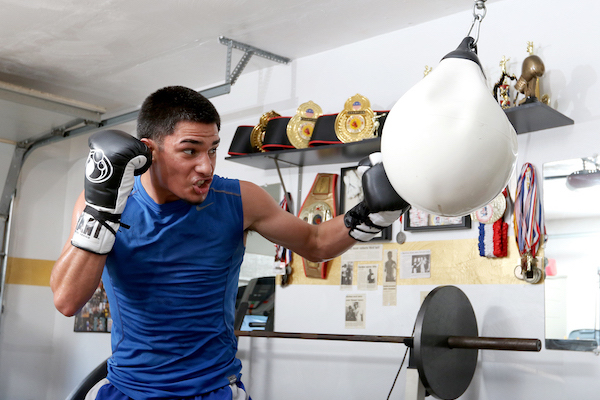 Story by JAMES G. KANE | Photos by DENNIS LEE
Angel Cordon Jr. was barely knee high the first time he received one of life's difficult lessons — namely, that the journey will punch you in the mouth occasionally.
"But," he says now with the perspective of a 17-year-old who just recently graduated from Alhambra High in Martinez, "if you get punched in the face, you have to keep moving forward."
And so he does, moving steadily around the ring at FightKore MMA and Fitness, the Martinez gym where he trains with his father, Angel Sr. His father wears flat gloves on his hands to block his son's punches, but he also throws them, too. Junior dances and moves, ducks and avoids.
Then he moves forward. His father comes lightning fast and hard at his jaw. The son blocks it.
"Everything we do is predicated on defense first," the elder Cordon says.
In other words, life may punch you in the mouth — especially when the family sport is boxing — but Cordon Jr. is out to prevent his opponents from doing so as often as he can.
"It's kind of like any other sport," Cordon Sr. says. "We figure, if we can defend first and keep the other guy from being able to do what he wants, then everything else will flow from there. If you can defend yourself, you can go places."
Angel Cordon Jr. may well be heading to very high places. The 130-pounder is one of Northern California's top boxing prospects and a six-time amateur national champion. He won his pro debut on May 5 with a first-round knockout and has his eyes set squarely on a super featherweight or junior lightweight championship.
"I want to be a champion," he says simply. "Why else do it?"
Sensible question. That said, the underlying reasons why Cordon is seeking his fame and
fortune in a sport that many observers believe is ready for a standing eight count, are less complex.
Back to when he was 7.
"It wasn't really my choice," he says. "It's a family tradition. My dad, my grandpa, my uncle, they all boxed. So I remember my dad taking me down to the gym, putting the gloves on me and telling me it was my time to learn how to do it."
And an instant love affair was born?
"It was hard," he said. "I didn't enjoy a lot of it. I didn't like getting hit. I got my nose bloodied. But that's when my dad told me that it's not about getting hit. It's what you do after you get hit. And I guess I finally reached the point where I decided if I have to do this, I might as well do it really well."
That process starts at home. Father is involved with the daily training. His mom, Veronica, keeps his diet right with fish and other proteins, and with encouragement to keep her son on his training course when those days seem more of a grind than most.
"She's a big, big part of it," he says. "A big part of it."
The training has been ongoing for a long time.
Cordon had gloves on at 7, then spent a year in training before competing in his first childhood match, a 55-pound bout that he lost.
"I didn't like getting whipped," he said. "I still remember that feeling."
He didn't experience it again for many moons. Cordon won his next 20 bouts.
"The first three years he was involved, he trained and sparred with kids that were bigger and supposedly stronger," Angel Cordon Sr. says. "But even in sparring, he was always really, really strong and could take a punch. He avoided most of them."
Along the way, Cordon Jr. began training with former World Boxing Council Continental Americas champion Andy Vences, who shared the same Concord gym where Cordon Jr. began his training.
The outcome is that a decade into his boxing life, Cordon carries out the science better than most. He won his pro debut as a super featherweight with a first-round knockout of Kevin Garcia in a bout that lasted barely less than two minutes.
In his corner was Freddie Roach, a trainer who was worked with world champions including Manny Pacquiao, Oscar De La Hoya and Floyd Mayweather Jr.
"It made my performance really come together," he says. "You want to show a guy like that what you can do. Once he saw me, maybe he thought, hey this kid is for real."
Says Dad: "It made some of the people in boxing take notice. If Freddie Roach has interest enough in you to be in your corner, then that says a lot about where (Angel Jr.) can go."
The path seems promising. Cordon is closing in on a five-fight contract with Top Rank Boxing, the boxing promotion company co-founded by Bob Arum that represented champions Muhammad Ali, Sugar Ray Leonard, Ray "Boom Boom" Mancini, Mayweather and Pacquiao, among others.
He already is a U.S. Junior Olympic gold medalist, a three-time national Police Athletic League champion, a national Silver Glove champion and a six-time Northern California Silver Glove champ.
"I think the biggest thing for me is that I can adapt," he says. "Say, if I'm trying to box and the other guy is running, then I can also come straight forward at him. If a guy wants to brawl, I can do that, too. Basically, if Plan A isn't working, I can go to a Plan B. If Plan A and Plan B aren't working, then it's Plan C."
The ultimate plan? To see where it all leads.
"I can't believe how fast it's gone," he said. "It seems like it just happened that I got into the ring the first time. To be here now, it's just really exciting."