Rio Americano Volleyball: Triple Threat Has Raiders Rolling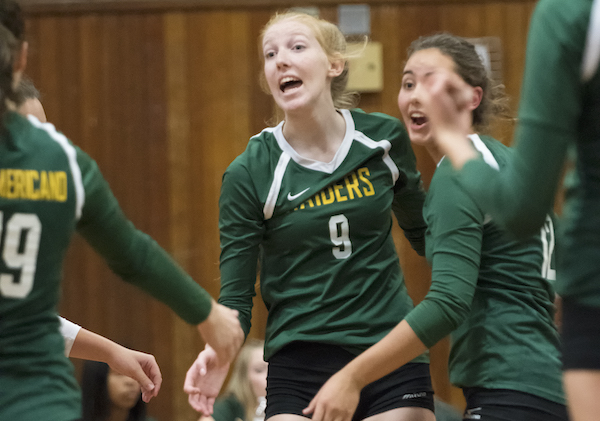 With Its Powerful Front Line Trio Leading The Way, Rio Americano Sets Sights On A Deep 2019 Playoff Run •
It almost seems unfair. The size Rio Americano High bolsters on its front line — a group that seemingly towers over the competition — gives the Sacramento school's team a unique advantage.
Instead of hitting against the block opponents put up, the Raiders volleyball team has the luxury of simply hitting over them. Just ask Del Campo-Fair Oaks coach Tim Reilly.
"They're a strong team, and they have a lot of size. We tried to get in front of them, but when we did they just went right over the top of us," Reilly admitted following his team's 3-0 loss to the Raiders on Sept. 18. 
The T-2G trio of Annabelle Thalken, Kira Givans and Paige Gwaltney — all of whom are 5-foot-11 or taller — is an intimidating frontcourt. This  triple threat has led the team to a 15-7 overall record this year and a 2-1 start in league play. 
Thalken is the most touted. The junior plays right side and setter has a 10-foot, 5-inch vertical reach, which is simply mind-blowing for an underclassman. 
_______________________________
GET CONNECTED:
Follow SportStars on Twitter & Instagram | Like us on Facebook | Subscribe!
_______________________________
"There's no one we've played so far that she can't hit over," Rio Americano coach John Grix pointed out. 
To top it off, Thalken is a lefty. She can elevate higher than anyone, and swing at an angle few can imagine. She's constantly painting the corners with nasty kills, and leads her team with more than 200 this year (223). That was a mark good for seventh in the Sac-Joaquin Section through Sept. 23, according to MaxPreps.
"A lot of teams don't expect (a lefty). They're used to right-handed hitters," Thalken said. "I've been working on hitting a lot of hard cross balls, and I've been working on a lot of different shots at practice, trying to work those into my arsenal."
Across three matches during the week of Sept. 16, Thalken totaled 19, 16 and 20 kills as Rio Americano picked up wins over Vista Del Lago-Folsom, Del Campo and Placer-Auburn. 
She has been hard to stop this year, and could continue to improve as the team looks to make a playoff run.
"There's just not a lot of lefties out there who are that big and physical," Grix said. "So it creates a lot of confusion for defenses because they haven't seen it before."
Thalken is a standout in the classroom as well. She owns a 4.3 GPA and has already committed to Cal Poly to play volleyball and study engineering.
Givans (outside and middle) and Gwaltney (outside) have also gained attention of collegiate scouts, and Grix positions his triple threat advantageously, using a pyramid strategy. That way, the team will always have one or two of them in the front row and one in the back. That helps with the team's block at the net. It's allowed Thalken to play at multiple positions on the court as a right side blocker and setter.  
"We use her in a lot of different situations, a lot of varied attack patterns," Grix said. "She's just a dynamic kid."
CHOOSING RIO
Thalken is making a name for herself with the Raiders, but it almost never came to fruition. 
Annabelle's older brother, Nathan, attended Rio Americano and went on to play volleyball at UC San Diego. But Annabelle had long sought to attend St. Francis-Sacramento. In fact, she told coach Grix that fact at a volleyball camp before heading into her freshman year. 
But to Grix's surprise, the team held open gym and in walked Annabelle — even towering over her peers as a freshman.
That decision made Grix a very happy coach. But he was even more impressed later that season when his 6-foot-1 gangly freshman touched the rim of the basketball hoop. 
"I was harping on a defensive player for not doing their job, and then all of a sudden, in the background, Annabelle jumps and grabs the rim," Grix explained. "My jaw dropped."
Now 6-foot-3, Thalken is a star with an incredible wingspan and huge upside. She's helped lead her team to wins in eight of its last nine contests. 
One of those was win No. 300 for Grix — a 2-0 victory over Pioneer-Woodland at the Davis Fall Classic.
"It's one of those things where you start looking back and thinking of the kids that got you there," the longtime Raiders coach said. "Just how hard they worked and what they meant to this program. For me, this was a big source of pride. I'm an El Camino grad and they didn't offer me a spot. I wanted to coach immediately after high school, and that was one of the options. But they said I was too young."
Nineteen years later, Grix is still coaching at the spot where he first landed, Rio Americano. After five seasons helping coach freshmen and junior varsity teams, he moved into the leading role for the varsity team in 2006. He's seen plenty of success since, but that came with a lot of challenges. It's shaped who he is today and how he coaches. 
MENTORING AND MENTALITY
Over the years, Grix has learned to devote time to his players off the court. 
Last season, the program implemented a new 30-minute regimen prior to all games and practices where the team and coaches talk about their days. It's now a valued tradition. The girls even show up early to work it into their practice schedule.
"I really enjoy that," Givans admitted. "It gives us a gauge for where everyone is at that day. And you know if someone is having a bad day or a great day, which I think is really beneficial for our practices." 
"It creates another layer for the girls to feel connected to each other," Grix added.
The players' closeness has led to more chemistry on the court. They're trusting each other, and making plays.
"We've created a very positive culture, which has taken a few years to build but the girls are absolutely crazy about each other," Grix stated. 
The team believes this is one of their best chances to make a deep playoff run. And while a playoff berth is likely, the Raiders would need help to garner a league title this season. 
The team dropped a 3-1 match to rival Christian Brothers-Sacramento early in September and would need an upset victory from another league squad to climb back into that race. A co-championship is still on the table, but the team has higher expectations.
"The last two years, we made it to the second round of playoffs, but we seem to get stuck there," Givans explained. "We lost to Del Oro last year even though we probably could have beat them. But I think we can go a lot further this year. We have a lot of potential and I really believe we have a better connection this year. So I think if there's a year where we can go really far, this is it."
After spending most of her time at middle blocker in 2018, Givans made a switch this season and has rotated at outside hitter as well. It's paid off, as she's collected more kills per set than any of her previous seasons. Through Sept. 23, she ranked in the top 15 in the section with 179 kills.
Just ahead of Givans at 12th in the section with 184 kills is Gwaltney, who also believes in Grix's mentoring sessions before practices and games. 
"I know every girl's life on this team, and they know mine — my personal life, my family life," Gwaltney said. "It's a community and it's more than just volleyball. All of my best friends have come from this program. It's not just a team — it's a family."
After one practice this week, a teammate reminded Gwaltney that the team is down to just 12 guaranteed practices left, and it stopped her in her tracks. 
"That was crazy," she admitted. "But the further we go into playoffs, the longer we have together."