Rip Kids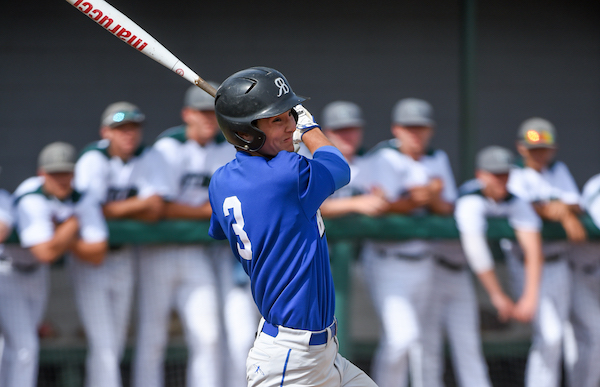 Rancho Bernardo Baseball Shines Thanks To A Talented Roster And A Legendary Coach Who's Been Known To Grab A Wave •
Story by Mark Tennis | Photos by Rudy Schmoke
The perfect day for Rancho Bernardo-San Diego baseball coach Sam Blalock is to grab his surfboard, catch some waves in the morning and then head to the diamond in the afternoon — the same diamond he's used since 1991 to teach the nuances of the game he loves.
  Blalock is pushing 70 these days, so the surfing has been harder to incorporate, especially due to a recent hip replacement surgery. But the waves of success are still coming in for his Rancho Bernardo High baseball program. This year's wave has some tidal force behind it.
  Entering May with a 23-2 record, the Broncos sat at No. 2 in the overall Cal-Hi Sports State Top 20 and among the top 10 of national polls.
  "I just went surfing yesterday for the first time in five months due to my hip surgery," Blalock said during a recent phone interview. "I was not too good. I hope to get back into it soon."
  With the CIF San Diego Section Open Division playoffs looming, Blalock's surfing rehab may have to wait. The Broncos have been among the top-ranked teams in the section since the preseason and they usually are, but there are always sharks in the water waiting to upend championship hopes — and San Diego has often had one of the most hard-to-predict top divisional brackets in the state.
  The good news for Rancho Bernardo is that there appears to be the necessary pitching dominance at the top of the staff, and the necessary depth throughout the group, that a strong playoff run seems plausible. 
Through 25 games, the Broncos hadn't allowed more than two runs in any one contest for more than a month. The most surprising aspect of the staff's dominance is that 2015 State Freshman of the Year Joey Magrisi hasn't been part of it. He's been on the shelf as a pitcher all season due to an elbow injury.
  "And both of our top two seniors (Jamison Hill and Brian Marquez) didn't have great numbers last season," Blalock said. "Still, you could see it coming. We've had the same pitching coach (Mark Furtak) with me for many years and he really works with these kids."
  Marquez has been particularly dominant. The left-hander who currently plans to walk-on at UC Irvine has two no-hitters, and carried a no-hitter into the sixth inning in a third game. He was 6-0 with a 0.55 ERA as of May 1.
  Hill, who has signed with Fresno State, has gone 7-1 with a 0.99 ERA.
  "Our No. 7 pitcher at the start of the season (junior David Baer) even has a two-hit shutout for us," Blalock said. "We also have a brand-new guy (junior Christian Lewis) at No. 4 who we didn't even know was going to come out for the team. He's a football guy who has now decided he wants to be a pitcher."
  Often, those who want to be a hitter are the ones most associated with Rancho Bernardo's program over the years. The Broncos have their share of those on this year's team as well.
  Senior outfielder Calvin Mitchell, a University of San Diego signee, has been a talked-about MLB Draft prospect since he was a sophomore. The returning All-State player leads the team with eight homers and also has 25 RBI with a .342 average.
  "Calvin has great power and he has improved his defense and his arm in recent months," Blalock said. "He really gets his bat through the zone, but I think some of the pressures and expectations of what's coming up have gotten to him. Since he was an incoming ninth grader, he's had that kind of pressure."
  Senior Alika Williams, thanks to a scorching week at the plate in late April, led the team with a .414 batting average and had three homers with 13 doubles.
  "At RB, all of us are working toward the same goal, and that's to win CIF (San Diego Section title)," said Williams, who has signed with Arizona State. "We don't think about rankings at all. It's just win, game by game."
  Rancho Bernardo's last CIFSDS crown came in 2015 when the Broncos edged La Costa Canyon-Carlsbad 3-2 in the second year of the section's Open Division. Blalock also has won section titles for the school in 2011, 2010, 2005, 2001, 2000 and 1999 in the top division. In addition, during his years at Mt. Carmel (before Rancho Bernardo opened), Blalock's teams captured San Diego Section Class 3A titles in 1989, 1987, 1982 and 1981.
  If that sounds like a lot of years, you're right. Since his first season at Mt. Carmel in 1980, Blalock has won 940 games with just 331 losses. Earlier this spring, he surpassed Guy Anderson from Cordova-Rancho Cordova (finished with 927 wins in 2015) as the second-winningest baseball coach in state history. According to the Cal-Hi Sports state record book, the only coach higher is the late John Stevenson of El Segundo, who had 1,059 wins in a career that went from 1960 to 2009.
  Stevenson was in his early 70s and preparing for yet another season of coaching at El Segundo when he died from a heart attack. In talking to Blalock over the years, he has that same passion for the game that Stevenson had  — and which Anderson still has (he's now helping coach teams at Capital Christian-Sacramento) — but it's likely he'll retire at some point.
  "When I passed that last milestone, I didn't even know it until a reporter mentioned it after the game," he said. "I'm just always preparing for the next game. I don't focus on any of that.
  "Every year, it's the same: I wait and see after the end of the season, revamp over the summer and then decide whether I want to do it or not (for the next season)."
  Williams, whose red-hot week included six doubles, two homers and nine RBI in a three-game series against Mission Vista-Oceanside, has certainly benefitted from Blalock's guidance.
  "He's just the best," Williams said. "Some of the decisions he makes are the best. Whatever we need from him, we get, whether it's extra reps or attention to detail. There are always reminders during every game."
  Williams and Mitchell obviously hope to become one of the many former players of Blalock's who've made it to the big leagues. The program's latest was just last season when Trevor Williams was called up to pitch for the Pittsburgh Pirates.
  Blalock's list of alums who've reached that level may be better than any other coach in the nation. It includes Oakland Athletics vice president and Moneyball guru Billy Beane, former A's and New York Yankees' third baseman Eric Chavez (who was Mr. Baseball State Player of the Year twice), World Series MVP pitcher Cole Hamels and Sam's nephew, Hank, a heavy hitter for many years with the Texas Rangers.
  Beane and Chavez both played for Blalock when he was at Mt. Carmel. The rest of his top players, including first-round MLB draft picks Danny Putnam, Allan Dykstra, John Drennen, Matt Wheatland, Scott Heard, Jamie Jones, and Alex Jackson just three seasons ago, were all from Rancho Bernardo.
  Blalock was once asked by longtime editor of Collegiate Baseball, Lou Pavlovich Jr,. about his secret to success.
  "All a career embodies is a bunch of days," Blalock said. "Have a good day today and work on what you need to do today, and your career will be an accumulation of many good days."
  With this team, the next good day never seems that far away. Surfboard optional.