Rising Son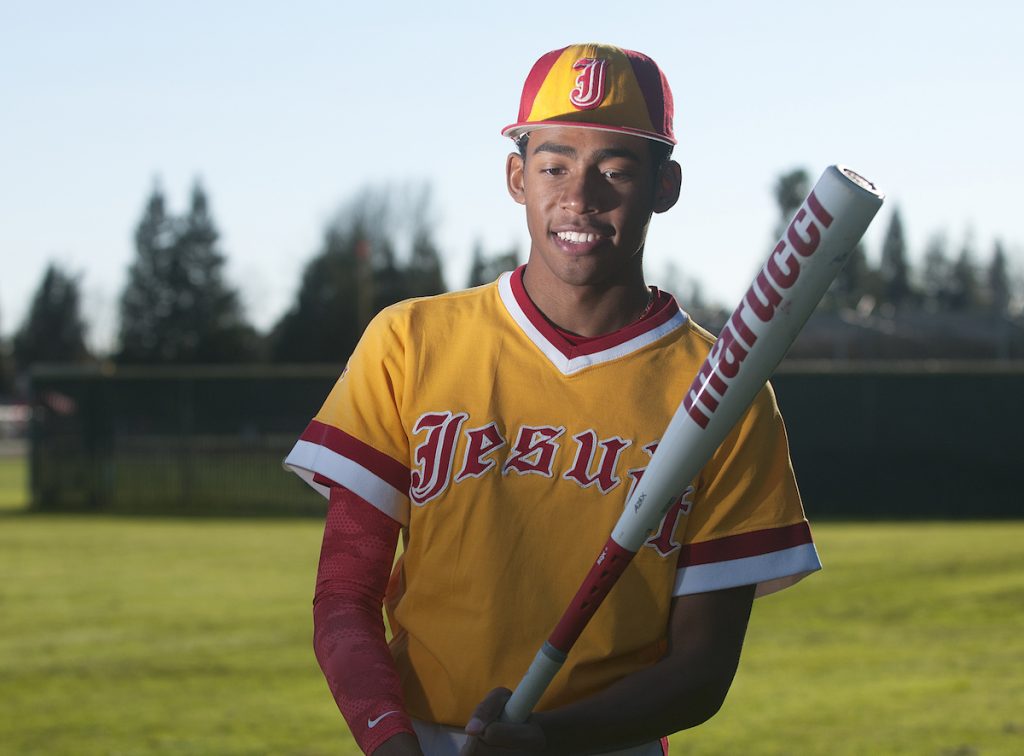 Growing Up Amongst Major Leaguers Gave Darren Baker An Edge — But The Jesuit Standout Made Sure He Would Forge His Own Path
Story By Jim McCue | Photos By James K. Leash
Darren Baker may have been born with a baseball in his hand and grew up in Major League Baseball clubhouses, but becoming a Division I signee and potential big leaguer was by no means a birthright.
"He was like a child actor that was always on the set with his father," Darren's father Dusty Baker said. Dusty is about to begin his second year managing the Washington Nationals, but most of Darren's childhood transpired during managing stints with the San Francisco Giants, Chicago Cubs and Cincinnati Reds. "He has always been comfortable in the situation and I tried to let him learn the game on his own and make his own decisions."
Darren Baker has learned plenty on his own from his experiences in the dugouts and on the fields, and has become one of the top high school baseball players in Northern California.
The Jesuit-Carmichael senior has signed with California and will likely draw MLB scouts to Marauders' games this season.
"I am just going to let the season play out," The young Baker said of possibly having to choose between signing with an MLB team or going to Berkeley. "The Draft has become a bigger topic, but my Dad reminds me to take things one day at a time and to enjoy the last few months of high school first."
As a junior, Baker batted .386, scored 30 runs and stole a team-high 15 bases as Jesuit posted a 22-9 record and earned a Sac-Joaquin Section Division I playoff berth. The Marauders are expected to challenge for a Delta League title in 2017, and Baker is a big reason for the program's high expectations for this season.
Jesuit graduated its top two pitchers from the 2016 roster — Jack Wolger and Jack Cosca, both of whom signed with Cal — and leading hitter Nick Sogard moved on, leaving Baker as the leader of a new crop of talent that will battle for league and section supremacy with perennial powers Davis, Sheldon, and two-time defending Division I champion Elk Grove.
"I was always more of a lead-by-example guy," Baker said of his quiet nature, "but I feel like I have one of the more respected and experienced voices on the team, so I need to step up as a vocal leader this season."
Baker expects new talent to step up as the Marauders attempt to reload and live up to the tradition and standards established by longtime head coach Joe Potulny.
Baker will play shortstop for Potulny in his senior season, but major league scouts are projecting him as an outfield prospect thanks to his speed and range. The versatile talent has worked hard to increase his power and size, but understands his raw skills and baseball background are key to his success.
"I think that speed is a big part of my game," Baker said. "I also think that my baseball IQ and the mental side of my game sets me apart. Learning from Gold Glove winners and All-Stars and being around the game my whole life has always had me a little bit ahead of others my age."
As a regular in the dugouts and clubhouses of the Giants, Cubs andReds, Darren Baker observed the talents and work habits of Major League stars, and even established long-lasting relationships with some of the game's best players.
"He pays attention to the game and has always been respectful in the dugout or the clubhouse when I have been a manager," Dusty said. "I think that's why players have always liked him, and why guys like Barry Bonds, Brandon Phillips, Joey Votto and others still text with him and talk with him."
Darren Baker has sought advice and guidance from his Dad's players, often exchanging videos to get pointers from sources that very few, if any, peers would have access to.
That list includes his dad, who played for 19 years and has managed for 20 more. He won a World Series championship with the Los Angeles Dodgers as a player in 1981, and led playoff runs with all four of the clubs he's managed, including a World Series appearance with San Francisco in 2002.
"We talk about other things, but it always gets back around to baseball," Darren said. "Baseball brings us together in many different ways and has been real good for us."
"I have never pushed him to do anything," Dusty said. "He follows my life and I follow his. I aspire for him to do what he wants to do.
"His eventual goal is to play pro ball and it has always been his dream, but I just wanted to prepare him."
While Dusty prepared him with his baseball background and exposing his son to the game, it was Darren's mother, Melissa, that has had the day-to-day responsibility of shaping her son's life, of which baseball is just a part of the bigger picture.
"She is always the one that takes credit for my baseball ability," Darren said. "The biggest thing that she taught me or instilled in me is commitment. She's been there every day and has taken me to every tournament. She is my number one fan."
His dad can't disagree.
"I encourage him to work hard at the game, but I don't have to tell him very often to practice or work at it," Dusty said. "He is a hard worker and his mom makes sure that he is a good student and a good person."
Like both of his parents, Darren Baker is well-liked and respected — by both his teammates and opponents. Dusty and Melissa's philosophy to emphasize education first has led Darren to the options that are before him as he begins his last high school baseball campaign.
"I am proud of him for giving himself the option of pursuing an education and playing baseball, because he works hard at school and baseball," Dusty said. "I know that he's the kind of kid that can do whatever he wants to do if he puts his mind to it."
Darren Baker's mind is set on pursuing baseball beyond high school, and college and professional baseball are options because of his hard work and dedication.
When presented with the opportunity to manage the Nationals, Dusty was somewhat reluctant and talked with Darren about the opportunity before accepting the position. That conversation showed the father that he and his wife had raised a special son.
"He said, 'Dad, we've got work to do.'" Dusty said. "He talked about how I needed to take another shot at winning with the Nationals and he needed to work toward his dream of playing pro ball. That shows a lot about what kind of a person he is."
And that's not something that Darren Baker was just born with.