Shamar Garrett | 2019 SportStars NorCal Football Player Of The Year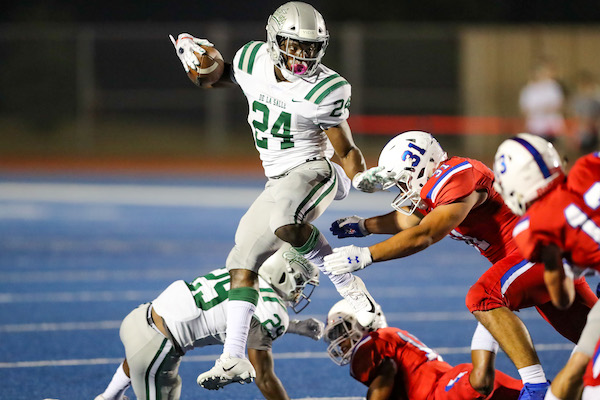 After A Remarkable Senior Year, Shamar Garrett Closed His Three-Year Varsity Career With A Place Among De La Salle's Best Two-Way Skill Players •
For as much talent that takes the field for De La Salle year-in and year-out, Northern California's best football program of the last four decades has almost always had a handful of critical two-way players.
The list of two-way skill guys over the years is a who's-who of Spartan lore. It includes names like Elijah Bradley, Jackie Bates, Willie Glasper, D.J. Williams, Terrance Kelly, Demetrius Williams, Maurice Jones-Drew, Terron Ward, Antoine Custer, and now — Shamar Garrett. 
Garrett's final game in his three-year varsity career was a master class two-way performance. Taking on national No. 1 St. John Bosco-Bellflower in the CIF Open Division State Bowl Championship, Garrett rushed for 113 yards and three touchdowns while logging 12 tackles and a forced fumble on defense.
"Every player he was going against was a future Division I (college) player, too," De La Salle coach Justin Alumbaugh said of Garrett's efforts against St. John Bosco. "Both sides of the ball. That's 22 D-1 players. That ain't easy." 
Garrett seemingly made whatever he did on a field look easy, especially in 2019. He rushed for 1,141 yards and 16 TDs and caught 16 passes for another 257 yards and two scores. He completed 3 of 5 passes for 172 yards and three touchdowns, and he also had a punt return for a touchdown. It's for all this that Garrett is being honored as the SportStars NorCal Player of the Year. 
_______________________________
CONNECT WITH US:
Follow SportStars on Twitter & Instagram | Like us on Facebook | Subscribe!
_______________________________
Garrett is the first De La Salle standout to earn the magazine's Player of the Year award in the five years since it began its current format of naming an overall Player of the Year along with Offensive and Defensive Players of the Year. 
What makes Garrett's numbers even more impressive may be the fact that he only played in h alf of approximately 10 games due to blowouts and running clocks. 
"There were about eight weeks in a row when he didn't play in the second half," Alumbaugh said. 
Of De La Salle's 14 games, Garrett played in all four quarters against just three opponents: St. Thomas Aquinas-Fort Lauderdale (Florida), Folsom and St. John Bosco. 
The masterful senior season was the culmination of a three-year grind. 
"He fully committed himself to the school and program," Alumbaugh said. "He got stronger, bigger and faster and really honed himself into a better athlete. His practice habits got better. He studied more. It all manifested itself on the field."
Garrett, who committed to San Jose State early in the season, pushed himself as a student and leader as well.
"Shamar was our unanimous MVP that the kids voted on," Alumbaugh said. "He really made a lot of changes and made himself into a great young man. He had a 3.5 GPA this past semester, too. It was a pretty incredible year."