Starlings Volleyball | NCVA Helping Club's NorCal Expansion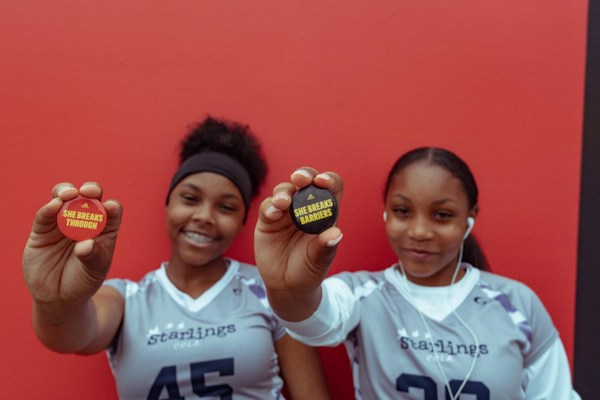 Starlings Volleyball, A Nationwide Organization Offering Club Volleyball To At-Risk Youth And Low-Income Families Continues To Grow In Northern California •
For a couple years in the late 90s, one of the best kept secrets in club volleyball resided at a single high school in San Diego. Starlings Volleyball didn't stay unknown very long. 
Its co-founders were Byron Shewman, a former Men's National Team player, and Kim Oden, a former Olympian. But the goal of the small club wasn't to attract the region's top talent. Experience wasn't even among the requirements to join. 
Today, Starlings Volleyball has chapters in 21 states, Washington D.C. and even one in Tijuana, Mexico. And through the continued support of the Northern California Volleyball Association and Bay Area universities, Starlings continues to expand its NorCal footprint. 
The Starlings Volleyball mission is to provide athletic opportunities along with a place of safety and guidance to young girls from low-income homes and at-risk environments. Shewman was inspired to create the program, which started with just 11 girls at Lincoln High-San Diego in 1996, after volleyball helped him find his own way out of a disadvantaged childhood. 
"The vision behind Starlings is to positively impact the lives of at-risk girls through the sport of volleyball," Starlings Executive Director Lucy Jones said. "We aim to provide quality skills training and competitive opportunity. And we use that platform to support them academically and provide college and career counseling."
_______________________________
SportStars NOW
Get the New App in the Apple Store & Google Play
_______________________________ 
Among the statistics Starlings lists on its website include:
>> Girls who participate in sports are 92 percent less likely to use drugs. They are 80 percent less likely to become pregnant and three times more likely to graduate high school. 
>> Just 15 percent of youth sports participants come from low-income homes due to the rising costs of participation.
"The average cost per player in a regular USA Volleyball club will be about $1,500 for a full season," Jones said. "We're able to reduce that to as low as $500 per kid through a number of corporate partnerships. Those partnerships significantly reduce the overhead costs enough that families can get close to handling it. We also have various funds that allow club directors and players to apply for assistance in fees, gym costs, or whatever."
Clubs also receive help from sister college and sister clubs. All three Bay Area universities, Stanford, Cal and Saint Mary's, work as sister colleges to provide skills clinics and other assistance. 
There are currently four NorCal Starlings chapters up and running. There is Starlings-Oakland, Starlings-Berkeley, Starlings-Marin (within Marin Juniors VBC) and Starlings-Vision (within Vision Volleyball in Redwood City). Jones said they are currently looking at directors to help start Starlings-San Francisco and Starlings-San Mateo.
_______________________________
STAY CONNECTED:
Follow SportStars on Twitter & Instagram | Like us on Facebook | Subscribe!
_______________________________ 
Starlings' outreach in the area is currently stifled by the state's strict COVID-19 protocols. Typically, communities will learn about the opportunity through school outreach as well as free skills clinics. 
"As soon as we can do that, we'll be doing that in the Bay Area," Jones said. "Either through the sister colleges, sister clubs, high schools or wherever."
In the meantime, those who want to learn more about Starlings can visit their website at Starlings.org, or call Jones directly at 760-681-6813. If you want to donate to the program, there's a place on the website for that as well.