Steven Zobac: NorCal Baseball Player Of The Year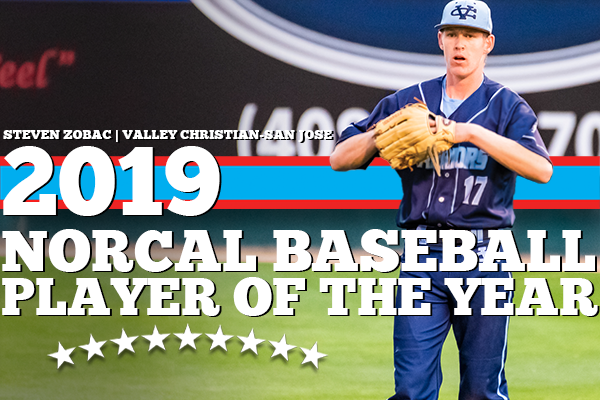 Valley Christian Outfielder And Pitcher Starred At The Plate And On The Mound For Three-Time CCS Open Champions •
With three Central Coast Section Open Division titles under his belt, Steven Zobac has plenty of material to choose from when he looks back on his favorite moments in a Valley Christian-San Jose uniform.
The latest memory certainly stands out for Zobac. In his final high school game, he worked four hitless innings to earn the win and drove in the only runs of the game with a two-run double in Valley Christian's 2-0 championship victory over Archbishop Mitty-San Jose. The heroics came one year after Zobac earned the win on the mound and picked up the game-winning RBI via hit by pitch in the Warriors' 4-3 championship win over Los Gatos in 2018.
Individual heroics aside, the learning process throughout his time as a Warrior stands out most for Zobac. That's why, when pressed to name a favorite, he points to Valley Christian's 4-3 win over Serra-San Mateo in the 2017 title game as a seminal moment in what would eventually become a tremendous high school career.
"It gave me an opportunity to see what winning is truly like," said Zobac, who served as a backup catcher throughout his sophomore year. "I've played on teams where you win some games, you lose some games and nothing really happens. The first championship we got my sophomore year, even though I didn't play a lot, I got to see what a true team was like and real winning was like. That gave me a really big advantage over my next two years.
What Valley Christian head coach John Diatte would also learn is just how impactful Zobac could be in a number of different ways. The Warriors' longtime coach made the decision to move Zobac to the mound as a junior. The big fastball that resulted set the stage for a path to two-way stardom.
"We threw him out there and he was 88-89 and we decided we were going to use him as our closer," Diatte said. "He kind of had the same role going into this season and as it kind of evolved. We needed him to start and he took on that role, too. Steven's resilient, he's a great kid, works hard; he's one of those players that coaches love because he'll do whatever we ask him to do and embraces his role."
After beginning to make an impact in 2018, Zobac's senior year put him squarely in the conversation as one of the best players in California. On the mound, his high spin rate led to the right-hander to develop a curve ball in addition to his slider. He finished 2019 with a 6-1 record, four saves, 75 strikeouts and a 0.23 ERA. In just over 90 innings pitched as a junior and senior, Zobac allowed a grand total of two earned runs.
Zobac's impact certainly wasn't limited to the mound. He hit .465 with 12 doubles, five home runs and 23 RBIs even though opportunities to hit were scarce late in the season as teams pitched around him with more frequency. As an outfielder, Zobac learned and improved to the point that Diatte says he will be a plus defender in college.
He'll take all of those characteristics to Cal in the fall when he heads to Berkeley alongside his sister, Kacey, herself a highly touted addition to the Golden Bears' softball team.
But, perhaps even more important than a skill set that projects well on the college level is a work ethic and desire to keep learning.
"I could go on and on and on about him because he's such a great kid and he works so hard," Diatte said. "He's a great team leader, a great teammate, everybody loves him in the clubhouse. He's just a fun kid to have around."