Susac Family Fun Time: All Aboard Jesuit Baseball's Hype Train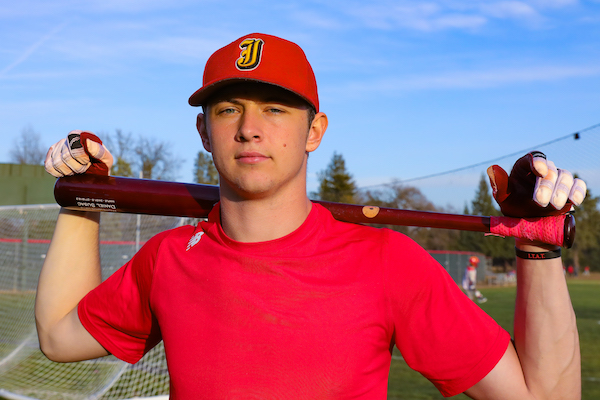 Major League Hype Follows Jesuit Baseball's Susac Cousins As They Seek Return Trip To SJS Title Game •
Sitting in the bleachers at Sacramento City College, seven-year-old Anthony Susac wanted to be a part of the fun, so he asked his dad for a few bucks, hustled to the snack bar and purchased two bottles of Gatorade. Instead of returning to his seats, he sprinted down to the field.
His older cousin Andrew Susac had just helped lead the 2009 Jesuit baseball team to its second consecutive section title. As the team dog-piled on the pitcher's mound in celebration, Anthony and Daniel Susac joined in. The pair ran onto the field and emptied the two Gatorades on their heads — a jovial and spontaneous celebration.
"I was around that 2008-09 group a lot, so when they won, I was like, 'I'm going to celebrate, too, and so I dumped Gatorade on my head," Anthony Susac recalls. "They won it in back-to-back years. I'll never forget that."
For Anthony and Daniel, that memory is also a prophecy for what they hope to see this year as the team suits up for the new 2020 season.
"The section championship comes first, that's been our goal for a while and last year we fell just short," Anthony explained.
_______________________________
CONNECT WITH US:
Follow SportStars on Twitter & Instagram | Like us on Facebook | Subscribe!
_______________________________
Ask any member of the current Marauders team and they all utter the same words outlining their goals to avenge last year's loss to Vacaville.
"Every single guy on our team remembers that feeling," Anthony added. "Just watching (Vacaville) dogpile in front of us — it hasn't left my mind once since."
That ill-fated day at the end of last May is still a dreadful image for many guys on the team. But it also serves as motivation.
"It's brought up pretty often, and it's something that keeps the guys going," senior Charlie Hurley admitted. "When guys show up to workouts tired, or they don't want to be there, we bring it up. Like, 'Hey, you're not going to win sections by performing like this. We need to pick it up.' So it's a way to hold everyone accountable."
For the Susac cousins, their title aspirations began long before they reached high school, and for Daniel, this is his last chance to make that goal a reality.
"I saw my brothers do it," Daniel recalled. "And when I made the varsity team in my freshman year I told my brother, since their team was the best and won back-to-back, I told him, 'We're going to do it three or four years in a row.' Obviously, we came up short (last year), but we have to win one so that I have a little credibility."
COUSIN CONNECTION
Although the program hasn't won a section title since the eldest Susac brother graduated, the pairing of Daniel behind the plate and Anthony Susac on the mound has Jesuit poised for a run this season. The two have played together for a decade spanning back to their travel-ball days. With so much experience, they think they have the firepower necessary to dominate their competition.
"The chemistry has always been there (between us)," Anthony said. "Now, it's just knowing we're on the same page with our pitch calling."
Last year as a sophomore, Anthony posted a 5-3 record from the rubber with a 2.28 ERA in nine appearances. He was also second on the team with 60 strikeouts.
Over the past few months, the right-hander improved his core and glute strength, which has helped him sustain his velocity from the mound. Anthony also shortened his arm path, which he believes will help him add more deception to his game, and he added a change-up to pair with his fastball and slider.
"I've made some good gains from last year, so I'm hoping the velocity will be there," he explained. "I was hovering around 89 to 92, so my goal this year is to only have a handful of pitches under 89."
Daniel hit .378 last season while leading the team in runs scored (23) and doubles (7). He also finished tied for second in hits (31) and third in RBI (19).
Each of the cousins has had Major League Baseball hype for a few years now. Both are projected to be stars at the collegiate level. If they have big performances in their respective final year of high school, each could hear their name called in the MLB draft.
"Daniel may become a multi-millionaire in about three months," said John Susac, Anthony's dad, Daniel's uncle and the Jesuit pitching coach. "There's a very good possibility that he could be drafted in the first round. I think they've met with 25 teams. He's big-time. He's considered one of the top high school catchers in the country, so he's got a decision to make."
If he chooses to postpone his big league bid, he's already announced his commitment to play at the University of Arizona — a decision that changed recently.
Daniel was hoping to follow Andrew's footsteps to Oregon State, and had committed very early in his varsity career. But legendary coach Pat Casey announced his retirement after the 2019 season. His decision not to return as Oregon State's head coach led the program to hire former player Mitch Canham.
"He's a good guy," Daniel said. "I didn't really know him, so it didn't feel like home for me."
Although he had given his oral commitment, Daniel chose not to sign his national letter of intent with the Beavers. Instead, he followed former Beavers' pitching coach Nate Yeskie to his new role as pitching coach for Arizona.
"It was very disappointing for me, especially because I love Corvallis," Daniel said. "My brother went there, and I've been around that campus a lot. But I really like Tuscon as well — I've been there twice. It's definitely a better place to hit. You're playing in 85 (degrees) not 30."
MARAUDER MAGIC
Growing up, the Susac cousins spent a lot of time together. The five of them would field a wiffleball team or wrestle, but with Andrew being 11 years older, Anthony and Daniel were distinctly outmatched.
"They definitely beat us up, but it gave us a competitive advantage" Anthony admitted.
Those days helped shape the future athletes Anthony and Daniel would become. They learned about toughness, competition and grew from that experience. They were also destined to go to Jesuit, following Andrew and Matt, as well as Daniel's father, Nick Susac.
"Like I've told people, 'Andrew was one of the better players to go through (Jesuit), but his brother is better,'" John said. "… When Daniel was 5-years-old, I made a prediction that Daniel would be better. Andrew was a superstar, but Daniel was a different cat. They were both different. They always wanted to play with their older cousins, and they'd sit there for hours throwing the ball on the roof and catching it as kids."
Andrew agrees. He recently updated his social media bio to read, "Daniel Susac's older brother."
John says Daniel's time playing football and quarterbacking the Woodcreek Jr. Timberwolves in grade school and the Jesuit high team has improved his game.
Although he missed the first three games of this past season, Daniel led his team to the Div. II section playoffs, posting strong numbers from the pocket. He threw for more than 1,600 yards and tallied 23 touchdowns, while rushing for two more. He also made good decisions with the ball and had only had four interceptions all year.
Daniel says playing quarterback and making quick decisions really slowed down the game of baseball for him.
"It's helped a lot with decision making," Daniel stated. "Football slows down every other sport. I mean, everything comes at you quick in football, especially running a triple option [offense] — having to make four decisions at the same time. That makes it a lot easier to recognize what's coming between fastball and curveball. It's more of a reaction than guesswork."
When the 2019 MLB season came to a close, Andrew returned home for the offseason. He was a free agent, wanting for his next call after nearly a year with the Kansas City Royals. The two brothers were inseparable, training and spending every day together.
Daniel also worked out with former Yuba City High standout Max Stassi, who currently catches for the California Angels. Together, the trio perfected their craft, working on pitch framing, popping out of the box and improving their explosiveness. Daniel says he has the benefit of implementing the lessons Andrew has learned at the collegiate and big league levels and inserting them into his own game.
Despite his older brother's assignment with the Pittsburgh Pirates, Daniel remains loyal to his St. Louis Cardinals fandom. But his second favorite squad has swapped with each of Andrew's stops in San Francisco, Milwaukee, Baltimore, Kansas City and now the Steel City.
"Whatever team he's on, I'll be a fan," Daniel said.
Daniel can still remember Andrew's first Major League hit—a single to left-center, coincidentally against Pittsburgh.
"It was a single to left off Charlie Morton, and I remember jumping in the pool with all of my clothes on," Daniel said. "We were at my friend's house and we were all going crazy."
TITLE HOPES
Despite its talent, Jesuit's road to the playoffs won't be easy.
Head coach Joe Potulny, who's coached the program for 26 years, knows just how competitive the Delta League has been, and playoff history has backed that up.
"(From) 1993 up until a couple years ago, and they've redone the format recently, the North D-I finalist has either been Franklin, Elk Grove, Jesuit or Davis, and Pleasant Grove knocking on the door," Potulny explained. "So our league seems to be the best league in this section. And I'm not discounting the SFL, game-to-game they're right there, but the history tells me it's going to be a grind (for us)."
With redemption in mind, Potulny knows his team will be ready for a Vacaville rematch, but he hopes his team can remember lessons from past title-hunters who came up short.
"To me, every year is new and what you did last year doesn't matter," Potulny said. "We've been ranked number one before and lost in the first round… so we have to really teach these boys to stay in the present, and turn the page for each game."
Daniel recalled the perfect example.
"We beat Sheldon 12-0 and the next day we lost 2-1," Daniel remembered. "So I'd say we have to go into every game like it's the best team we're going to play."
Hurley, a 6-foot-7 USC commit, will be Jesuit's No. 2 pitcher. He had a strong junior year and he worked hard this offseason on single-leg exercises, which he says will enable him to maintain his velocity throughout the game. He says he threw anywhere from 90 to 93 mph last year, but dropped off late in games.
"My fastball has always been there for me, but I worked on not cutting it and keeping its true spin on it," Hurley explained.
Although the team lost a handful of talented players to graduation last year, including 6-foot-3 senior pitcher Carter Benbrook, and one key arm via transfer, they get one standout back.
Senior Luke Williams missed the entirety of the 2019 season with an oblique tear, which he suffered in the first game of the season, but he returns fully healthy this year.
"I rehabbed a lot and it's feeling good," Williams said. "I feel like I'm fully back to normal."
As a sophomore, Williams had eight appearances on the mound in relief and owned a 1.08 ERA with 17 strikeouts. This year, he is the team's starting shortstop and one of the group's best athletes. He's also committed to play next year at UC Santa Barbara, where he'll meet up with Benbrook again.
Williams said it was tough watching his team drop that section championship game. It was the second time Vacaville has knocked Jesuit out of the playoffs while claiming the section title. But Jesuit is hoping for a rematch.
"We're going to see them in May, we all know that," Anthony Susac acknowledged. "So that's going to be one of our big motivators."
With five Division I collegiate commits on the roster, you can bet plenty of college scouts will get to see how it unfolds firsthand.