The Trials Of USA Tryouts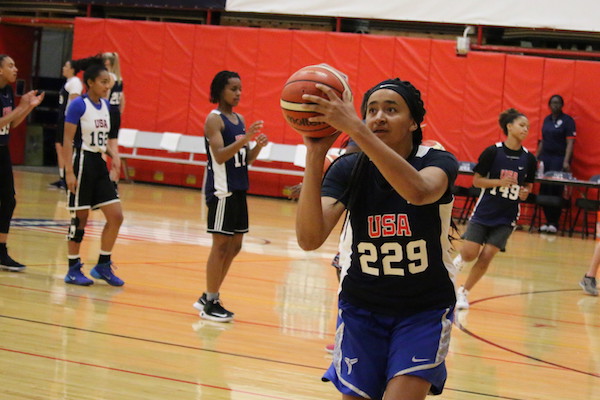 The Obstacles Are Plenty And The Odds Are Long — But It's Still Just Basketball •
Story By CLAY KALLAM
COLORADO SPRINGS — It's all pretty familiar.
Navigating in and out of the airport, getting the rental car, driving to the hotel, finding the gym. Maybe you expected the United States Olympic Training Center to be a little grander, a little more up-to-the-minute.
But up the stairs, past the flags and signs promoting gymnastics and shooting and team handball, there are three courts, laid out side-to-side, just like the tournaments you've played in for so many years. OK, you think, it's not going to be that different. Just because you've come to the tryouts for the Under-16 team that will represent the United States of America in Buenos Aires in less than a month, it's still basketball. It's still pretty familiar.
Then you step on the court. Something's not quite right, something's off — and even though you've been told the 3-point line is further away and the lane is wider, it doesn't hit you until you stand out at the arc and realize that it's a long way to the rim from here. And you can't just turn from the block and lay the ball in. There's more room for the defense to collapse, more ground to cover.
Even the ball, the one you've played with all your life, is subtly different. There are bands of white, and though it's the same size and weight, the ball in the air delivers a different message about spin and rotation.
You hear that there are 133 girls here, chasing 12 spots, and on top of that, 35 have been invited, meaning they are the anointed ones, the ones the five-person selection committee will look at first. And then you realize that even two-thirds of that group will be disappointed when the final team is announced after four days of workouts and scrimmages.
The odds, in short, aren't good. But you knew that when you signed up.
•  •  •
Six girls from Northern California made the trip to Colorado Springs over Memorial Day Weekend, but only one — Haley Jones of Archbishop Mitty-San Jose — was invited. The others filled out the paperwork, sent in the nominal fee, found a place to stay, and were handed USA reversibles with numbers ranging from 16 to 258.
"This is such a great opportunity," said Nailah Dillard of Inderkum-Sacramento, a feeling echoed by the others.
"I wanted to see if I'm fit to be with the best of the best," said 6-foot-5 Angel Jackson of Salesian-Richmond.
"My parents found a way to get me here, and I'm very grateful," said Daylee Dunn of Bishop O'Dowd-Oakland.
•  •  •
They tell you to line up by height, and you realize there are a lot of tall girls here. A lot.
And strong girls. Girls with experience, girls with skills, girls who are serious about the game and serious about making the team.
And oh my, there are some competitive girls. They dive on the floor after every loose ball. They know what a hard foul is, and how to deliver one. And it's not just the small girls who are willing to dive and collide. That 6-5 girl over there from Florida, River Baldwin, she's bigger than the boys who played on the line on your high school football team. And when she sees a loose ball, she's going after it — and if some slender young guard is in the way, well, sometimes bodies fly.
•  •  •
"I'm one of the biggest in Red Bluff," said Jessica Miller, listed at 5-11, "and it's a big shift seeing everyone way bigger. You really can't take it to the hole here, because you get blocked."
It's a sentiment felt by many.
"In high school, I was one of the tallest on my team," said Maile Williams of Inderkum, "and coming here, I was one of the shortest."
Said Dillard: "It's so congested in there with all the taller players. The pull-up is usually the better option. I definitely don't see this in high school — we're all competing for 12 or 13 spots, and there's like 150 of us, so it's very intense."
Even a veteran of a state championship game and elite club level competition like Haley Jones noticed the difference. "I think it's intense because the stakes are so high. Everybody's here to get the same thing — in high school and club, every team has different goals, but everybody is here to make the team so it's really intense."
•  •  •
One thing becomes obvious right away: There's no mercy. There might be justice, there might be camaraderie, but there's no mercy.
Even though some of the players might know each other, for the most part, drills and scrimmages are run with complete strangers. Some are spectacularly athletic — Fran Belibi stands about 6-2, but her dunks went viral on the Internet, and she threw a couple down in warmups on the first day —  and others are so, so smooth, and so, so skilled.
It's hard to find a comfort zone in this kind of situation, because there are no longtime teammates to lean on, no one to talk to.
And the coaches are new voices too. They want to make you better, so they make suggestions and want you to make changes. But the USA Basketball U-16 tryouts are no place to take two steps back so you can take one step forward later on.
Or are they? Given the odds, maybe that's how you should look at it.
•  •  •
"It's a time to get better," says coach Carla Berube, who learned her trade playing for Geno Auriemma at UConn. "We do those skill sessions so every athlete is taking something away from the weekend."
"Even if I don't make the team," said Dillard, "I'll come away with having learned so many lessons."
It's not exactly warm and fuzzy. When they make cuts, they post a list of uniform numbers on the wall. If your number's not there, the experience is over. One of the invited girls got the axe early this time. The moment is inevitable for all but about 9 percent of the attendees.
You did your best in the scrimmages, battling the mile-high altitude, shooting from further away than you're used to, banging with the big girls by the basket, but the numbers game, and the talent game, and the size game, do in all but the very few.
And even if you are close to that final 12, you never really know what the selection committee might want. Maybe they want two pure point guards, two pure shooters and two pure posts, or maybe they want a team of 12 kids who can do a little bit of everything.
So you give it all you've got, just like every other girl there, and you try to battle through all the things that are working against you, even though you know it's very, very likely to be a battle you cannot win.
And in fact, you don't. The list goes up, and your number isn't on it. You turn away from the door and head to the parking lot, along with a lot of other disappointed girls and consoling parents. You check out of the hotel, and hit 25 north to the Denver airport.
The plane will take you back to home territory, to familiar teammates, to courts with lines where they should be. But now, just like the experience you just completed, there are differences — and when you land, you won't be the same player, or the same girl.
"It's either going to make you or break you," said Sabrina Ionescu, a Miramonte-Orinda grad who came out of nowhere to make 2013 team, and now stars for Oregon. "I think about that sometimes — I learned a lot about basketball, and a lot about myself."