Surf's Up! Walnut Creek Soccer Club Catches The Wave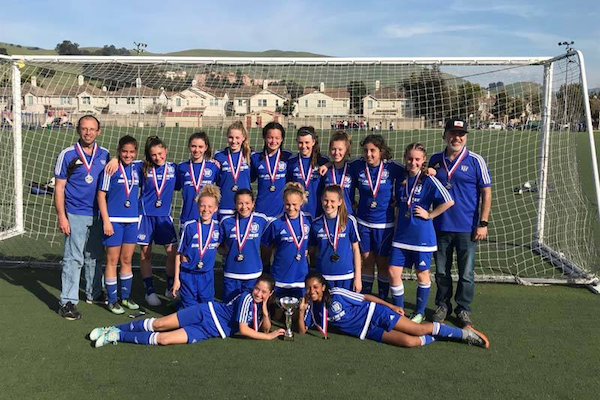 Walnut Creek Soccer Club Transforms Into Walnut Creek Surf After Becoming Affiliate Of Renown San Diego Club •
When Adam Cooper came on as Walnut Creek Soccer Club's director of coaching in February, the club was excited about the change in direction. 
They probably didn't anticipate the most recent turn orchestrated by Cooper and others. But it's one that puts the club directly on the map — as a big red dot. 
The Club announced in mid-May that it was becoming a Northern California affiliate of renown competitive club, San Diego Surf. It's now Walnut Creek Surf Soccer Club and is the only affiliate within a 25-mile radius.
"You hear the term 'destination club' a lot,'" Walnut Creek Surf Soccer's marketing director, Rich Gay, said. "Traditionally we haven't been a destination club, and that was a key to expanding our borders some." 
Other NorCal Surf affiliates include San Jose Surf and Central Valley Surf (Stockton). What exactly about the affiliation helps make clubs more attractive?
"I think the curriculum and knowledge that we're going to be able to learn as coaches; finding out how to develop players better," said Cooper, who will be entering his 13th season as the head men's soccer coach at Saint Mary's College.
It was Cooper's friendship with a former Gaels assistant coach, Cody Worden — who now works for S.D. Surf — that helped spawn the partnership. From having recruited Surf kids in the past, Cooper was well aware of the club's reputation of excellence.  
He didn't need to do a great deal of convincing with Walnut Creek's board. "(Surf) is kind of known as the No. 1 comp club in the nation," Gay said. "They've won more national championships, have produced more U.S. National Team players, and something like 95 percent who have gone through their club have played collegiately. Whatever it is, they're doing it right."
 This isn't just something that will benefit the top-flight competitive boys and girls teams within the club. Kids ages 5-18 who participate in Walnut Creek's Fall Recreation Program, of which registration is still open at wcsc.org, will also gain from the shift in curriculum taught by the club's exceptional coaching roster. 
"I think it's going to help us develop players better," Cooper said. "That's what it comes down to, you want to give them the best experience and turn them into the best players possible.
In addition to the Fall Recreation sign-ups, Walnut Creek Surf currently has a series of summer camps and clinics beginning June 11. Learn more about those on the club website. 
— Chace Bryson