WCA Synchro Season off to Successful Start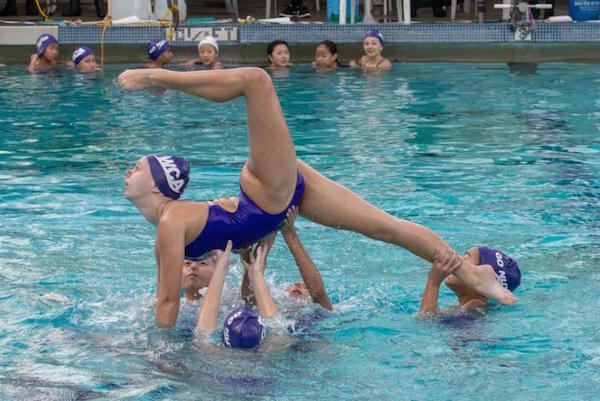 Walnut Creek Aquanuts Qualify Ten Athletes for National Team Squads!
The Walnut Creek Aquanuts' competitive season is off to a promising start! In January, the club qualified ten of its Junior and 13-15 age group athletes for National Team Squads.
All ten will move on to the final phases of National Team selection taking place in April 2019.
Jr National Team Squad Members include an impressive lineup:
Miko Begossi (Alamo), Marlena King (Clayton), Ryan Lewis(Alamo), Aubrie Rutan (Orangevale), and Ariana Stanton (Walnut Creek)
13-15 National Team Phase 3&4 Qualifiers are:
Megan Kerner (Danville), Alexis McCracken (Walnut Creek), Atira O'Neil (Pleasant Hill), Joanna Liu (Moraga), and Gigi Zuniga (Walnut Creek)
Successful Start to Season for All WCA Age Groups!
On February 11th, WCA sent their 12 & Under athletes to the Seaside Routine Invitational where they cleaned up gold in all categories entered!
10 & under Ghizal Akbar took the gold with her first solo and Chloe Davitiani took gold in the 11-12 solo category.
In 11-12 Duet, Davitiani partnered with Karen Xue to win gold followed closely by WCA's duet of Mako Begossi and Ava Chu.
And for the 10 & Under Team event, WCA won gold with their "Flapper" themed routine and took the silver with their "Grinch" themed routine.
In 11-12's WCA took gold, bronze and fourth in the Team event and won the gold in the Free Combo event which has ten swimmers instead of eight. WCA also entered six brand new swimmers in the Intermediate category where they won gold in the Team event.
Cleaning Up With Medals
One week later, the Aquanuts' 13-15 athletes faced some tough competition at the Santa Clara Invitational. WCA claimed gold in the 13-15 Free Combo event, the only gold for the Aquanuts at the competition.
In 13-15 Team, WCA took silver and fourth missing gold by just 2.1 points.
Aquanuts' fielded seven Duets in the 13-15 category. Joanna Liu and Dalia Ovadia took the silver, 1.4 points behind the Santa Clara Aquamaids.
Megan Kerner and Atira O'neil won bronze, Emma Moore and Miya Yamamoto took sixth, while Ayla O'neil and Jessica Wathen placed eighth, and Gillian O'neal and Reece Revell followed in ninth.
Twins Alessandra and Amalee Delligati took tenth and Zahra Alexander and Sarah Zeiph placed twelfth.
Three solos represented WCA in the 13-15 event.
Alexis McCracken (Walnut Creek), Eva Handlers(Lafayette) and Zoe Eleftheriads (Concord) placed second, fourth and sixth respectively.
"We entered more individual routines this year than we have in a long time! I am very proud of all our 13-15's. It is early in the season, and we know what we have to do before Zones to qualify for Nationals!" 13-15 Coach Kristen Smidstra commenting on the overall meet performance.
The Aquanuts will send their top Jr. and 13-15 athletes to the West Zone Championships this weekend, March 1-3, 2019. The West Zone event will be held in Irvine, CA and is the qualifying event for U.S. Nationals in April, 2019.
Save The Date for Symphonic Synchro!
On May 11, 2019, the Aquanuts host their formal fundraising show and auction, Symphonic Synchro!
The event showcases poolside live music with spectacular synchronized swimming!
Don't miss this elegant event with Maestro Gregory Taboloff playing a Steinway Concert Grand piano while the athletes perform.
Held at Clarke Memorial Swim Center from 4:00-7:00pm, tickets are only $25 and include food.
For more information go to www.aquanuts.org.
Feature photo: Stephen Moore
"The Walnut Creek Aquanuts is a world-renowned synchronized swimming club based in Northern California. Our mission is to develop athletes from novice to elite, building both bodies and minds and instilling skills that will serve our swimmers throughout their lifetime."