19 yr old Jaden Conwright Signs F3 Championship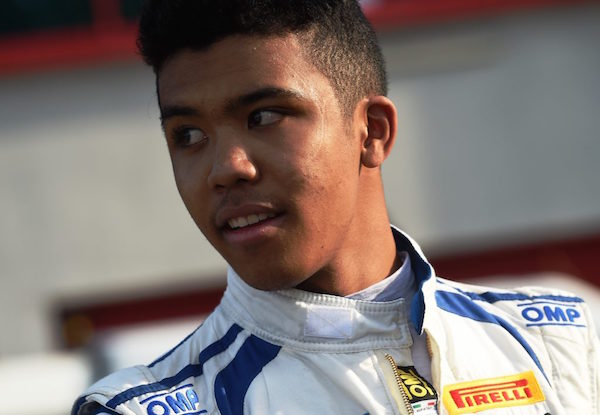 This post arrived today from Jaden Conwright's father, Craig. It's speaks of a pretty nice Fathers' Day present, wouldn't you say! A son doing well in his chosen sport. But this is no ordinary son; no ordinary sport!
SportsStars published multiple articles about Jaden racing formula cars beginning in 2014 when he was jsut 15 years old. (See that first story here). Since then Jaden has lived, raced and trained in Italy and the UK. He is now headed to race and train in Formula 3 at race circuits in Malaysia and China. This level of competition will add valuable points to his FIA racing license as he pursues FIA points to be eligible for the FIA Super License to be eligible to race Formula 1.
This illustration is of Jaden's progression in motor racing at age 7 to age 18 (2007 through 2018). He is also formally represented by the UK based global sports management firm Williams-Harfield Sports Group (WHSG). WHSG discovered and monitored Jaden in Italy competing in the 2016 Italian Formula 4 Championship for team Vincenzo Sospiri Racing.
WHSG has mapped and negotiated Jaden's racing career since the 2016 Championship with the goal to place Jaden at the highest levels of global motor racing (F1, Indy, Super GT).
The video clip below, was sent in just hours after posting this story – again by his proud father. Craig Conwright says of Jaden, "as a child and young adult, Jaden, like me, naturally preferred gripping a handlebar or steering wheel over a baseball, basketball or football at an early age.
The following link will take your readers to a short clip of Jaden's start in the last FIA Italian F4 race of 2016 at Monza. His former racing team just released the clip of his cockpit camera.
He had just turned 17 at the time. With over 50 drivers, including Schumacher's son, from over 40 nations, the 2016 Italian F4 was the oldest and most competitive F4 series at the time.
Jaden was one of only two drivers representing the American flag. He said it was the hardest most competitive series he ran.
He ate a bit of humble pie, doubted his abilities to compete, and worked hard becoming a competitive European F4 driver (with limited resources/funding) gaining respect and recognition by multiple teams and drivers.
As a direct result of his Italian F4 performance, Jaden spent 2017 training and testing at circuits throughout the UK in an F3 Driver Development Academy with Carlin Racing in preparation for his return behind the wheel, and to moving up to the F3 and competing in the FIA Asian F3 Championship.
19 year old Fremont/Newark racer, Jaden Conwright Signs for F3 Asian Championship
Absolute Racing is pleased to announce Jaden Conwright as one of its drivers for the inaugural season of Formula 3 Asian Championship certified by FIA.
https://www.instagram.com/p/BjK_qWLH3cC/?taken-by=jaden_conwright

Jaden Conwright, the 19-year-old, who resides in California and has been the subject of several SportStars profiles, is the first confirmed driver for Sepang, Shanghai and Zhuhai based team's single seater program. He  arrives in Asia with a solid racing background in America and Europe.
The 2016 World Speed Motorsports Rising Star Award winner, Conwright has competed in the highly competitive Italian F4 Championship in 2015, scoring five top 5 finishes and one podium finish.
Last season Conwright took part of a Driver Development Program from one of the European single seater powerhouses in preparation for the 2018 season.
Jaden Conwright has tested with Absolute Racing in Shanghai over the winter, impressing the multiple race-winning team with both his strong work ethic and pace.
Featuring an all-new regional F3-FIA spec Tatuus chassis, powered by a four cylinder turbocharged Autotecnica Motori Alfa Romeo 1750 TBi engine, the F3 Asian teams will race a package that meets the most current global FIA safety specification. Including the first Asian application of a race car (head and neck protective gear) Halo.
The 2018 F3 Asian Champion will earn 15 qualification points for FIA Super License, which is equivalent to the DTM, Super GT, FIA WTCR or Indy Lights championships.
The second placed driver will get 12 points, followed by 10, 7, 5, 3, 2 and 1 in the order of driver positions.
Inaugural F3 championship
The inaugural F3 regional Asian championship calendar includes 15 races – three at each of the five rounds – at Malaysia's Sepang International Circuit, and China's Ningbo International Speedway and the Shanghai International Circuit.
The season will kick start with an official test on July 9 and 10 in Sepang.
Commenting on joining the team Jaden Conwright said: "I can't thank Ingo, Fabien, and the entire Absolute Racing team enough for the wonderful opportunity to compete in the inaugural F3 Asian Championship certified by FIA!
From the first time we worked together there was great synergy and atmosphere. We all strived for the same goal. Absolute Racing's professionalism allowed me to improve my driving in a very structured and efficient manner.
There are a lot of uncertainties with a brand-new championship and a new car, but there's no doubt that Absolute Racing and I will be ready to hit the ground running from day one at Sepang."
Ingo Matter, Team Director, added, "We are delighted to announce Jaden Conwright as our first Formula 3 Asian Championship driver.
When he tested with our Formula Masters Series car in Shanghai, Jaden's display and professional approached impressed everyone.
With his speed never in doubt, our goal is to provide him with the necessary tools to be able to battle for the top positions in every race."
May 22, 2018 Absolute News, F3 Asian Posted by Absolute Racing