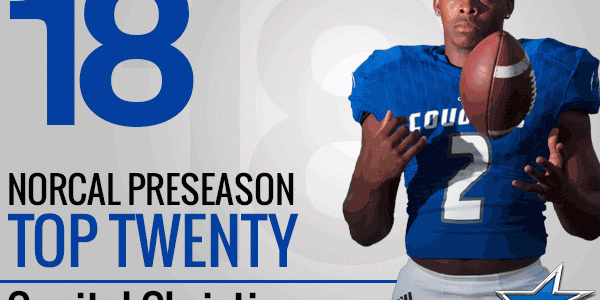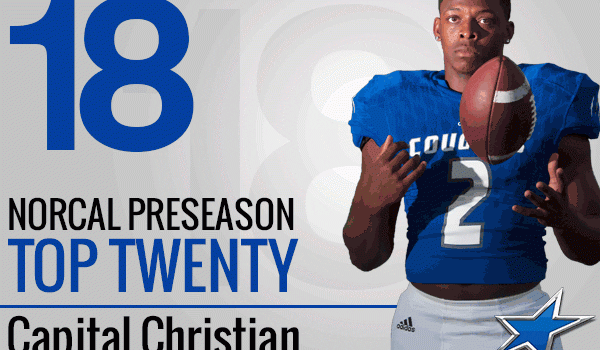 We begin our 2017 Football coverage by revealing teams #20-11 in our NorCal Preseason Top 20 in a daily countdown to Aug. 24 when...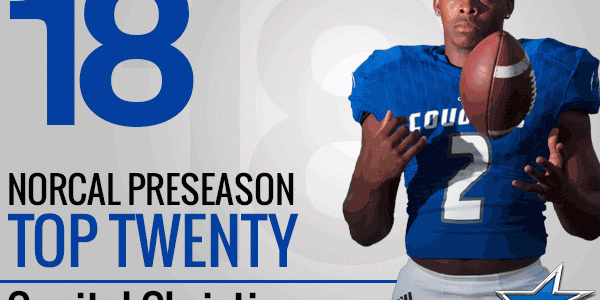 We begin our 2017 Football coverage by revealing teams #20-11 in our NorCal Preseason Top 20 in a daily countdown to Aug. 24 when #10-1 are revealed in our 2017 Football Preview Special. If you need to catchup, here are links to previous entries:
| No. 20 Foothill (Aug. 14) | No. 19 Oakdale (Aug. 15) |
No. 18 CAPITAL CHRISTIAN-SACRAMENTO
2016 REVIEW: 11-3 and 25th in our final rankings.
COACH: Casey Taylor, first season
WHY THEY'RE HERE: New weapons. Though most Capital Christian starters departed via graduation, the program followed its Sac-Joaquin Section Div. V title and CIF D5-AA runner-up season by landing one of Northern California's top coaches. Taylor arrives having parlayed a humble enrollment at Del Oro-Loomis into nine section title appearances in 13 seasons. His 2017 roster includes several big-name transfers and at least four legitimate D1 college prospects. 
DIVISIONAL FORTITUDE: Realignment has Capital Christian pegged to compete in a stout Div. III conference next year, but Div. V section and bowl championships are a real possibility in 2017 if Taylor can can quickly mold a 30-man roster emboldened by transfer talent into an immediate small-school powerhouse.
TRANSFORMERS: A bevy of large- and medium-school stalwarts throughout the Sacramento region will make Taylor's inaugural season an interesting one. Junior lineman Evan Bennett, (6-3, 290) and senior defensive back/receiver Maurice Gaines (6-2, 185), both former Folsom starters, should thrive in Div. V. Lanky quarterback transfers Jake Cruz (Whitney-Rocklin) and D.J. Malott (Elk Grove) created a lot of buzz in the offseason, but transfer eligibility issues will likely limit their impact.
NAME TO NOTE: D'Marcus Ross, RB, Jr. — Already a two-year varsity starter, Ross amassed 2,246 rushing yards and 55 total touchdowns as an underclassman and is on pace to break 8,000 yards of offense in his prep career. Ross (5-10, 218) and senior running back Christian Simmons (5-11, 215) will make up the bulk of Capital Christian's offensive production as the program develops an eligible starter behind center. Ross ran for 128 yards and three touchdowns in last year's section title win over Colfax.
THE SCHEDULE
8/25 v. SERVICE-ALASKA
9/1 @ Modesto Christian
9/8 v. GRANT-SACRAMENTO
9/22 @ Marysville
9/29 @ Coeur d'Alene-Idaho
10/6 v. BISHOP MANOGUE-NEVADA
10/13 v. LINDHURST
10/20 @ Dixon
10/27 @ Natomas
11/3 v. MESA VERDE-CITRUS HEIGHTS
LAST WORD: Taylor expects to lead Capital Christian to greatness, and he has the talent and system in place to do it right away. The Cougars will use a tough non-league schedule to expose any weaknesses in September and bully small-school opposition into submission during the second half of the season. Expect Capital Christian to get better as players become eligible and hit full speed when Taylor needs it most.