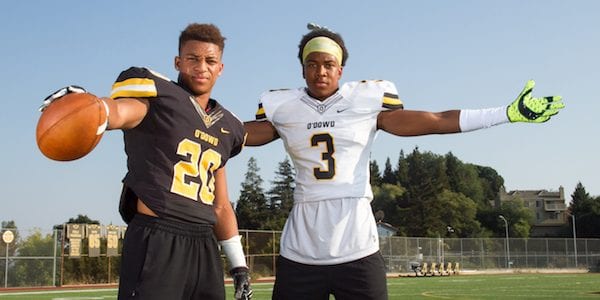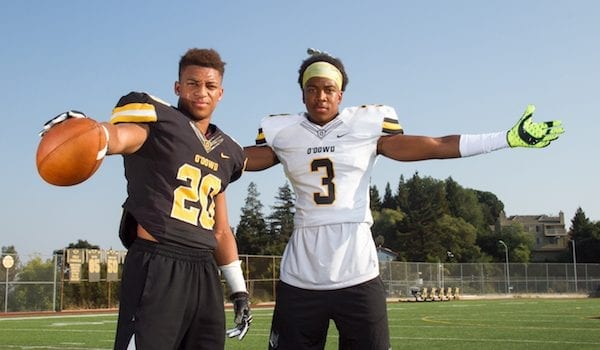 2017 NORCAL FOOTBALL PREVIEW: Behind Leadership Of Napoleon Kaufman, Bishop O'Dowd Is Transforming Into A NorCal Power • Story by PHIL JENSEN | Photos...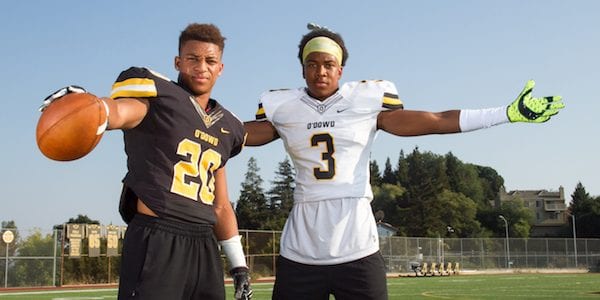 2017 NORCAL FOOTBALL PREVIEW: Behind Leadership Of Napoleon Kaufman, Bishop O'Dowd Is Transforming Into A NorCal Power •
Story by PHIL JENSEN | Photos by BERRY EVANS III
Bishop O'Dowd High School-Oakland football coach Napoleon Kaufman had a premonition when he became the Dragons' coach.
"I looked those kids in the eye the first day and said 'We are going to win a state championship.'  That's our goal. And that will always be our goal," said the fourth-year Dragons coach.
The freshmen that year are seniors now, and many of them were part of the Dragons squad which won the CIF Division 5-AA state title last year. It marked the first state football championship for a school known for its collection of trophies on the hardwood.
And the horizon is considerably bright. This year's squad already has five players with NCAA Division I offers and two who have already committed to Pac-12 schools. It also has more than six starters returning on both sides of the ball, Kaufman said.
Besides its North Coast Section Division III championship last year, Bishop O'Dowd has won three other NCS football titles in the past 20 years: a 2A East Bay title in 2004, a 3A East Bay crown in 1998 and a 1997 3A championship.
For years, Bishop O'Dowd has been known as a basketball powerhouse. The Dragons have 17 NCS boys basketball championships since 1978, more than any other NCS boys program. They won the CIF Open Division state boys championship in 2015, the Division I title in 1981 and played in eight other state title games, as well as earning 17 North Coast Section titles since 1978.
Could last year's state football championship be changing the notion of O'Dowd as primarily a basketball school?
"I really don't look at it that way," Kaufman said. "I do think we want to show the level of consistency our basketball team showed."
He later said, "That's our hope, that we're always in the discussion … for state championships."
Could it possibly be, on paper, the best O'Dowd football team in school history?
Mark Tennis, editor/publisher of CalHiSports.com, is taking a wait-and-see attitude about that statement.
"They have a chance to be that good, but I'd never make any historical statements about a team that hasn't played a game yet," Tennis wrote in an email exchange. "They did get beat pretty easily last year by Freedom. We'll have to see how they do in similar games this season."
That 43-13 loss to Freedom-Oakley on Sept. 23 was the only one the Dragons suffered last season. They proceeded to win 12 games in a row, with 10 of those victories coming by double digits, to finish at 15-1.
Bishop O'Dowd sure hasn't scheduled an easy lineup leading into its West Alameda County Conference-Foothill Division opener on Oct. 6. The Dragons will have a rematch with Freedom on Sept. 22 before facing De La Salle-Concord  on Sept. 29. Both games are on the road.
Austin Jones, the team's star running back who has been selected as a second-team 2019 (graduating class) preseason All-American by MaxPreps.com, is excited about facing the fabled De La Salle Spartans.
"I can't wait. It's going to be a bunch of top performers, top of the nation, going against each other, so it's going to be a really fun game," Jones said.
Jones, who rushed for 1,967 yards and 27 touchdowns last year as a sophomore, is highly coveted. The 5-foot-10, 190-pound running back has received offers from a majority of the Pac-12 schools, including Washington, Colorado, UCLA, Oregon and Cal.
To underscore the recruiting deluge, just look at the Dragons' secondary, where three senior athletes have received Division I offers:
Jevon Holland, a 6-1, 180-pound safety, has made a verbal commitment to Oregon. He is a four-star safety according to scout.com. Last season, Holland had 43 solo tackles and three interceptions with 100 yards in returns. He also plays wide receiver for the Dragons, and caught 12 passes for 381 yards and eight touchdowns last season.
Quinn Brinnon, a 6-0, 185-pound defensive back, committed to Colorado State. He is a three-star safety according to scout.com. Brinnon had 65 solo tackles, two interceptions and eight passes defensed last season. Like Holland, Brinnon also plays wide receiver, and he caught 28 passes for 518 yards and six touchdowns in 2016.
Kenyan Branscomb Jr., a 5-10, 184-pound safety, has received an offer from the University of San Diego. He had 69 total tackles last year, nine tackles for loss, five sacks and four interceptions last season.
The team's other NCAA Division I athlete is senior lineman Miles Owens, who has committed to Cal. The 6-7, 320-pound Owens, who moves to left tackle after playing right tackle last year, is starting only his second year of football at any level. Owens, a three-star offensive tackle, played basketball and was a shot putter in track and field before playing football and said he would participate in all those sports this school year.
In fact, Kaufman encourages sports diversification in his players.
"We are encouraging playing multi-sports," said Kaufman, who was a California state champion sprinter in track at Lompoc High as well as a star running back. "We want them to develop from a muscle standpoint, a competitive standpoint."
The Dragons will be young at quarterback, as juniors Alec Elliott and Moe Flynn are battling for the starting position. But O'Dowd has plenty of offensive firepower, including 6-3 sophomore tight end Sterling Stokes, whose route running and hands are impressive.
Understandably, Kaufman likes what he's seen from his team in the preseason.
"We're two steps ahead of where we were at this point last year," said the former Raiders star. "These guys have the experience that the other guys didn't have. … Technique-wise, all those things. Things that we used to have to teach all the time, now they've got it. … I think our culture here is set."
Holland also noticed a difference in the preseason this time.
"A lot more energy this year, a lot more angst to get in pads and hit," he said. "I'm really excited for this year."