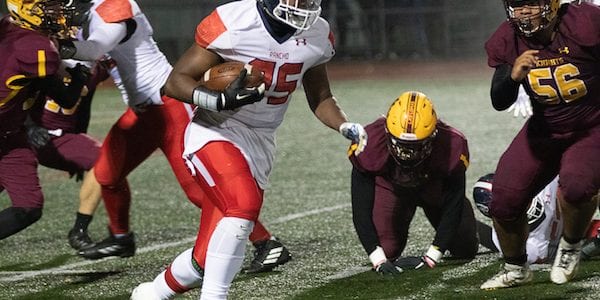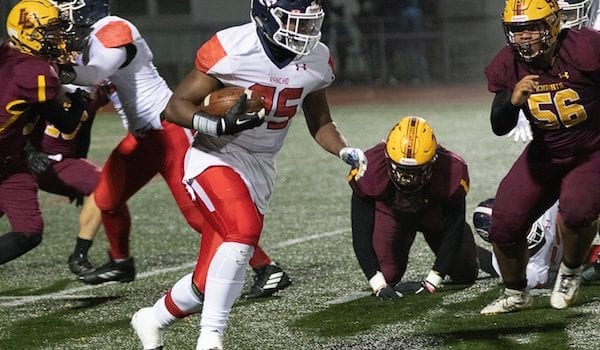 Fueled By Its Bruising Running Back, Rancho Cotate Football Claimed Its First NCS Title In 17 Years And Has Shot At A CIF 3-A...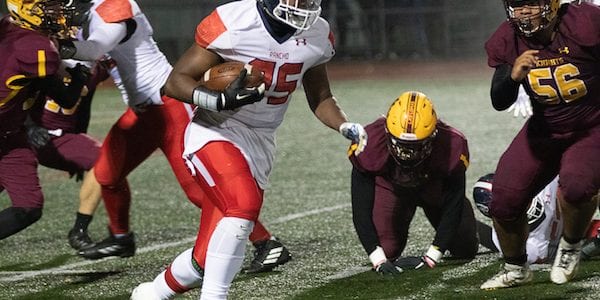 Fueled By Its Bruising Running Back, Rancho Cotate Football Claimed Its First NCS Title In 17 Years And Has Shot At A CIF 3-A State Bowl Appearance •
Listed at 6-foot-1 and 225 pounds on the Rancho Cotate football roster, Rasheed Rankin has shoulders broad enough to support his punishing running style.
But even with that frame, and as tempting as it might be to take on the world play after play, the running back knows things get a lot easier with a little help from his friends.
Rancho Cotate's 7-0 victory over Las Lomas-Walnut Creek in the North Coast Section Division III final at Acalanes High in Lafayette was unquestionably a team victory. The Cougars held the Knights' vaunted rushing attack to just 121 yards and Rancho's third shutout of the season provided the foundation that would ultimately yield the Rohnert Park school's first NCS football championship since 2002.
Though those defensive heroics stood out in a slugfest that remained too close to call throughout, the lasting image of the evening came during a fourth-quarter drive in which Rankin put his team on his back en route to the only touchdown of the game.
It worked, both literally and figuratively.
_______________________________
CONNECT WITH US:
Follow SportStars on Twitter & Instagram | Like us on Facebook | Subscribe!
_______________________________
A first down play from the Las Lomas 19 started much the same as it had all evening — a handoff to Rankin. On this occasion though, the senior started over the right side of his line, shed a tackle and ran smack into several Knights waiting to take him to the ground.
That was only the beginning. As a host of Las Lomas defenders sprinted to join the fray, so too did the Rancho Cotate offense. Rankin's legs never stopped, and before he knew it, he had 10 assistants in his push forward. 
When the play finally reached its conclusion, the pile toppled over on the Las Lomas 2-yard line. An offside penalty moved the ball to the 1, and one play later Rankin crossed the goal line standing up for the game's only score.
Rankin's 17-yard slog served as the momentum changer Rancho Cotate needed in the biggest possible moment. From a symbolic standpoint, it also represented a perfect example of the Cougars' run to a section title in 2019.
The workhorse might have had the ball, but it took all 11 on the field to make it all work.
"That is the epitome of our team. Grit and desire, never giving up, never panicking," Rancho Cotate football coach Gehrig Hotaling said. "I said it before, that's the best part of this team. We never panic no matter what. We knew you don't you want to see us in a tight game in the fourth quarter. We're a great fourth quarter team."
Putting itself in position to play for the section title wasn't a foregone conclusion for Hotaling and his Cougars. They started the season 3-3, and although two of the three defeats came at the hands of perennial powers Campolindo-Moraga and Cardinal Newman-Santa Rosa, the tide hadn't yet turned when Rancho Cotate went into halftime of its North Bay League contest at Windsor trailing by a touchdown. 
The halftime speech that ensued provided one of the season's seminal moments. The Cougars responded by outscoring the Jaguars 26-6 in the second half. Senior quarterback Jared Stocker delivered a five-touchdown effort in a 33-20 victory that kicked off a seven-game winning streak that carried right through the NCS final.
"After halftime of the Windsor game, we were down 14-7. We got a little yelling at, which honestly we needed," Rankin said. "After that, the season's turned around. Everyone has come together as a team. We had less arguments. Everyone came together with the coaches and it's been Rancho football from there on out."
Junior two-way standout Mihalis Santorineos was part of the caravan that gave Rankin a push late against Las Lomas. Having helped pave the way for a Rancho Cotate offense averaging over 30 points a game, he's seen plenty of Cougars step up in big situations.
He has also seen the physical tone set by Rankin's bruising style of running.
"He's a workhorse and we know that," Santorineos said. "That's our job, get him going, and once we did that, they couldn't stop us."
Stocker has grown alongside Rankin, joining forces with him as freshmen and celebrating together as seniors. 
The Cougars' signal-caller has pulled the strings for a dynamic offense all season, but on a night where the temperature hovered around 40 degrees and pregame rain made the ball slick, the ground attack became the focal point for both offenses.
"We've shared a backfield for four years, all the way from freshman year to now," Stocker said. "We amplify each other, we gain energy from each other and it's crazy back there with him. I've seen him flourish over these four years. He just keeps getting better and better. I can't wait to see where he goes in the future for college. I know he's going somewhere."
That next step will have to wait for Rankin, Santorineos, Stocker and the rest of the Cougars. There is more football to play. Rancho Cotate will travel to Manteca on Dec. 7 for the CIF NorCal Division 3-A final against Valley Oak League co-champion Sierra. Kickoff is set for 6 p.m.