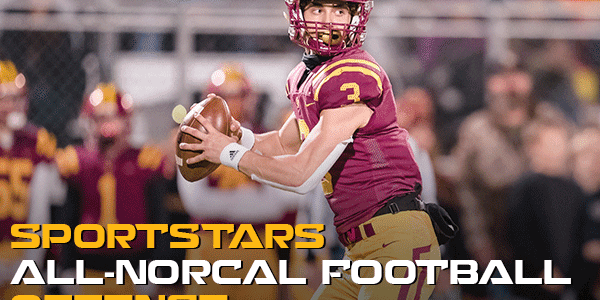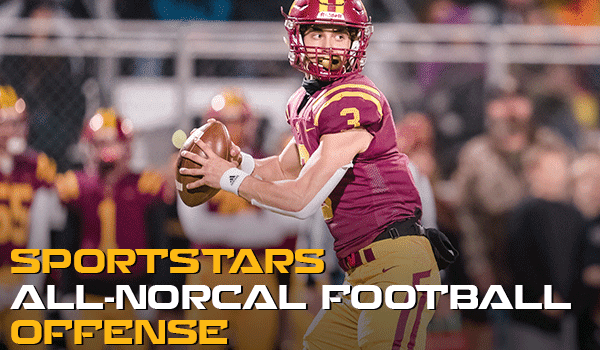 Meet The 25 Players Comprising SportStars' All-NorCal Football Offense 2019 Roster — Led By Offensive Player Of The Year, Jackson Pavitt • We do...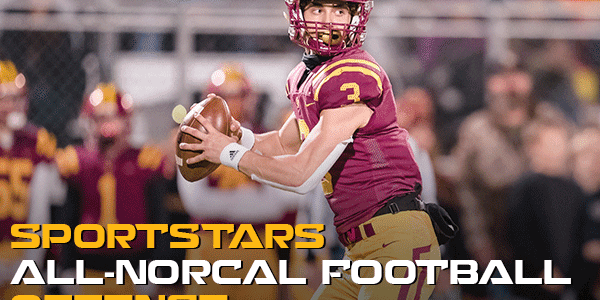 Meet The 25 Players Comprising SportStars' All-NorCal Football Offense 2019 Roster — Led By Offensive Player Of The Year, Jackson Pavitt •
We do things differently at SportStars. Rather than build an all-region roster broken into first- and second-team honors, we build one complete roster. The 25 players below represent our All-NorCal Football Offense 2019 roster. Visit the All-NorCal Football Defense by CLICKING HERE.
QB | JACKSON PAVITT (Cardinal Newman-Santa Rosa) | Sr.
Our Offensive Player of the Year, the Cal Poly commit (pictured above) led the Cardinals to 14-1 record and 3-AA State Bowl title. He passed for 2,750 yards and 30 TDs with just two interceptions. He also rushed for 744 yards and 11 more scores.
QB | JERRY JOHNSON (Pittsburg) | Sr.
The Bay Area News Group Offensive Player of the Year threw for 2,917 yards, 34 TDs and just seven INTs for 11-2 Pirates. His six TDs vs. St. Mary's-Stockton were a school record.
QB | DORIAN HALE (De La Salle-Concord) | Jr.
De La Salle opened up the playbook for Hale in his second year starting. The southpaw responded with 2,038 passing yards and 19 TDs while rushing for 577 yards and 14 more scores.
QB | JUSTIN LAMSON (Oak Ridge-El Dorado Hills) | Jr. 
Lamson led the SFL with 3,114 yards through the air on 312 attempts with 24 touchdowns and just eight picks. He shined in the SJS DIv. I final, rushing for 129 yards and three TDs.
_______________________________
CONNECT WITH US:
Follow SportStars on Twitter & Instagram | Like us on Facebook | Subscribe!
_______________________________ 
RB | JONAH COLEMAN (Lincoln-Stockton) | So.
He amassed 1,587 yards on 143 carries and 30 touchdowns for the 9-2 Trojans, and added 16 receptions for 324 yards and four TDs.
RB | TYLER HARRISON (Paradise) | So.
Harrison delivered an inspired season for California's feel-good story of the year. He rushed for 2,505 yards (12.7 yards per rush) with 30 touchdowns. Paradise (12-1) was the Northern Section Div. II runner-up.
RB | HANS GRASSMANN (Placer-Auburn) | Sr.
Led 10-3 Hillmen by posting a career-high 1,718 yards on 275 carries and 27 TDs. Lost just one fumble in 13 games and added 31 tackles and 1.5 sacks on defense.
RB | KADEN CHRISTENSEN (Escalon) | Sr.
Three-way star led the Cougars to the 4-A State Bowl crown with 1,681 yards rushing and 22 touchdowns. He added 28 catches for 578 yards and nine more scores.
RB | MATTEO PEREZ (Marin Catholic-Kentfield) | Jr.
He was named Marin County Athletic League Player of the Year after rushing for 2,024 yards and amassing 30 TDs. The Wildcats were NCS Div. IV runners-up.
RB | PAUL M. ROSA (Wilcox-Santa Clara) | Sr.
Injury kept him to just nine-and-a-half games, but Rosa still managed 1,787 rushing yards with 16 TDs. He also caught two TDs, and threw a 74-yard scoring strike in a CCS playoff win.
RB | KIMONI STANLEY (Sierra-Manteca) | Jr. 
Led the Sac-Joaquin Section with 2,024 yards on 205 carries, adding 33 touchdowns in 13 games. Workhorse back had two 240-plus yard games and 11 100-yard games.
WR | ELIJHAH BADGER (Folsom) | Sr.
Folsom's top wide receiver finished second in the SJS with 1,386 yards receiving on a section-best 79 catches with 20 TDs. He is Arizona State-bound next year.
WR | TERENCE LOVILLE (Serra-San Mateo) | Sr.
Loville is signed to San Jose State after averaging more than 22 yards per catch on his way to 1,061 yards. Loville shined In the CIF 1-A State Bowl with six catches for 172 yards and two TDs.
WR | JACOB DEJESUS (Manteca) | Sr.
Dynamic playmaker finished with 1,139 yards receiving and caught 16 TDs in 14 games for the SJS Division III champion Buffaloes. De Jesus added 631 rushing yards rushing and seven TDs.
WR | LANE THRAP (St. Bernard-Eureka) | Sr.
Named Cal-Hi Sports Small School Player of the Year, Thrap caught 75 balls for 1,550 yards and 23 TDs for the 6-AA State Bowl champs. He also had 69 tackles and five INTs.
WR | BRIAN PIERCE (Pittsburg) | Sr.
The El Cerrito transfer had a major impact in his one season as a Pirate. He had 60 catches for 1,040 yards and 16 TDs. He also had more than 600 special teams return yards.
TE | BROCK BOWERS (Napa) | Jr.
Bowers is among the state's top 2021 recruits at tight end. His numbers show why: 39 catches, 1,098 yards and 14 TDs.
OL | EVERETT JOHNSON (Turlock) | Sr.
The Cal-bound, two-time All-SJS offensive lineman was the driving force on a Turlock offense that amassed 340 offensive points through 12 games.
OL | BEN ROE (De La Salle-Concord) | Sr.
A team captain, Roe was a first-team regional honoree on both offense (Bay Area News Group) and defense (S.F. Chronicle). He's also an accomplished wrestler for DLS.
OL | ISAIAH TUPOU (Grant-Sacramento) | Sr.
Hulking 6-3, 316-pound Tupou was signed by BYU after a great year controlling the Pacers' line of scrimmage. Tupou was a first-team All-SJS selection with plenty of collegiate interest. 
OL | ANDRES DEWERK (Los Gatos) | Sr.
Dewerk will take his 6-foot-7, 295-pound frame to USC next fall after helping the Los Gatos offense average more than 360 rushing yards and 33 points per game.  
OL | GERAD CHRISTIAN-LICHTENHAN (Davis) | Sr.
Christian-Lichtenhan was named the Delta League's Offensive Lineman of the Year. He's signed to Colorado and was named to the MaxPreps All-SJS first team.
OL | CALEB DELGADO (Ripon) | Sr.
Delgado set the tone for an offense that generated over 5,100 yards and 71 scores. His efforts helped Ripon win a section, NorCal and CIF title. He also played defense, amassing 7.5 sacks.
OL | MANA TAIMANI (Clayton Valley-Concord) | Sr.
The Ugly Eagles' vaunted ground game followed the lead of Taimani to an average of 287 rushing yards per game, and a CIF 2-AA State Bowl title.  
K | COLE BECKER (Rocklin) | Jr.
Connected on 14 of 15 field goals, including a 45-yard kick. He was perfect on extra points, booting in 31 tries in as many attempts.